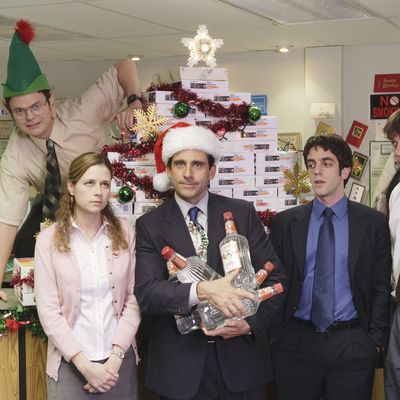 Hell on earth.
Photo: Paul Drinkwater/NBCUniversal via Getty Images
'Tis the season for obligatory celebration. And nothing says "I'm required to be here" like an office holiday party. After working remotely and staying mostly inside for the better part of two years, I'm sure many of us don't remember how to behave at any holiday party, let alone one with our co-workers. Fortunately, I have a simple solution: Don't go!
Holiday work parties are an OSHA violation. No matter how casual the higher-ups try to make the setting, no matter how silly and festive the JibJab email invitation may be, office holiday parties are merely opportunities for disaster. Navigating getting gifts for people who probably make more money than you? A crime. Drinking spiked eggnog in front of your boss? Humiliating. You are always either too drunk or too sober for a holiday party at your workplace; there is no middle ground.
Maybe you are thinking, But my co-workers are my family. Gross! No, they are not! Unless you are a character on Succession, in which case … they still kind of aren't. Work is for getting mediocre health insurance and trying to make your parents proud. It is not for games of white elephant where you know people will go over the $5 gift limit, forcing you to pretend you weren't the person who put a travel-size bottle of hand sanitizer in a mug and called it a gift. Besides, everyone who goes to a large holiday gathering this year is probably getting the same thing: the Omicron variant.
This is not to say you can't go to a celebratory end-of-year happy hour with your (vaccinated, boosted, maybe masked, to be safe) work friends. That is allowed, encouraged even. It is your one opportunity to share the things you are too scared to say in your work Slack. Engaging in complaint-centric camaraderie is as close to a holiday bonus as many of us will get.
Speaking of which … if I am attending a work-sanctioned party, I am on the clock. Give me my pay. Overtime, preferably. Then I will gladly clap along as middle management butchers "Last Christmas" on the rented karaoke machine. Better yet, take the money that would have been spent on any and all party accoutrements and add it to our paychecks! Even if it's a mere $4.12, I will gladly take that money and spend it on a fancy coffee. I will sip joyously as I give thanks for the opportunity to not think about work for a whole two minutes, the true reason for the season.