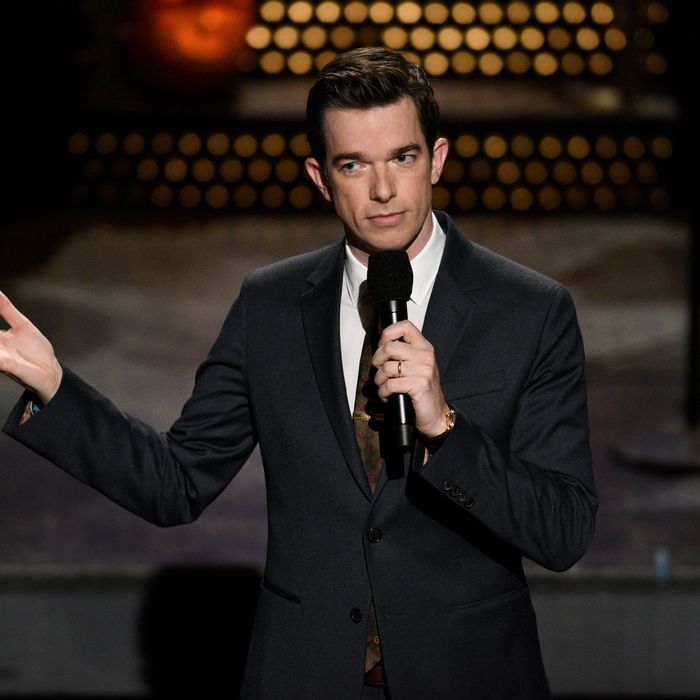 Photo: Kyle Dubiel/NBC/NBCU Photo Bank via Getty Images
Baby in a pot is a classic photo set up for any new parent. It's a nice extension of the "bun in the oven" metaphor. And, now that I think of it, probably a great source of QAnon inspo. It's also a genre that new parents John Mulaney and Olivia Munn are fans of.
Munn shared new photos of their son, Malcolm, on Thursday, December 30, sitting in a pot — with "Daddy" Mulaney's help. "Daddy's new bánh bao recipe," Munn wrote in her Instagram stories, showing off baby Malcolm sitting in the pot, looking up at Mulaney as the comedian cradled his head. "Adora-bao," she added over a close up. She snuck these new baby photos in between short videos of her mom cooking bánh bao, a Vietnamese bun, for the family. And while the real buns looked delicious, Malcolm is definitely cuter.
Mulaney later re-posted Munn's photos on his own Instagram stories. So, it's official: John Mulaney is an Instagram dad now. And that's definitely something I didn't see coming from the man who stated in multiple stand-up specials that he didn't want kids. But, hey, if you have a baby to put in a pot, why not?
These are just the second round of photos we've seen of baby Malcom, who was reportedly born in November. Mulaney and Munn both posted photos of the newborn to Instagram on Christmas Eve, announcing the birth, but given how private they had been throughout the entire pregnancy, I figured they'd be keeping baby photos on social media to a minimum. Clearly, I was wrong.
As for what this means about the status of Munn and Mulaney's relationship, it's unclear. Maybe they're still together, or maybe they're just spending the holidays together, putting their baby in a pot — you know, like parents do. I can't wait to see what baby photo they put up for New Years.