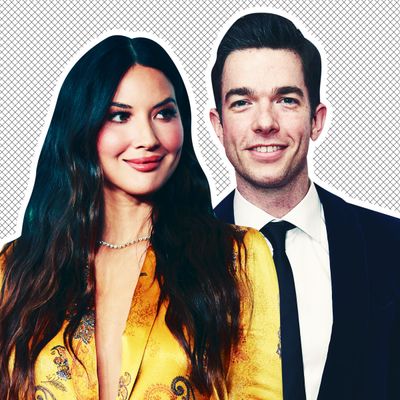 Photo-Illustration: by The Cut; Photos: Getty Images
John Mulaney and Anna Marie Tendler's divorce has caused a number of glitches in the matrix, such as Tendler's TikTok account and also 2021's most unexpected couple, Mulaney and Olivia Munn. To give us even more to process, Mulaney announced in September, just months after his divorce was confirmed, that he and Munn were expecting a baby. Talk about a plot twist.
Since then, rumors have swirled that Munn and Mulaney had split up, and it's still not totally clear whether they're currently together. But while we were speculating, we missed the arrival of their actual baby, who, according to TMZ, was born on November 24 in L.A. These two really like to keep us guessing, don't they?
All speculation was put to an end, however, when the new parents posted the first photos of baby Mulaney on Christmas. In two separate Instagram posts, Mulaney and Munn introduced Malcom Hiệp Mulaney. "He has his whole life ahead of him. He hasn't even tried seltzer yet," wrote Mulaney in his caption. "I'm very in love with him and his whole deal. Happy Holidays."
Munn posted a similar photo, showing off a slightly different angle of her "Golden Ox baby." Both posts had the comments disabled, but given the hotly debated nature of their relationship, can you really blame them?
Congratulations to this unexpected couple and their new baby. May they continue to surprise us in the months to come.