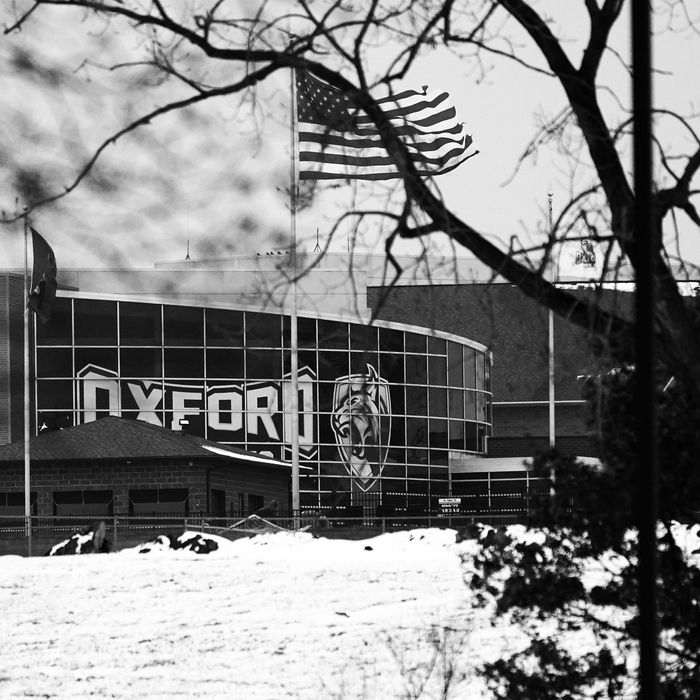 Oxford High School in Oxford, Michigan, where authorities say a student opened fire.
Photo: Paul Sancya/AP/Shutterstock
A 15-year-old has been taken into custody after opening fire at a high school outside Detroit, according to the local sheriff's office. The teen, later identified as Ethan Crumbley, reportedly fired between 15 and 20 shots at Oxford High School in Oxford Township on the afternoon of November 30, killing four students and injuring eight other people. On Wednesday, December 1, Crumbley was charged as an adult with murder and terrorism, among other crimes. He pleaded not guilty to the charges and was denied bail at the arraignment.
In a press conference immediately following the shooting, Oakland County undersheriff Michael G. McCabe said the department started fielding the first active-shooter calls at 12:51 p.m. "We received over 100 911 calls into our dispatch center," McCabe told reporters, adding that once officers arrived to arrest the suspect, "the whole thing lasted five minutes." They reportedly seized a semiautomatic handgun from Crumbley, who, according to McCabe, isn't talking to police. Nonetheless, the undersheriff said, "At this point in time, we believe he acted alone."
On December 1, Sheriff Michael Bouchard told reporters security-camera footage suggests the shooter came out of a bathroom and started shooting into the hallway at random. Bouchard said Crumbley may have posed as an officer while trying to get into classrooms on lockdown: "We know by witnesses he was tugging on doors, and we know from physical evidence he shot through doors up and down more than one hallway," Bouchard noted, calling the boy's actions "absolutely brutally coldhearted."
Crumbley's parents reportedly barred police from questioning their child, though deputies have been searching his home, computer, phone, and social-media history. The sheriff's office believes the shooter used the gun — a 9-mm. Sig Sauer — his father purchased four days prior. Crumbley was with his father at the time of the purchase and posted photos of the gun, which he called "my new beauty" and "my new Christmas present" on social media. "He deliberately brought the handgun that day with the intent to murder as many students as he could," said assistant prosecutor Marc Keast at the arraignment on December 1.
Though no motives have been established, it was reported December 1 that Crumbley's parents were called to the school on the morning of the shooting. They reportedly had a meeting about Crumbley's classroom behavior. On Monday, November 29, a teacher caught Crumbley looking up ammunition online. "LOL I'm not mad at you, you have to learn not to get caught," Jennifer Crumbley reportedly texted her son afterward. At the meeting the next day, a teacher had found a drawing on Crumbley's desk of a handgun and a bullet — as well as the words "blood everywhere" and "The thoughts won't stop, help me" — and presented it to Crumbley's parents, who reportedly pushed for their son to return to class. According to NPR, his mother, Jennifer, texted him, "Ethan, don't do it" as news of an active shooter at the high school broke. About 15 minutes after that, his father, James, reportedly called 911 to say the handgun was missing and his son might be the shooter.
On Friday, December 3, Jennifer and James Crumbley were each charged with four counts of involuntary manslaughter. Prosecutor Karen McDonald said the charges against the parents are "intended to hold the individuals who contributed to this tragedy accountable and also send the message that gun owners have a responsibility." McDonald added that there are "serious and criminal consequences" for gun owners who fail to uphold that responsibility. But locating the Crumbley parents apparently involved a manhunt by multiple law-enforcement agencies: the Oakland sheriff's office, the Detroit police, the FBI, the U.S. Marshal's service, and U.S. Border Patrol, which lent helicopters to the effort. Investigators found them and took them into custody early Saturday after a tip led police to an art space in downtown Detroit. Per NPR, the Crumbleys were "hidden inside one of the rooms." A judge set their respective bonds at $500,000 each, though attorneys for the couple say their clients were not evading arrest but looking out for their own safety.
According to the Detroit News, three students — 14-year-old Hana St. Juliana, 17-year-old Madisyn Baldwin, and 16-year-old Tate Myre, who was reportedly hurt badly enough that an officer tried to rush him to the hospital in a squad car — died November 30, while Justin Shilling, 17, died from his injuries December 1. Of the eight people hospitalized, one — a 47-year-old teacher — has been discharged and two remain in critical condition: a 15-year-old boy with a head wound and a 14-year-old girl currently on a ventilator after surgery for chest and neck wounds.
This post has been updated.