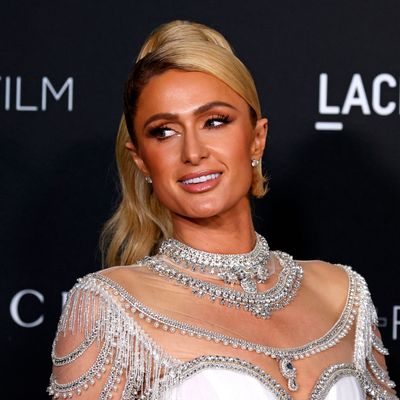 Photo: Michael Tran/AFP via Getty Images
With the end-of-year COVID-19 surge picking up steam (thanks, Omicron), deciding which movie to see in theaters has become more of a risk-assessment problem — is seeing West Side Story in theaters worth potential COVID exposure? — and less of a "what can my family agree to" problem. Unless you're Paris Hilton, in which case it's a "there's no movie theater on my private island" problem. This is the story of Paris Hilton and the horrible, no good, very bad, and very relatable honeymoon problem.
Hilton has been traveling the world for weeks with her new husband, Carter Reum, jetting from one luxurious Hilton property to the next. (She's also been documenting the entire thing on a new honeymoon travel series on her YouTube page, because of course she is.) But even the world's most glamorous honeymoon has flaws — like, say, the lack of an easily accessible movie theater — as Paris revealed in a tweet on Wednesday, December 29.
"I want to watch it," she tweeted after a follower asked if she'd seen House of Gucci yet. "But it's only playing in Movie theaters and I'm on my honeymoon on a private island." I mean, who hasn't been there, am I right? Obviously, we can all relate to Paris's plight. Just replace "honeymoon on a private island" with "quarantine with my cat," and she's basically me.
This "private island" is just the latest stop on Hilton's honeymoon, which, according to their first honeymoon vlog, is supposed to last for seven weeks. Given that their wedding lasted three whole days, I suppose going on a honeymoon longer than most people's annual vacation time is fitting. Reum and Hilton tied the knot in early November, meaning there should still be some time left in their epic honeymoon trip. At least one of those final days has to include a movie theater with buttery popcorn and sticky floors, right?