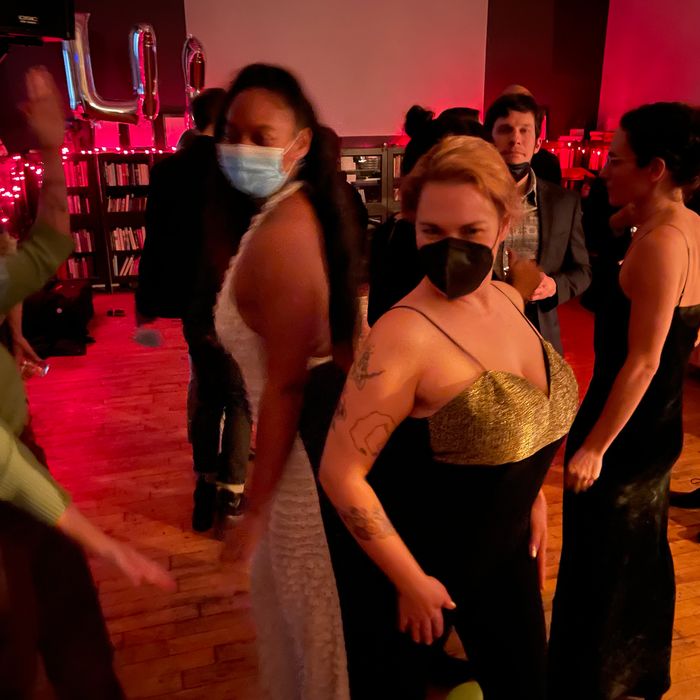 If I learned one thing, socialists can't dance.
Photo: Sarah Leonard
On December 15, just as Omicron preoccupied the city, I went to a party at the Dumbo loft owned by Verso Books, "the largest independent, radical publishing house in the English-speaking world." The high-ceilinged, book-lined space with a great view of the Manhattan Bridge has long been a gathering place for city socialists, some of whom, I discovered, use the word "comrade" unironically. The event itself was hosted by Lux, a new-ish socialist feminist magazine named after the Marxist thinker and martyr Rosa Luxemburg. Its editor and publisher, Sarah Leonard, described Lux to me as "a cross between Cosmo and Marxism" — a slightly sexier, farther to the left descendent of magazines like Ms. and Bitch. "I think it's been a bit of a relief for people who are like, yeah I'm a socialist but I'm not a bro who loves to yell at people," Leonard says. "I'm queer and female and an abolitionist and I want that to be the starting point." The tagline is "We Want It All."  Or, as another editor put it later, "We're not here saying don't drink wine! We're just saying drink union wine!"
Even tipsy on union wine, it was a somewhat on-edge night.  We'd all been slobbering on each other's faces for months now and drinking at packed holiday parties. I for one was already thinking past my visit to my family and scheming a thank-god-it's-over New Year. You know the rest. I began this column last June, chronicling the city's gone-underground nightlife scene roaring back to life. Now it looks like it's time for me to take a brief break from writing to you every week. Turns out, the left's last stand was my own last night out for the moment. I wish I'd gone somewhere where people knew how to dance.
7:24 p.m. | I arrive on an eerily quiet block close to the river where, if not for the two women in black tights hanging posters ("Be gay do crime wear a mask") by the entrance, I would never know there was a party inside. A little man in round glasses tries to tell the women how to tape the signs to the glass door, and they politely acknowledge and seemingly ignore his advice: "Your idea sounds solid, and I appreciate it." Not even a socialist feminist gathering is immune from mansplaining. Or maybe a socialist feminist gathering is exactly the kind of place to find a know-it-all man.
7:28 p.m. | I take an elevator to the tenth floor and follow signage to a card table where two people are checking proof of vax and informing everyone that "this is a mask-on soirée," even though neither of them are wearing masks. They hand everyone two free drink tickets (my kind of socialism!) and I exchange one of mine for exactly three sips of a pet nat. There are only a dozen or so people here so far, attempting to make conversation through their masks and over the music. "It's been a weird day in a weird year … It's so hard to know what's appropriate," one woman, dressed up in a ruffled jumpsuit, says, while telling me about all of the people she knows who texted her saying they tested positive for COVID that very day. In turn, I feel the need to tell her about my own recent exposures (and my subsequent negative tests). We each pull our masks down to sip our drinks at the same time.
7:45 p.m. | A high femme in bright red lipstick and a leather jacket catches me eyeing a table covered in Hershey's kisses — something else that requires you to lower your mask — and, despite my expressed worries, tells me I should just eat one already. It's a body-positive socialist feminist space! She's a writer from Canada who moved to New York because "New Year, new me!" (even though she got here in the summer). She's also the kind of person to use "my lover" in casual conversation, and I know that because she tells me one of her lovers tested positive for COVID the previous week. "It feels like the first time I'm casually hearing of people within my immediate circle getting it, rather than this person's cousin or this person's grandparent," she says. "I keep saying this is going to be my final party, then it's not." The editor of Lux, Sarah Leonard, in a sexy velvet slip dress, joins our conversation and, looking around the big room, says, "It takes some time for it to fill out." I venture that the variant might have something to do with it, plus everyone's upcoming holiday travels, and she says, "Oh my fucking god. I'm so annoyed," before adding, "besides being spiritually devastated," lest she sound flippant. Each of us lowers our mask to take a drink, and after exchanging nearly imperceptible looks that say, "This is stupid," we don't put them back on. "A lover told me the other day I laugh during sex," the Canadian shares, which is hardly related to anything we're talking about.
7:51 p.m. | Two more Lux women join our circle, all of them following the mask rule, so the three of us with our mouths on display discreetly cover them up again. We're subtly policing one another, though I'm not sure anyone thinks it's helping. One of the newcomers, in a maroon velvet dress exposing a massive crane tattoo on her arm, tries to sell me the magazine by comparing it to a "spinach cookie" — "It looks good, but then you bite into it and find substance." I'll stick with the chocolate for now. She too comments on the low turnout. "The left is always notoriously late. I love them to death, but I always joke they'd be late to their own revolution." Someone else chimes in, "The revolution hasn't been on time either. It was supposed to happen last year!" As if the conversation couldn't get more on-brand, crane tattoo starts talking to me about abortion clinics in Argentina and her queer feminist birding club (hence the tat), which is, of all places, where they sourced tonight's DJ. That reminds her of something else she thinks I should know: the National Audubon Society is currently unionizing, and, in fact, just a few minutes ago, three more states won their union. "When will the birds unionize?" her friend snickers, but the joke doesn't land.
8:40 p.m. | Slowly the loft fills with mostly artsy-looking millennial women with trendy haircuts — the Second Wave is in, sartorially at least — and men in plaid and corduroy. Everyone gathers in little clusters of three or four, leaning very close to one another to be able to hear anything over Donna Summer's "Love to Love You Baby." It's hard to maneuver into one of the groups without feeling like you are intruding. Instead, I chat one-on-one with a jumpy feminist journalist, who tells me this is the first party she's been to this year. I consider her unfortunate timing. We're interrupted by another nervous-looking woman in an oversized white button-down and Docs, who is mourning President Biden's legislative agenda. "I was really attached to the Build Back Better bill," she says, pulling out her hair and explaining that she's been hopping from group to group to work through her grief. "I don't want to be dependent on the Democratic Party. But someone was just telling me: We can't really mutual-aid our way out of climate change." I excuse myself to find the restroom.
9:00 p.m. | Another Lux editor, in a bright red maxi skirt, explains to me the difference between The Cut and Lux: "less clickbaity, and more political." By now, nearly half the people around the room seem to have moved their masks down to their chins or around their wrists to better drink and chat. Some people's are nowhere to be seen.
9:13 p.m. | Sarah gets up in front of the room to issue a toast to the Black feminist thinker bell hooks, who passed away earlier today. "May her memory be a blessing!" calls out one white woman, while everyone else quietly raises their glass. "It's a tough time, and it's profoundly a pleasure to see everybody here," Sarah says, before briefly blaming liberal feminism's bad rap on "the Hillarys and the Sheryl Sandbergs" of the world. She ends the speech with a call to arms ("At the heart of any successful socialist project is feminism") and an imploration for everyone to get trashed ("I've made a lot of bad decisions here").
9:15 p.m. | In a corner of the room I meet a journalist staring into her laptop. She tells me she's on deadline to write a bell hooks obituary for another magazine, and she's determined to make some progress at the party. She explains that this passing isn't just another "Paul Walker." This one is important. "I think she has a lot of interesting and good ideas."
9:28 p.m. | Earlier in the night, a partygoer told me, "The left has thrown parties here for 15 years. The window is lined with cigarettes from generations of leftist parties." Sure enough, after the speech, a dozen people swarm the open windows overlooking the Brooklyn Bridge and light up. "This makes me want to smoke again," a kooky 60-something woman in a white sweater and big bangles tells me. Something else that makes her want to smoke? She lets slip that the DSA leadership is currently wrapped up in a "quiet coup" and "a power grab" over something involving affordable housing. I promise I didn't hear this socialist gossip from her, though I'm not really sure who she is or what she's talking about. Like, I imagine, quite a few others here, she tells me she got into socialism during Bernie Sanders's 2016 campaign. "Do you identify as a socialist?" she asks me, staring so intensely into my eyes I can't help but tell her the truth, that while I share many of its goals, I don't, really.
9:51 p.m. | "Fergalicious" comes on, and a small group of men and women form a mostly unmasked dancing circle. They swing their hips, shake their asses, and swirl their hands in the air in a way that makes me think they absolutely must be on drugs. But I've seen nothing but natural wine and beer bottles. On my way to the restroom again, I hear an unmasked attendee complaining that her vax card wasn't checked at the door.
10:18 p.m. | This might be a feminist socialist party, but there are a fair amount of men here tonight, so I decide it's time to seek out the male perspective. I try two men smoking out the window, but they're too wrapped up in a debate about 5G and "electrosensitives," or "people who are extremely sensitive to electromagnetic wavelengths and frequencies." By the time one explains that "We are bioelectrical beings," I move on. Up next I try two middle-aged nerds who both have eyeglasses balanced precariously at the end of their noses. Are they socialists? "Yeah." Are they feminists? "Yeah." Have they been here before? "Yeah." What for? "A Nazi-punching film festival."
10:41 p.m. | Somehow I get caught in a debate between two women and two men over whether they'd rather be friends with the characters from Seinfeld or the characters from Sex and the City. I'm the only one who chooses the latter. Isn't the point of Seinfeld that everyone is awful, I ask? They reply "yes" in unison.
10:49 p.m. | A Lux and Verso editor and I watch a woman slip a book from the shelves into her n+1 tote, but when confronted she says she's just "taking it to show a friend." The editor tells me they have to be mindful of book snatchers at the loft parties because there are a few out-of-print prized possessions in here. Among them: a 1990s comic book of George and Martha Washington fucking each other and railing coke, and a book on bestiality called Dearest Pet.
10:55 p.m. | I have another conversation about abortion clinics.
11:06 p.m. | To my surprise, I overhear a self-assured man in a denim jacket talking about how much he loves Mayor de Blasio. "The de Blasio mayoralty was a good time … The reason it's a hot take is because he's a disaster. Relatively soon we're gonna look back and be like, de Blasio, that was okay." I join his conversation, but everytime I agree with one of his talking points about de Blasio or soon-to-be mayor Adams ("the perfect mayor for the moment, because he's Black, a former cop, and plausibly a critic of the NYPD who actually loves the NYPD"), he disagrees with me. He tells me he's a writer — "I'm not very successful. I have a podcast." — and when I tell him I'm a journalist, he tells me everything he was saying about the mayors was a farce. He's clearly lying. Why is he here tonight? "My desire for a socialist feminist magazine," he answers, cowed by the reporter. His girlfriend responds, "I want to know how to fight acne and fascism at the same time." She's joking.
11:30 p.m. | The DJ plays Lil Mama's "Lip Gloss," but the dancing has not improved. Absolutely no one I see is wearing their mask by now, minus one man who's been standing centimeters from a woman pushed up against a bookshelf for the last 30 minutes. I keep thinking they're making out, before I notice the masks. I keep reintroducing myself to people I've already met, their faces now naked.
11:34 p.m. | While smoking out the window, a heavily accented German man tells me: "I want to be a communist, but it's not possible to be a communist. So I wanna be a socialist. Okay. Fine." Due to a combination of bad actors — including Ronald Reagan, Clinton, Obama, neoliberals, and "Lincolnites" — he believes our society is in decline. "If you've never been in a fire, you don't know what it's like to be in a fire." He tells me that collective action is necessary in order to save our society, but when I ask him what his personal contribution is he doesn't have an answer right away. Perhaps to make a dig at me in return, he compares me to legendary gossip columnist Liz Smith and trash-talks the magazine I work for. "It's a little fragile. It isn't quite what it wants to be."
11:40 p.m. | To escape my conversation with the German, I talk to the woman on my other side, also smoking out the window. She's a super tall artist who looks too cool for this party, with great braids and ketamine, which I decline, because I'm not sure I want to be on drugs while watching socialist feminists twerk to Britney Spears. She tells me she took two negative rapid tests today — "Oh, the thrilling new variant with the horrible name! Why is the Greek alphabet so fucked up?" — but she's not sure double-testing was worth all of the "intense" conversations she's been having about DSA tonight. She explains that she doesn't think she has the right personality for this party, or being a "social democrat" in general. I ask what that means. "If you're a social democrat, you have a long-term partner, a pet of some kind that you're really devoted to, and a job where you Slack." Seems about right.
11:50 p.m. | My new friend and I are joined by another cool-girl writer who just arrived from a Paris Review holiday party. A few minutes in, she's ready to get out of here. "I'm gonna kill myself. There's no suicide rails. I could do it," she says, looking out the window and then back to the dance floor. "It's like they're all dancing to a different song." To salvage some fun for the evening, she proposes we guess different bad dancers' political affiliation while they try to groove to "WAP." "That is a communist. She's not having a good fucking time. You know why? Because she's a communist," she says, pointing to the one woman on the dance floor who isn't throwing her hips in a circle. What about the girl who's really throwing her hips in a circle? "That's a Marxist. She's too happy. She believes in the future."
12:10 a.m. | All night, the Lux women have been awaiting their favorite song, which is, can you believe it, "Back That Azz Up." When it finally comes on, a graduate student who's been talking to me about his aspirations to become "a Marxist intellectual" rushes back to the floor. "I want to back my ass up to this song," he calls behind him. Mesmerized, the cool girls watch the couple of dozen people left contort their bodies in ways that defy their age. "If I get COVID from a mid-grade party I will die," the artist jokes. "I'm not getting COVID from this party. I want to get BEAUTIFUL COVID."