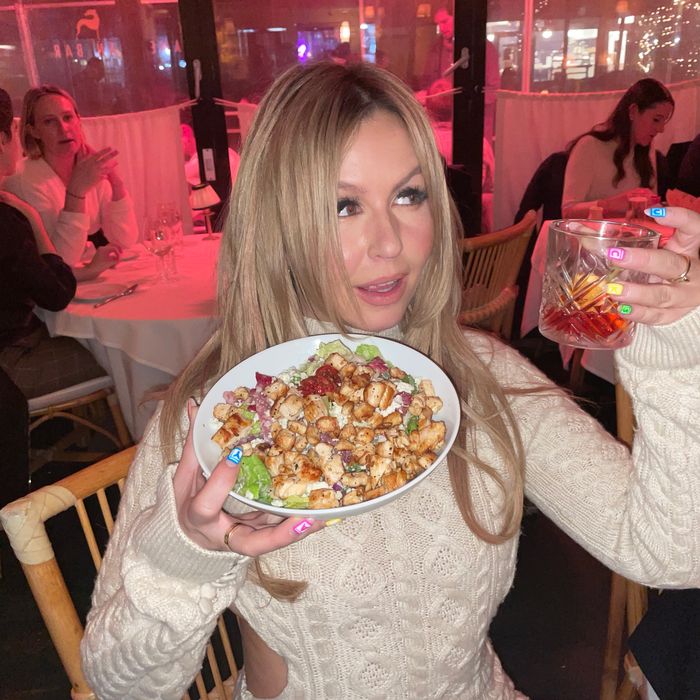 Serena and her favorite salad (soppressata, sun-dried tomatoes, red onions, chickpeas, cucumbers, queso fresco, house vinaigrette) at American Bar, served "SFK-style" (with a Negroni).
Photo: Courtesy of Brock Colyar
"It's a real SFK night out. We have to black out. There's no choice," said dating influencer and self-proclaimed "Queen of Confidence" Serena Kerrigan, before saying much of anything else, when I met her last Friday night.
If you're not familiar with Serena, she is a bleach-blonde 27-year-old known by her 419,000 TikTok followers as "Serena F*cking Kerrigan" (or SFK for short). She jokes that she legally made "fucking" her middle name while an undergrad at Duke. Now, especially in the wake of lockdown, it's her brand. A former Refinery29 producer raised on the Upper West Side but conceived, she says, in the West Village, where she now lives, Serena soared to online fame during quarantine by livestreaming first dates on Instagram, a "show" she called Let's F*cking Date. She became a hero to, as one friend who has been following her closely told me, "marketing girls in their 20s who live in Murray Hill," making videos about the woes of being, as her TikTok bio says, "Samantha Jones IRL" ("When a guy finishes after two thrusts" and "When he jackhammers you" are two captions on recent TikToks in which Serena expresses her profound, and easy-to-identify-with, displeasure). She's both a reality show and a life coach, instructing her "gorgeous gorgeous girls" to "normalize being your own hype" and reminding them that "beauty comes from within" #iamwoman #confidenceboost #singlelife.
This weekend, Serena invited me to the first-ever "off-line" event hosted by Deux Moi, the anonymous Instarag that posts un-fact-checked celebrity gossip submitted by followers, followed by dinner and dancing at her favorite downtown club, ACME. "Deux Moi" is more or less French for "two mes," and all evening, Serena was surprisingly self-aware about the fractures in her own personality as an influencer. "There's SFK, and there's Serena. This is Serena," she told me at dinner. "That was SFK," she said, talking about the persona who I just attended the party with. Still, given that I was taking notes, she was up-front about how she wanted the night to turn out and how she wanted to come across. "Friday night was do it for the plot in a nutshell," she texted me a few days later. Either way, the story told to her followers was her version — here's mine.
6:10 p.m. | The Deux Moi party is in the West Village at an event space called Lavan541, which has been decked out in a god-awful amount of silver tinsel and disco balls, because, well, I guess they look kinda like Christmas tree ornaments but more holiday-ambiguous. It's like the Museum of Ice Cream, designed to look good for selfies. The hostess, RHONY's Leah McSweeney (an are u coming? alum), is fluttering around the room in a mostly sheer number among trays of shrimp cocktail ("When I throw up tonight, it'll be this shrimp," one guest predicts) and mini grilled cheeses. On Instagram, Serena posts a video getting ready for the party, in an über-short, boob-outs beige sweater dress. "It's the SFK mirror challenge, BITCH! Holiday party! You know I like to take a risk," she says, cackling at the camera. Of course, she tags the brand who made (gave her?) the dress. I look back at the text she sent me a few hours ago: "Are u ready to have the best night of your life. Okay maybe not THE best, but one of." We'll see about that …
6:41 p.m. | Serena arrives, flaunting her stuff and ready to devour the open bar. Kit Keenan, one of her influencer friends, former Bachelor contestant, and socialite daughter of fashion designer Cynthia Rowley, posts a photograph of one of the drinks: a salmon-pink margarita with a disco-ball swirly stick, which photographs better than it tastes. The Story is captioned "disco fever," and it's the same caption she'll use to commemorate the party on her grid.
6:50 p.m. |  I express some regret about my shoe choice for the night, little white kitten heels that don't match my silver dress (which at least matches the tinsel), and Serena commands, "We don't speak badly about ourselves, ever." Serena does some PR for herself, taking a photograph of Leah holding her new product: a sexy … card game called "Let's F*cking Play."
7:17 p.m. | If pre-pandemic, brand-sponsored parties like this were filled with B-list celebrities and the C-list media people who cover them, tonight is a sign of the changing times. "Half of my For You page is here," an in-the-TikTok-know friend tells me, pointing out the appristocrats around the room. "That girl's on TikTok, and she's very … confrontational. Very social justice. This boy over here does man-on-the-street stuff. He definitely wants to be the next Billy. That guy, whatever the fuck, over there, has a very entertaining online presence. And this girl's famous. I just don't know why she's famous." Marginally more recognizable attendees start to arrive, like comedians Ziwe Fumudoh and Cat Cohen (who declares, "It's an earring party!" because it's co-hosted by Studs), and the model Hari Nef, who, looking particularly chic in leather gloves and sunglasses, tells me, "I'll never let you come out with me." Respect! Serena Shahidi (a.k.a. @glamdemon2004), who did let me go out with her, is also here, and she just tweeted, "I have to be the drunkest girl at the deux moi x studs party." The other Serena is giving her a run for her money.
7:30 p.m. | Serena takes a photo of Ziwe and captions it, "Ziwe fucks."
8:00 p.m. | I'm assuming it's to pay homage to the PR powers that be that the influencers, in between throwing back sugary-sweet cocktails and trying to guess whether or not the cake pops are real, start producing content, even from the restroom. This is, after all, work for many of them. In one "campaign," they try guessing who they think "Deux Moi" is. In Serena's video, she says, "Pete Davidson" (kidding!). One TikToker, Gaya, @lolitsgaya, is less pleased with the party: "There's like four Black or brown people. And then there's all these girls that look exactly the same. All of these girls who blocked me but won't say anything in person. I could not differentiate their faces." Nonetheless, she is here for the free drinks.
8:40 p.m. | The party continues apace, with free cocktails, more crappy hors d'oeuvres, and more selfies. "It's actually a cool party!" Serena yells, though judging by the amount of people talking about their after-party plans — at a warehouse in Williamsburg, Susanne Bartsch's party, or with "their controversial straight friends in the East Village" — she seems to be alone in thinking so. But then, remember, she never says anything bad about herself.
8:54 p.m. | Serena has brought her "team" along for the evening: a gaggle of dark-haired girls with a lot of enthusiasm and one rather cute token gay guy (her "creative director"), all of whom "work for her," even though it's unclear if they're paid or if it's more of a loyal-girl-squad situation (Serena says they're paid). She prefers to think of them as family. When the party starts to wind down, Serena calls her driver (!) to take us to American Bar, a relatively new, newly scene-y restaurant in the Village, to put some food in our stomachs. It turns out that Serena's name is on the menu. If you order the restaurant's $23 "Chopped Salad" and ask for it "SFK-style," it comes with a Negroni (for an extra $15). According to Serena's "head of partnership marketing," "She blew up this spot, and no one can get a reservation. It became a fricking scene," which seems like it should mean the Negronis ought to be on the house. For the rest of the drive, they talk TikTok strategy and laugh at the question "Did I fuck you? Or did I see you on TikTok?" I imagine that was probably a line running through many minds at the Deux Moi party.
9:10 p.m. | At American Bar, which smells like gin martinis, clout, and $25 cheeseburgers, we get seated in the middle of the room — "so everyone stares at us" — and Serena orders her salad. "I want to get fucked up. The salad is a one-way ticket," she says. An artichoke appetizer arrives, and she winks at me: "Do you like to get choked or spanked? I like to get choked."
10:04 p.m. | Serena's friend, the swishy-haired gay influencer (or self-described "vibe curator" or "millennial Manhattanite who curates Gen-Z lifestyle") Harry Hill (@veryharryhill), has joined us. He's just started dating her cute creative director. They met last month at the launch party for her card game — it's a bit like truth or dare, I guess — and tonight, they can't keep their hands off each other. Nevertheless, when Harry leaves the table to record a Cameo for a fan in the restroom, the boyfriend declines to join him. One of Serena's team members posts a picture of the new couple enjoying a noodle Lady and the Tramp–style, captioned, "Is this what a soft launch is."
10:29 p.m. | We eat dinner and order a round of drinks and Serena offers some dating advice: "You'll find someone because everybody finds someone. If Bernie Madoff and Weinstein can do it, we can too." I'm not even sure what that means, but who has time to run a Ponzi scheme when you're swiping all the time? Oh, and speaking of dating, the group decides this would be a great opportunity to live-act a commercial for that card game. We go around the table, answering sometimes-funny, sometimes-predictable inquiries like, "What is one sex toy you'd like to try?" and "What's your personality in a sex position?" and "Tie you up or tie you down?" Honestly, it's kind of fun, despite the fact that, like so much of tonight, it feels rehearsed. Meanwhile, distractingly, the gays are loving on each other in a way that seems less and less like a … soft launch. Serena pardons herself to the restroom with her boob tape, and one of her employees, the "Gen-Z one," offers a bunch of platitudes about her boss: "She is an entrepreneur, she's an icon, she's an entertainer. She's building and redefining the future of sex and dating." I hope this girl gets a holiday bonus!
11:42 p.m. | Apparently, it's one of the other girls' birthdays at midnight, so Serena surprises her with a round of espresso martinis and a smattering of desserts. We sing, and naturally, the video is posted online. According to a confessional video she posted to Instagram the next day, it's about now that Serena "blacked out."
Midnight | Next up: ACME, a somewhat exclusive speakeasyish club downstairs from the restaurant of the same name in Noho. En route, Serena sends the door guy Frankie about a dozen messages heralding our imminent arrival. "I like that I can literally show up alone and I'll find someone I know," she says. "And never someone to hook up with, because everyone feels like they're 22 now." Somehow, all of this talk about this "community" and "family" she has concocted at ACME leads to a conversation about how Serena's lonely childhood led her to start masturbating at a very young age. "You have an imaginary friend or you masturbate. And an imaginary friend is not giving me an orgasm," she says. Before we get out of the car, she asks me: "How good does it feel? It feels so good to just be so hot, happy, and young in New York City." That I can agree with.
12:08 a.m. | The door outside ACME is expectedly teeming with early-20-somethings waiting for the flick of the wrist from Frankie that signals "You're in," but Serena & Co. walk right past them, down a stairwell, and through the "secret" door into the club. We're shown to a green-velvet booth at the back of the dance floor, and the bottle service arrives shortly after. The music switches chaotically from Fleetwood Mac to Foster the People to ABBA to Eddy Grant. "Honestly, this is the best ACME in a minute. The vibes are A+," Serena says.
12:52 a.m. | Don't get me wrong: I've been known to enjoy the occasional night getting trashed and dancing to ABBA at ACME (they always play ABBA), but there's something about doing it with people you don't know that is oddly dissociative. The music is loud, there's nowhere to hide, and the floor under the disco ball is at full capacity with elbowy straight kids. The many flash-on iPhones in Serena's booth recording videos to post of everyone singing every single damn word to both "We Are Young" ("HAHAHAHA this is so cinematic @kitkeenan" reads Serena's post during the song) and "Proud Mary" (I'm so glad you can't see this video) aren't helping. Standing in our heels on top of the booth, we spill drinks and make our presence known, courtesans all surrounding the queen. The gays are kissing.
1:00 a.m. | The DJ plays "Jolene" and "I Will Survive" and "Heaven Is a Place on Earth," and somehow it works because the people here know the words to all three. It reminds Kit of a wedding DJ.
1:06 a.m. | Serena is drinking directly from the bottle of vodka, and it becomes clear that she is officially Drunk. Still, she's not too drunk to pose for a few photos, which will not only appear here, but also, you guessed it, on Instagram the next day.
1:28 a.m. | Feeling a little claustrophobic in the crowd, I take a breather outside and meet a straight-boy NYU student in a red peacoat who's doing the same: "It's a lot of work, you know, God, it's a lot of work. It's hard to walk into that. I don't know. It's a lot of work. It was too much for me. Too many people to walk past." Two girls from team Serena are on their way out the door. Any final words, I ask? "We're very real. We're the realest," one offers, and the other, unhappy with that answer, tells her, "That makes it sound like we're not. There's no need to oversell it."
2:10 a.m. | Serena is airily plastered, and for the most part, she just leads me around the dance floor, constantly looking back coyly and issuing a little finger wave asking for me to follow her. We don't stop to dance often, but rather move in circles, pushing through the crowd, never finding any space on the other side. The DJ plays Avril Lavigne, and then "Wonderwall." Serena applies a fresh coat of lip gloss. No one's sober enough to use their phones anymore.
2:31 a.m. | Back outside, smoking, I talk to two girls who got in easily tonight. "That felt realllllly good," one of them, a PR girl, says, happy that they were hot enough for a fast-tracked entry. Once they got inside, however, they were disappointed at the lack of opportunities for a "DFMO," which apparently means "Dance Floor Makeout." "We're looking for cute boys and there's no cute boys. Where are the attractive people?" her friend, a nurse, says. When they hear that I'm with Serena Kerrigan tonight, they both gasp. "This place is not fun enough for her. She's my source of confidence. I feel like she could do better."
3:00 a.m. | By now, it's just me and Serena, and we do the same as before: waddle around the dance floor flirtatiously, talk to almost no one, and dance every now and then, like lost kids in a grocery store.
3:18 a.m. | At last, Serena, slurring her words a little and offering me up confidence advice out of nowhere ("Just, like, be happy. And seriously. Just, like, be happy. That's the tea."), decides it's time to go home. But not before she makes moves on a tall Swedish man standing outside. He works for H&M, so Serena shows him a campaign video she recently shot for the fast-fashion chain. My car arrives before any explicit moves are made, but the next day, Serena texts me, "Not me waking up next to a Swedish man." And the day after that, via voice text, "I met him at ACME. I think I was with you, unclear … BING BONG." I'll never know if it was all for the plot, or rather, all made up for the plot. On Instagram, Serena keeps up the work, writing, "Deux Moi threw the best party I've been to since my own."