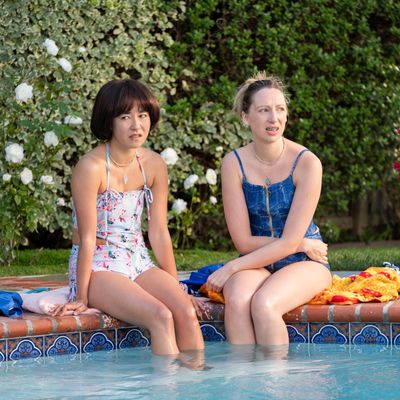 PEN15 felt different from the beginning. It wasn't just the fact that two women in their 30s (Maya Erskine and Anna Konkle) were portraying two 13-year-olds (Maya and Anna) about to enter seventh grade. It wasn't just the sound of the dial-up internet interrupting a call on a home phone. It wasn't just the stringy bangs and Mudd jeans and outfits perfectly replicated from a Delia's catalogue. PEN15 was greater than the sum of its awkward, nostalgic, and oftentimes gross parts.
Nothing encapsulates this better than the way the show handled the characters' exploration of sexuality. There's an episode dedicated to Maya's masturbation, an obsession spurred by making two My Little Pony figurines kiss. The things that make her horny are strange and specific but make perfect sense to anyone who has ever been a 13-year-old girl: rolling sand dunes, a photo showing a close-up of a nipple, Jonathan Taylor Thomas. (Is now a good time to mention that Maya's dad is played by Richard Karn, who, like JTT, starred on Home Improvement?) What makes these scenes uncomfortable isn't just Maya, dead-eyed, awkwardly humping a pillow; it's the painful familiarity of it all. Who among us doesn't recall scanning the objects in our childhood bedroom in a horny fury, thinking, Yeah, that could work? It's nostalgic Schadenfreude, all of it almost too relatable.
Like sexuality, PEN15 doesn't shy from small moments of discomfort, subjects that come with unavoidable grossness. When Maya screams that she hates her mom, she drool-spits on herself. She and Anna secretly try on Anna's mom's bras, a naively Oedipal activity I did on multiple occasions with my friends. At one point, Maya sniffs Anna's mom's vibrator, an object she assumes is simply for massages. (I cannot confirm or deny finding a friend's mom's "massager" in middle school only to realize years later what it actually was.) In a bizarre proclamation of her affection, Maya stuffs some of her hair into her crush's locker. She and Anna make out with their bedposts. There are tears and blood, sweat and snot. In one episode, Anna and Maya share a thong that they swiped from a cool girl's bag. A communal thong, if you will.
Watching Maya in particular is as cathartic as it is uncomfortable. The way she pulls and tugs at her body — contorting it to look hotter, uglier, younger, older, bigger, smaller — is such a physical representation of the way we all came to terms with our adolescent bodies. It's a familiar desire: wanting our bodies to be different from whatever their current state. This compulsion pairs naturally with Maya's impulsiveness. She often acts before she thinks, her logic warped by horniness, the desire to be seen, jealousy, or some combination of the three. She has a kind of confidence I absolutely didn't have at that age, a kind I'm not sure I even have now. It's the kind of confidence that allows her to do an impression of Ace Ventura on a whim, bending over and pulling her pants down to make her ass talk. It's a confidence that isn't ever fully dampened, even in moments of shame or embarrassment after the fact. Even as she changes and explores and contorts her form, Maya is always so completely herself, a rarity in general, let alone as a teenage girl.
In PEN15, grossness is matter-of-fact, which in itself feels radical. We see it in the way Maya handles getting her period for the first time — hiding it from Anna, shamefully trying to fashion a pad out of toilet paper at a sleepover. It's a refreshingly honest deviation from the way menstruation is usually portrayed: either as some triumphant coming-of-age moment or, more often, omitted altogether. But in PEN15, these uncomfortable parts of girlhood aren't presented simply for shock value or with a wink to the camera. They aren't overexplained or pointed out as inverting societal norms. Here, grossness is as much a part of being 13 as bad haircuts, unrequited crushes, and trying on your friend's mom's bra.
These recently released seven episodes will be PEN15's last. I'll miss Maya and Anna in all their gross and gawky glory. But I suppose the end is only natural — we can't be 13 forever.