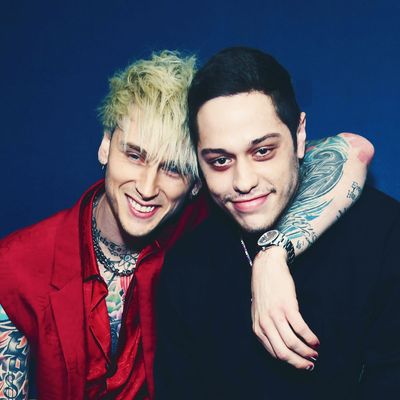 Non.
Photo: Dimitrios Kambouris/Getty Images
Move over, tattooed–Pete Davidson dildo; it's time for tattooed–Pete Davidson underwear model now. The comedian took over Calvin Klein's Instagram on Monday, a change of the guard that at first only amounted to a profile photo and a shot of Pete on the grid. Boring, but then Calvin handed him and his best friend, Machine Gun Kelly, the reins for an Instagram Live segment that was … also sort of boring, yeah. Here is a little clip, courtesy of @HollywoodUnlocked.
Mostly, this approximately eight-minute stunt involved Davidson and MGK chatting on a couch with their pants around their knees, showcasing their Calvin Klein briefs. They talked about their dicks — Davidson is a self-described "grower" — and MGK poured popcorn into Davidson's mouth, but that's about as raunchy as it got. Disappointing, really. Davidson insisted that "we bring the horniness," but, well, how do you feel? Horny, or confused?
There is, of course, the apparent contract violation — Davidson has been linked to SKIMS mogul Kim Kardashian since their public outing to Knott's Scary Farm in October; SKIMS even appears to have sponsored his 28th-birthday party; now he is out here shilling for the competition — which is hard to get one's brain around. But there is also the lack of sensuality from two people who are seemingly very comfortable with public sexiness. (Looking especially at MGK here.) These two are getting paid money to make this content? Just doing small talk on a rental sofa, when they could have done "like a Chippendales thing," as Davidson observes in the segment? When they could have "tongue-kissed," again, per Pete? Broken promises of horniness on main: I'm not mad, I'm just disappointed.