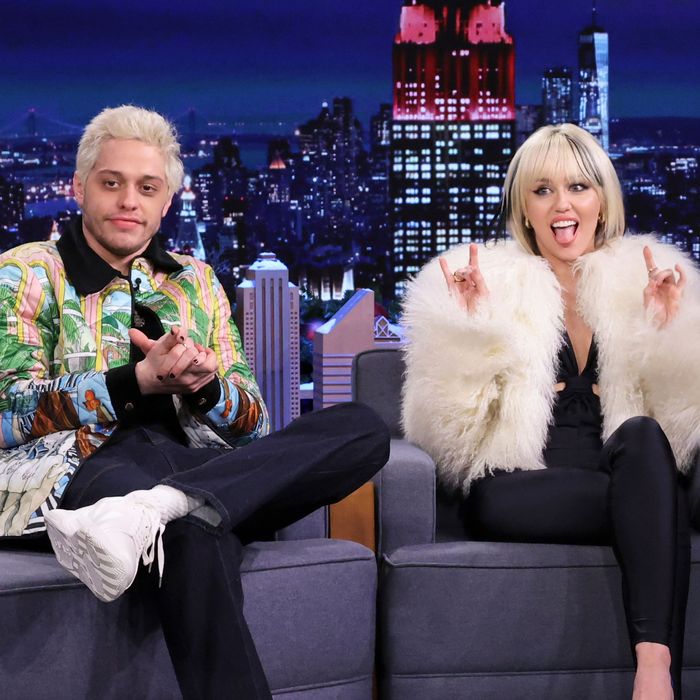 Photo: Mike Coppola/NBCU Photo Bank via Getty Images
Not a day has gone by this week in which I haven't needed to set aside some time to process a Pete Davidson–related event. Just as I was healing from a joint Instagram takeover with his fellow pale-legged bottle blond Machine Gun Kelly, what did I wake up to? A distressing story about Davidson and Miley Cyrus getting matching tattoos, of course.
Our dirtbag Adam and Eve revealed this little anecdote on The Tonight Show on Thursday. It all started, as most Pete Davidson stories do, at Saturday Night Live, on which Cyrus was featured as a musical guest in 2017. She showed up with her mother, who she claims was "the only one there who was as high as Pete Davidson," which is actually a pretty good indication of where this is headed.
Anyway, Cyrus and Davidson both played rapping babies in a skit called "The Baby Step." (Davidson credits the creation of this particular sketch to himself, which I definitely believe.) As they uttered one particularly smooth-brained line in unison, they suddenly realized it would make for a perfect tattoo. The line in question? "We babies."
We babies? Please, I can only take so much, especially mere weeks after witnessing a verified Davidson hickey.
Anyway, Davidson summoned his "tattoo guy" to 30 Rock to sear these immortal words onto their bodies. In their defense (?), Davidson claims it was a "dark time in our lives," and Cyrus swears she stopped smoking weed the very next day. Regardless, lifelong kinship over an unfortunate tattoo decision was sadly not in the cards for these two. Four years later, Davidson, his historic role as a rapping baby long forgotten, starred in a Smartwater commercial, which revealed to poor Cyrus that he had gotten their matching tattoo lasered off. (Davidson claims to be in the process of removing all his tattoos.)
The entire tale was followed by a rousing rendition of Yvonne Fair's "It Should Have Been Me," courtesy of Cyrus, who altered the lyrics to communicate that she believes she should have been the one Davidson invited for a romantic meal in Staten Island. That I can't disagree with.
If you would like to ring in the New Year with this kind of energy, I have good news: Cyrus and Davidson are co-hosting a New Year's Eve party on NBC. You might want to have a tattoo guy on hand.