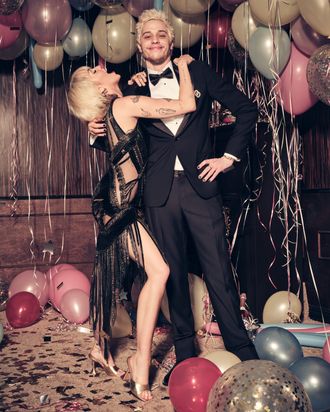 The duo we want and deserve.
Photo: Vijat Mohindra/NBCU Photo Bank via Getty Images
I hate that I am supposed to love the idea of Miley Cyrus and Pete Davidson hosting a joint New Year's Eve party. I hate it because it works: I do love the idea of these two hot and chaotic goblins hosting an event that will be televised live for all to see. I've loved their promo leading up to the event. I've loved their little anecdotes about coordinating tattoos and the tiny insights into this extremely expected friendship. They are a match made in the hell that was this year, and I want to go to hell with them.
This Friday night, the two will take to NBC and Peacock to ring in 2022, hosting a televised special live from Miami. There will be musical performances! There will be comedy! There will be special guests like Brandi Carlile, Billie Joe Armstrong, and Saweetie! And yes, that all sounds fun and great, but I would also gladly watch these two talk about nothing for two hours straight.
When asked what else people can look forward to during their NYE party, Cyrus and Davidson have used words like unconventional and unexpected, which, ironically, is exactly what you'd expect of a party hosted by these two. Oftentimes when shows take an "Uh-oh! What's gonna happen?!" approach to their forthcoming programming, it's infuriating and underwhelming. (e.g., every season of The Bachelor cannot be the most dramatic season yet.) But unless their special somehow ends up being a prerecorded, end-of-the-year clip show or canceled altogether, I expect these two to give us exactly what we need: a lawless two-hour escape from reality.
If you plan to follow Dr. Fauci's recommendation and cancel your New Year's Eve plans, you can watch Miley's New Year's Eve Party live on NBC or on the Peacock app Friday from 10:30 p.m. to 12:30 a.m. ET.