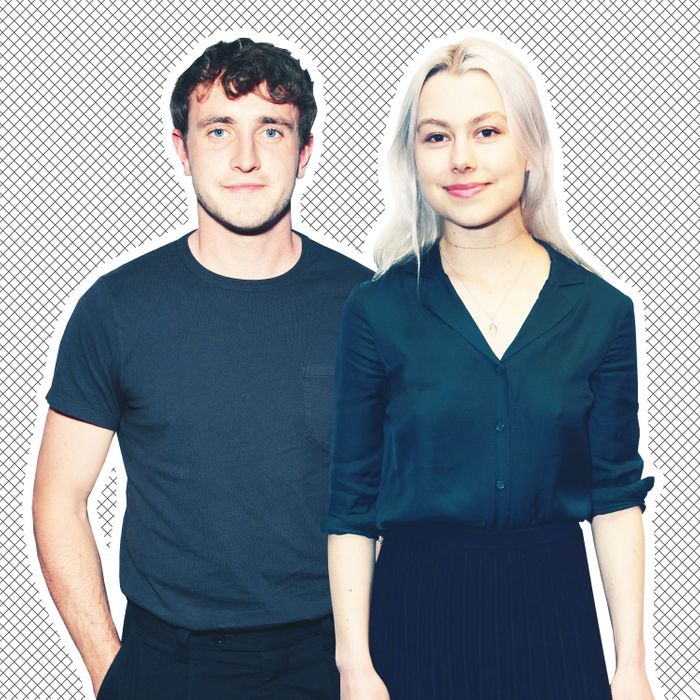 Apropos of nothing, here are Paul Mescal and Phoebe Bridgers.
Photo-Illustration: The Cut; Photos: Getty Images
It's a question that's plagued humankind for generations, or at least since last year: Are Phoebe Bridgers and Paul Mescal dating or what? Despite the two being linked since summer 2020, neither has publicly confirmed (or denied!) their relationship. However, all signs seem to point to yes. (Especially this one that says the two were "quite tactile" during a June 2021 trip to London.)
One telltale sign was a couples costume the duo wore to a Johnnie Walker–sponsored Halloween party in October. Comedian and actress Ziwe posted photos of Emily Ratajkowski as a witch, the guy from Hot Ones as an astronaut, and, most important, photographic evidence of canoodling between Bridgers and Mescal, who is best known for his role in Normal People.
Look! At! Him! Look! At! Her!!! When I close my eyes, all I see is the left half of this photo. Also is it wishful thinking, or are they dressed as horny weed couple Megan Fox and Machine Gun Kelly? Wearing a couples costume is basically confirmation of a relationship, but a couples costume where you're dressed as two of the horniest people in existence? They may as well have literally winked at the camera.
Further evidence of an imminent little kiss from this couple: an appearance they made at the 2021 LACMA Art+Film Gala, where Mescal's arm made notable contact with Bridgers's waist, which is basically having sex if we're going by the royals' standards. Even by American metrics, they certainly looked cozy, and might we interpret Bridgers's tartan skirt as a little wink to her Irish boyfriend?
Bridgers and Mescal have already hit all the major relationship milestones — the Quite Tactile stage, the Couples Costume stage, the Red Carpet stage. And now they're Instagram official: On Friday, Bridgers posted a selfie of her and Mescal looking very windswept and happy. While there was no caption, I think we can all take this to mean that, at the very least, these two are certainly spending a lot of time together.
This post has been updated.