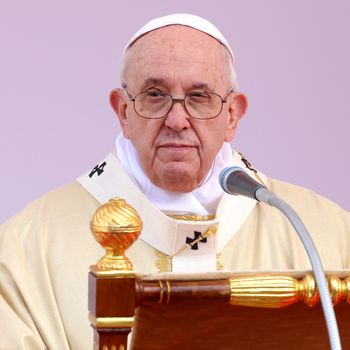 Pope Francis, contemplating which sins are the most sinful.
Photo: Franco Origlia/Getty Images
Let us proclaim the mystery of faith: Sometimes the pope says unexpected things because he wants to and feels like it. This week, Pope Francis accepted the resignation of Paris Archbishop Michel Aupetit after a report that Aupetit had a consensual intimate affair with a woman in 2012. Ooh la la! When asked about the accusations during a recent press conference, the pope decided to give a fun little ranking of the sins.
"This is a sin, but it is not one of the gravest sins," the pope said, referring to rumors of Aupetit's affair, which the archbishop has denied but admitted his actions may have been "ambiguous." Pope Francis added, "Because sins of the flesh are not the gravest." So there! A little bit of extramarital sensuality is a sin but not, like, a sin sin. "It was a failing against the sixth commandment," — you shall not commit adultery — "but not a total one, one of small caresses, massage given to his secretary — that is what the accusation is," Francis continued, referring to the claims the woman made about her intimate relationship with Aupetit. "There is a sin there but not the worst kind."
Then what, pray tell, are the most sinful sins? According to the pope, pride and hatred are "more serious" sins. But lust? Not the worst! So, that time the pope's Instagram account liked a butt pic? A minor sin! A chill sin! A casual, everyday version of sinning!
Mass has ended. You may go in peace with the newfound knowledge that Catholics may have a little ambiguous flesh sin as a treat.