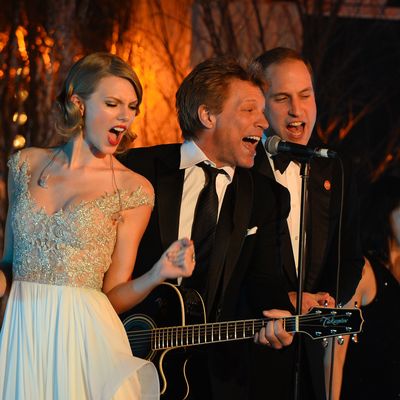 Photo: Ben Pruchnie/Centrepoint/Getty Images
We all have those cringe moments in our lives, the ones we look back on late at night, the sting of embarrassment still fresh. For us normies, it's the time you called your science teacher Mom, or when chocolate melted in your back pocket in elementary school. But for a royal, it's different. For example, the cringe moment that haunts Prince William is the time he sang onstage with Taylor Swift and Jon Bon Jovi. (#relatable?)
In an interview for the Apple Fitness+ series Time to Walk, William recalled the impromptu performance that still leaves him "cringing." The year was 2013. Taylor Swift was fresh off her massive success with Red, and William had just welcomed his first child with Kate Middleton. They were seated together at the Winter Whites Gala at Kensington Palace, and somehow both ended up onstage performing "Livin' on a Prayer" with Jon Bon Jovi himself. Sounds like an unforgettably cool moment, right? Wrong. "To this day, I still do not know what came over me," William said, per HuffPost.
According to the Duke of Cambridge, it was Swift who had encouraged him to get up onstage and sing. "She puts her hand on my arm, looks me in the eye, and says, 'Come on, William. Let's go and sing,'" he said. "Honestly, even now I'm cringing at what happened next, and I don't understand why I gave in." But as he tells it, Swift was impossible to deny. "I walked up onstage in a trance and then sort of halfway through Jon Bon Jovi's 'Livin' on a Prayer' song, I wake up. I'm thinking to myself, Am I standing on a stage singing 'Livin' on a Prayer' when I don't even know the words?" While he was able to get through the rest of the song and make it fun for the crowd, he was sweating just trying to "keep myself composed on the outside," he added.
Swift, however, tells the story a little differently. "It was my first kind of royal encounter," Swift said during an appearance on The Graham Norton Show in 2014. In her retelling, it wasn't she who had encouraged the Duke, but William who made her get up onstage with him after Bon Jovi called out the royal, saying he'd heard William liked to sing the song at karaoke. "Prince William looks over at me and says, like, 'I don't remember it now,'" Swift recalled. "And he just looks at me and is like, 'You gotta go with me.'"
So what's the truth? Luckily, we've got the tape. In a video uploaded to the Royal Family Channel on YouTube (which doesn't seem to have any actual connection to the royal family, though it is unclear), Bon Jovi is seen teasing William, calling him the Karaoke Kid and asking him to come onstage to sing a few lines. After a bit, Swift and William both head onstage mid-verse and join in for the chorus.
There's only one logical next step: Bon Jovi must tell his truth. I'll be waiting.