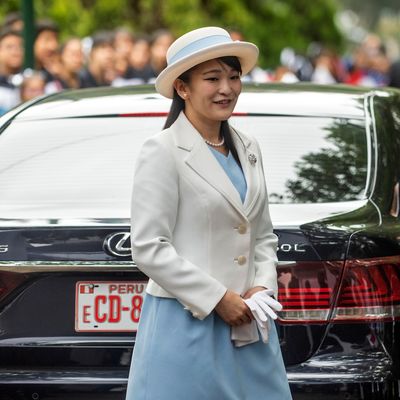 Photo: ERNESTO BENAVIDES/AFP via Getty Images
Congratulations, Princess Mako of Japan, you have now joined in on the time-honored tradition shared by college students and Dreamers alike: arriving in New York City and immediately making a stop at Bed, Bath & Beyond. One week after making the move to the U.S., Mako Komuro, as she is now called, was spotted shopping at the retailer, grabbing some things for her new one-bedroom apartment. Such is the life of a commoner.
This fall, after years of controversy surrounding her engagement to a commoner, Mako got married and officially moved to NYC to be with her husband, Kei Komuro, leaving her royal title — and a reported $1.3 million payout from the Japanese government — behind. The two reportedly moved into a one-bedroom apartment in Hell's Kitchen, in a building that apparently offers tenants access to a "golf simulator," a library, and a spa, not to mention an in-unit dishwasher. And so, like anyone new to the city with an apartment to furnish, Mako braved the endless maze of bedding, kitchenware, and as-seen-on-TV appliances that is Bed, Bath & Beyond.
According to the Daily Mail, Mako shopped for hangers, towels, and other home goods. The report also claimed that she managed to leave the store with only four shopping bags, which anyone who has ever shopped at Bed, Bath & Beyond knows is a sign of incredible will and self-control. Perhaps she's saving up for a trek to the Brooklyn Ikea. I would wish her luck on surviving that mission, but considering she's already survived an entire nation seemingly disapproving of her marriage, I think she can handle the stress of trying to decide between a Malm and a Hauga.