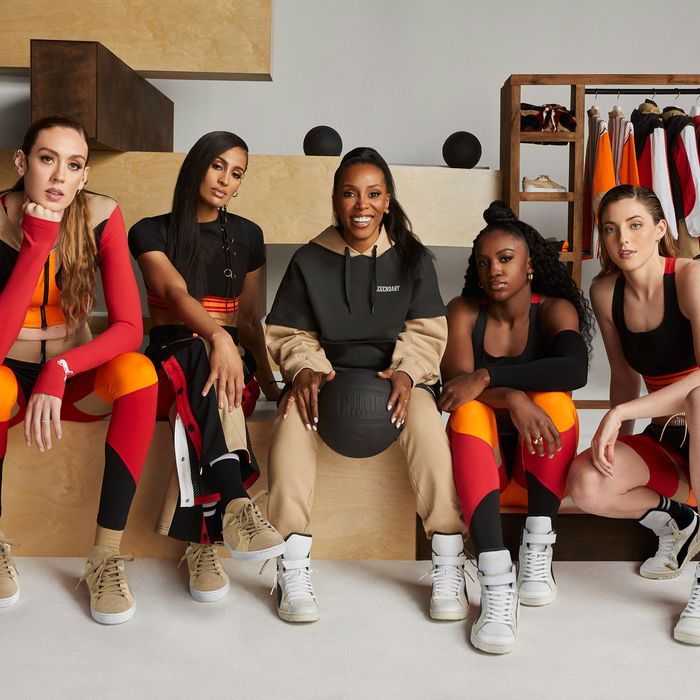 "Every other sports brand is taking a male-centric approach," says author, costume designer, stylist, and #Rockmom June Ambrose while explaining the vision behind Puma's first women's basketball collection. "They're keeping it safe with mesh shorts and tank tops. My whole entire career has been about taking risks, tapping into my authentic intelligence to make decisions for a consumer who I want to see imagining themselves outside of themself. You can't do that without trying on things that scare you a little bit."
In 2020, Ambrose joined Puma as the creative director of womenswear for the brand's basketball category, Puma Hoops. She focused on transforming the women's basketball collection into gear that can be worn while training or while meeting your friends for a cozy Sunday brunch. With her hand in everything from design to creative, Ambrose set out to add personal flair to the brand's apparel, accessories, and footwear by reinventing what women's basketball wear can look like.
Take professional athletes like Serena Williams, Elizabeth Cambage, and Ashlyn Harris — they all have a personal style they sport on and off the field or court. For Ambrose, it was important to create a collection with women of all ages, body types, and identities in mind, while acknowledging the history of women being unseen and unheard in professional, and even recreational, sports.
The Puma High Court collection is a first for the brand; in the past, the women's basketball category simply looked like the men's but in smaller sizes. The new collection was designed to celebrate the contributions, fearlessness, and boldness of all the women of Puma. The visuals for the campaign were directed by Hype Williams and feature WNBA stars Skylar Diggins-Smith, Breanna Stewart, Katie Lou Samuelson, and Jackie Young.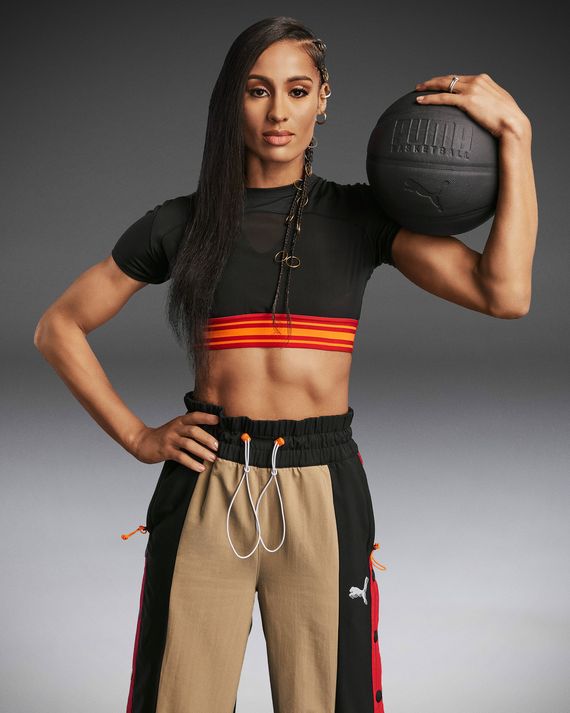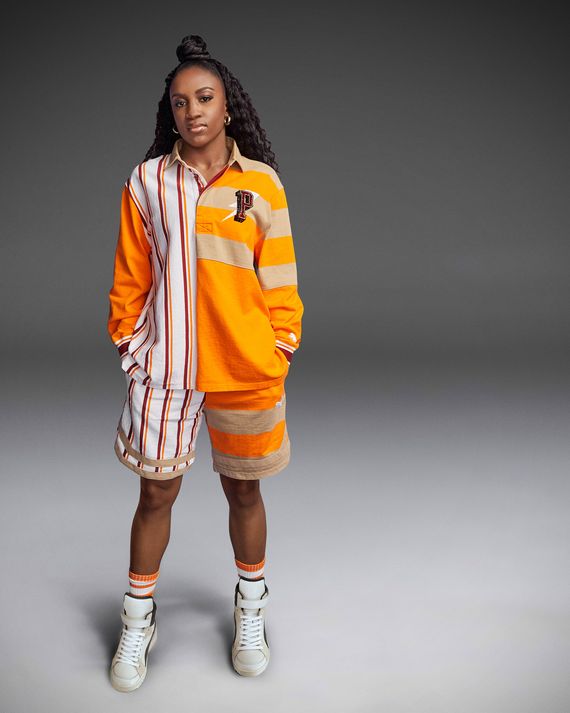 Since Puma is a sportswear brand at its core, it was essential to utilize the technical aspects of performance clothing, like its dryCELL fabrics, without compromising on style. The collection includes crop tops, mesh tanks, a retro rugby shirt, coats, versatile hoodies and shorts, high-waisted leggings, bike shorts, sneakers, and bags in a red, orange, black, tan, and white color scheme inspired by a toco toucan Ambrose saw in the Amazon.
"We have four incredible WNBA players that are signed to Puma as performance athletes. We have to be able to cater to their needs and speak to them when they're off the court as well," says Ambrose. "This collection is coached by me. I designed it so that as a consumer you don't have to think about how to wear it. We want to make it feel like a lifestyle choice and normalize the idea of sportswear. Sports meets style. Functionality meets fashion."
Starting at $30, the Puma High Court collection begins rolling out on December 1 and will be available online at puma.com, in Puma Flagship stores, and at select Nordstrom locations.
Check out the exclusive behind-the-scenes video from the ad campaign below.