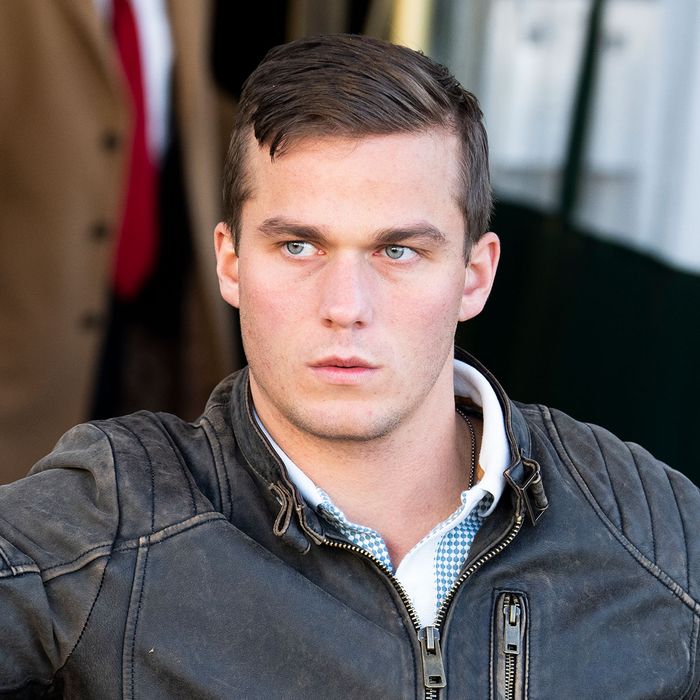 Photo: Tom Williams/CQ-Roll Call, Inc via Getty Images
Madison Cawthorn, America's youngest Republican Congress member and one of its biggest far-right bros, has announced he and his wife Cristina Bayardelle are divorcing after eight months of marriage, the Daily Mail reports. The 26-year-old North Carolina representative — whose political resume includes representing the state's 11th congressional district, spewing racist rhetoric and 2020 election falsehoods, and multiple allegations of sexual misconduct — claims the stress of his job as a lawmaker led to the split.
"When my wife Cristina and I were engaged, I was not a member of Congress," wrote Cawthorn, 26, in a statement posted to his spokesperson's Twitter. Cawthorn also wrote that he ran for Congress because he felt "called to serve."
He said he and Bayardelle, 27, both agreed he should run. After Cawthorn's victory and ascension to GOP darling, he claims their lives changed overnight in ways that were "hectic and difficult" and "not the pace nor the lifestyle we had planned for." The two apparently sought counseling, but "irreconcilable differences" led to a mutual split.
"We ask for privacy as we work through this privately," Cawthorn concluded.
Cawthorn and Bayardelle, a CrossFit influencer, married back in April 2021, following a six-month engagement. During that engagement, more than 30 women came forward with allegations that Cawthorn sexually harassed them. Many of the women were classmates of Cawthorn during his single semester at a Christian college in Virginia. Multiple women alleged that Cawthorn had an MO of driving women to isolated places and making advances on them (Cawthorn apparently called these "fun rides"). Cawthorn denied the allegations.
In a statement to Fox46, Bayardelle echoed Cawthorn's sentiments about the stresses of public life on their marriage. "I want to live in the world he creates, I just don't want to be married to someone changing the world," Bayardelle said, adding, "There's no ill will. Madison is a fighter — he will help save this country."
Can't say I want to live in the world a white supremacist or alleged sexual predator creates, but okay.