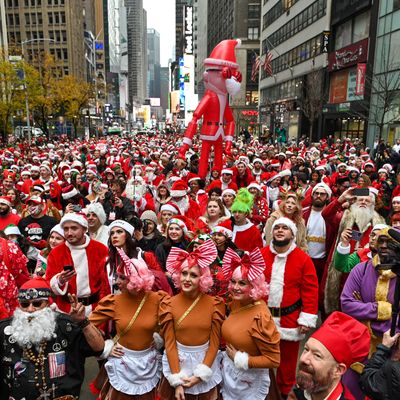 Photo: Alexi Rosenfeld/Getty Images
If this past weekend, you happened to see fratty Santas slamming beers or maybe a drunk elf vomiting on the curb, congratulations. You witnessed the return of SantaCon, the most dreadful day of the holiday season and maybe even the year. What started as an anti-capitalist protest in Copenhagen in 1974 has morphed into a global affair. The largest SantaCon takes place in New York City, where some 30,000 people dress up and go on a debauched pub crawl.
Last year, SantaCon was thankfully canceled due to the pandemic. This year, there's still a pandemic — not to mention a highly contagious variant spreading — but like many other holiday gatherings that now seem ill-advised, it happened anyway despite fears it had all the makings of a super-spreader event. And now, surprise: #santacon TikTok is flooded with people who attended and have since tested positive for COVID-19.
So there you have it: Omicron is coming for our holiday plans, and not even Santa can stop it. Wishing everyone a speedy recovery.