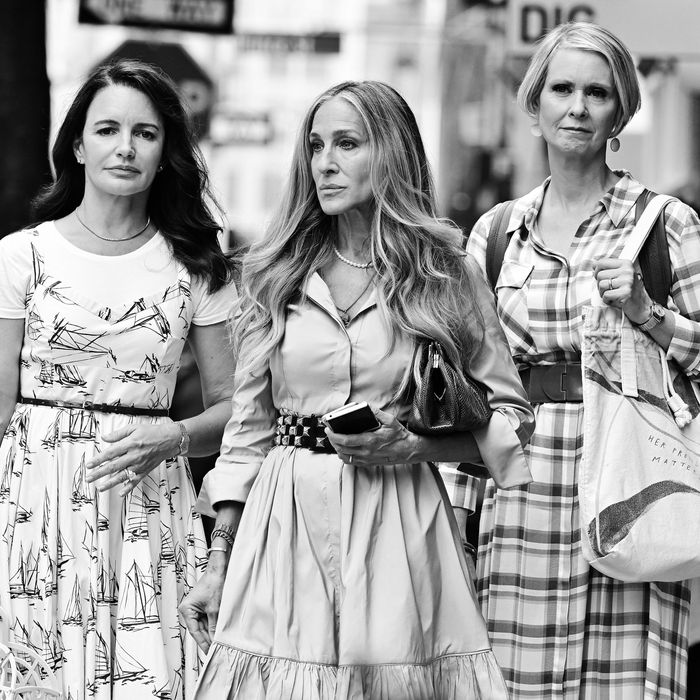 Photo: James Devaney/GC Images
On Thursday, two women made allegations of sexual against Chris Noth, the Sex and the City star whose character, Mr. Big, played a prominent role in the first episode of the series' reboot on HBO Max. Since the allegations were made public, another woman came forward accusing Noth of sexual assault, and the actor Zoe Lister-Jones, who was a guest star on Law and Order alongside North, shared her own recollections of alleged sexually inappropriate behavior. Noth has denied the sexual-assault allegations, claiming that the first two were consensual encounters and that he didn't know the third alleged victim.
Since the allegations were made public, the SATC cast and crew have been largely silent. On Monday, though, the three stars of And Just Like That … released a statement posted to Cynthia Nixon's Twitter account addressing the accusations.
"We are deeply saddened to hear the allegations against Chris Noth," said the statement, which is signed by Nixon, Sarah Jessica Parker, and Kristin Davis — the three core cast members reprising their roles from the original show along with Noth. "We support the women who have come forward and shared their painful experiences."
A Peloton commercial he starred in based on his SATC character's death has been pulled, a deal to acquire his tequila brand has been called off, and he has been dropped from his talent agency and the CBS series The Equalizer. While the death of his character would suggest Noth isn't making any new appearances on And Just Like That …, it's not implausible he'd return postmortem.