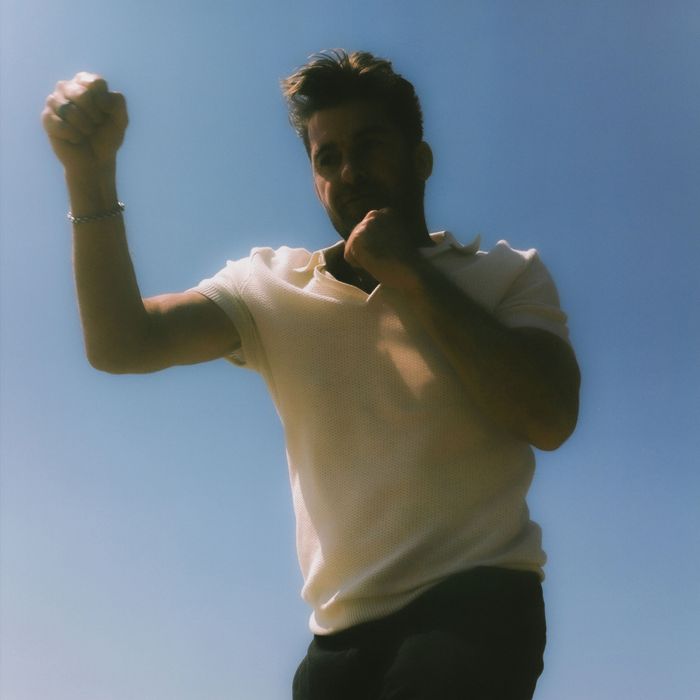 Dream Date: Brushes with our celebrity crushes
Two decades have passed since Scott Speedman put his stamp on teen television in 1998 as Ben Covington, one-third of the hotly debated Felicity love triangle, which saw a high-school wallflower (Keri Russell) following her crush (Speedman) across the country to NYU in a rare moment of spontaneity (Team Ben FTW). The effortless boyish charm the Canadian actor displayed across four seasons of the WB classic is still there, both in his current role as Meredith Grey's love interest on the forever-running Grey's Anatomy and his recent stint on season three of Netflix's You, playing the role of Hot Dad. It's a role he's particularly well suited for.
The day before our scheduled interview, Speedman's girlfriend, designer Lindsay Rae Hofmann, went into labor with their first child, and suffice to say, our chat was postponed. Three weeks later, Speedman talks to me from his home in Los Angeles, in which he looks relaxed while sipping his go-to ("I live on green tea when I'm working — probably too much," he says. "In 1999 it was cigarettes, and now it's green tea"), and he has the glow of someone running on little sleep and a whole lot of mushy love. The white T-shirt he's wearing has become his "bleary-eyed and no sleep" uniform that requires little thought — and yep, it looks good.
He lights up when I mention Hofmann and their daughter Pfeiffer Lucia Speedman. Last month on The Drew Barrymore Show, he talked about home-birth preparations, and he sounds in awe of his girlfriend when describing the life-changing event. "It's a wild thing to experience, to be there to watch, to see this person you love so much going to this level," he tells me. "It was incredible." He left the name choice up to Hofmann ("That seemed important and, obviously, she's doing all the heavy lifting"); the time the couple spends in Big Sur provided the inspiration, as the state park is named after pioneer Julia Pfeiffer Burns. "I'm the only one of my immediate family born outside of Scotland, and there's something vaguely Scottish about it to me that I liked," Speedman adds. Speedman was born in London; his family emigrated to Toronto, Canada (on account of his dad's job with retailer Marks & Spencer), when he was a child, and he says he wants to bring his new family to Scotland as "my girlfriend's never been and I haven't been in a long time."
Finding space in his schedule is going to be hard if the last year, which I dub the "Speedmanassiance" (he laughs at this too-long moniker), is anything to go by, with roles in You, Grey's Anatomy, and forthcoming movies from David Cronenberg and Lena Dunham. "When I first started doing this, I had some big years with a lot of exciting things and a lot of momentum," Speedman says. "Then normal career stuff dipped and flowed, and I've been sort of quiet for a number of years." Some of this taking a step back was by choice, although his big return to TV wasn't part of some big plan. "It all just happened at the same time and it feels oddly natural; it's exciting, but it doesn't feel overwhelming," he says. This hasn't always been the case, and the 46-year-old actor admits "one of the only good things about getting older is you do feel it gets a little easier handling some of the pressure and expectation." Speedman is big on using his hands while talking and mimes a lot of stuff going on around his head. He follows up, saying, "To be totally honest with you, when I was a much younger guy, it was overwhelming, all that stuff happening; it was a little too much for me." There is pragmatism to this explanation that comes from experiencing disappointment in the past, and while he doesn't mention specifics, he looks at peace with this new outlook. "You used to bank on these things [the casting headlines] hoping it will work and land, but when they don't, you're kind of used to it, so you don't put all these crazy expectations on it."
Having made his name on Felicity, it feels appropriate that Speedman should reenter the pop-culture conversation on one of Netflix's buzziest shows — alongside a star who made his name on a different teen series a decade later. In the third season of You, Speedman plays tech billionaire Matthew Engler, who has a central role in Joe Goldberg's latest murder shenanigans. In a surprising twist (spoiler alert!), Matthew survives living next door to the serial-killer couple, which leaves the door open for his return (along with stepson Theo). "I wanted to kill somebody or be killed. So that's the only regret I have about doing that show; I didn't get to kill anybody," he laughs. Part of the appeal of You is "it seemed unique, and I hadn't done a very pop-y show like that ever."
Depicting a Silicon Valley genius doesn't reflect his own tech capabilities — "I'm a complete Luddite; the fact that I figured out Zoom to do this interview is a miracle" — but he was drawn to Matthew on an emotional level, "this type-A personality, who's emotionally cut off, who just completely loses his mind." One thing Speedman has recently done is join Instagram, which he still sounds in two minds about. "Not sure yet," reads his succinct bio that reflects his current assessment of the platform: "I've been on it for like two months and it takes a lot for me to post anything, and it's very guarded even when I do." He references friends like Busy Philipps who excel in this area ("She's a master"), and his choice was work-based as "it's become a part of our business, and I wanted to be engaged in that way." I point out that he has mastered the dog content, and he smiles and explains that one concern about the new arrival was how his Labrador Bodhi would react. "He's been really good," he says. "He's very curious; sometimes he's a little scared of her too. It's a big change for him, so we're all going through it."
When I ask him to imagine a world in which social media had been around when Felicity was on, he laughs: "I would have been a mess; that would have not been good for me," he says. "I spent some parts of my career shunning publicity. And at this age, you mature out of that a little bit."
No doubt the Felicity love triangle would have left its social-media mark, and while Instagram is a part of the You fabric, it is his romantic role on Grey's Anatomy that prompts my initial line of inquiry because this is where the Grey's fandom is at its most vocal. McDreamy might be dead, but his legacy lives on, and any new Meredith love interest has a lot to live up to. In 2018, Speedman guest-starred on the long-running ABC hospital drama as Dr. Nick Marsh, a surgeon who falls ill after operating at Seattle Grace. Thankfully, Nick survives complications from a kidney transplant and strikes up a flirty friendship with Meredith in the process. Unlike Felicity, in which "the impetus for the show is essentially my character," his Grey's arrival is more complicated for the titular character. "I was dropped in after one episode, and a lot of the fans are catching up to who I am and trying to figure out who I am from the one episode," he says. "I think that takes some time to build up." Natural chemistry with Ellen Pompeo (whom he was friends with before getting this part) in that initial guest appearance led to this season-regular role, which was a case of perfect timing — "I was about to have a kid and it just seemed like a great time to just jump on a show and be close to home."
A trip to Greece over the summer to shoot David Cronenberg's Crimes of the Future was intense (due to the material) and a tough shoot personally, as Hofmann's third trimester (and COVID-19 restrictions) meant she was back home in California. Still, "to get to work with Viggo Mortensen, Kristen Stewart, and Léa Seydoux was incredible, let alone David — it was unbelievable," he says. "I loved him. He's 78, but you'd never know it."
Another film project he completed during this busy time is Lena Dunham's forthcoming film Sharp Stick, in which he plays an "OnlyFans-style very popular famous porn star." He shot this while he was making You and notes how helpful Dunham was when he was researching this part. The extroverted character is one that "five years ago I would have said no to or been too scared to do." He adds, "It wasn't a huge time commitment, but it was a great character and hopefully people will see that early next year."
Something you probably won't see, but damn it'd be nice: a Felicity reunion. Speedman is open to revisiting his breakthrough role, he tells me. "I think there is a version where you could do something with those characters that have matured (and aged, obviously)," he says. "But it would have to be all the right people doing it." Co-creators Matt Reeves and J.J. Abrams have gone on to The Batman and Star Wars, and so scheduling might be an obstacle (Speedman also refers to Keri Russell as the linchpin). He does have an idea for a Felicity revival, although he wouldn't reveal what it is beyond it being a simple setup.
Speedman and Russell dated during their time on the WB hit, and when I bring up Speedman calling himself "a disaster of a boyfriend" during an appearance with Russell on Jimmy Kimmel Live! in 2017, he expands. "I think dating in your early 20s and being mature is a rarity, as far as I'm concerned. I was not mature, no," he says. "I was just not ready to be a real partner — showing up and sacrificing and not being a selfish a-hole. You know, that's still a struggle, but at 23, 24, 25, forget it." Thankfully, no hard feelings have been had and about Russell, he adds, "She's one of my closest friends."
At points during that Kimmel appearance, he seemed to squirm a little bit when pressed further for examples, but one-on-one, his open body language and direct eye contact suggest a man who is more comfortable talking about his journey. About one relationship shift in the last decade, he says, "I'm 46 and just had a kid, and when I look back at 36, I was still working stuff out. I'm fine in a lot of ways, but slow to mature in that way." One aspect he excels at is the grand gesture: "I have one move, but I love it. I wake up and say, 'Hey, you have an hour to pack, we're going to Kauai, and I've already booked the tickets.' Or Big Sur, we do a lot. That's my favorite surprise." As far as grand gestures go, I agree this is a very good one, to which he concurs with a knowing smile.
At the moment, spontaneity has taken a back seat as parenting a newborn takes priority. He acknowledges that "it's easier for me; I have less of a role at this point, and I'm the support unit." When I ask what has been the biggest surprise, he leans forward and gets animated as he talks about the sheer magnitude of this event. "You don't really know what you're doing. You're trying to figure out why is the baby crying, and I don't know anything. That's been surprising to me," he laughs. "I thought I'd know more stuff. I don't know why, maybe that's the male in me, but I figured it would be easier, but it's like, Wow, this is for real." Instincts have kicked in and whether a doctor, a tech mogul, or a dad, Speedman has settled into his new role.
Grooming: Fabiola
Styling: Rima Vaidila