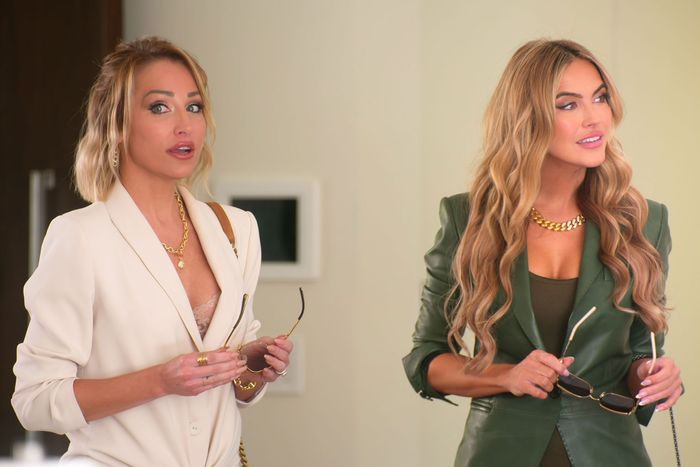 Hey, girlie boss queens, gather 'round. I've got a new song for you, and it goes like this: Why [clap] does all [clap clap] the music in Selling Sunset sound like … that [clap]? As a whole, the Netflix reality show following luxury real estate firm the Oppenheim Group has been aptly described as an approximation of the human experience — like someone put the words California, women, houses, hot, and money into a computer and this is what it came up with. Nothing exemplifies this better than the music on the show.
In the first episode of the recently released season four alone, you'll hear songs with the following lyrics: "I'm expensive with designer taste / Can't handle this? / Get out my face"; "Brushin' off my shoulders / I just got a little bolder / I'm ready to go!"; "Drippin' in confidence / Want it all, take it all / Cut like a diamond ring / Perfect in clarity." And that's just in the first half of episode one. The show's bizarro pseudo-pop is a mix of auto-tuned vocal fry, #empowerment lyrics, club beats, and people going, "Uh-huh, uh-huh." Each song is an easily meme-able earworm, and I love it.
Buzzfeed News reporter David Mack recently did the Lord's work and spoke to some of the people who work on Selling Sunset's music. "It's 'gaslight, gatekeep, girlboss' vibes, 100 percent," said Colby Lapolla, a singer and songwriter who has written music for the show. "It's been very funny to watch Twitter, and I feel like so many people have been talking about the music. They don't understand that we know this is garbage." Of course, not everyone who works on the music would describe it as such. "The showrunner definitely wanted 'female empowerment,'" said Carrie Hughes, the show's music supervisor. "The other main word that gets thrown around is feisty. So we kind of have two styles of female empowerment. One is just 'helping all women,' 'we're great,' 'we can do this,' and then there's more feisty, like 'I'm better than you' vibes." And yes, each song is distinct. According to Hughes, showrunner Adam DiVello, who also created The Hills and Laguna Beach, insists the show never repeat a song.
"The phenomenon around the music is so funny," Lapolla said. "It's a thing, but it wouldn't work without the ridiculous music." And I agree. With that in mind, I've devised an accurate and perfect way to figure out the title of your own Selling Sunset song below. Specifically, the song that would play when you walked into one of those big, ugly houses. Enjoy, lady boss bitches!
Find the title of your Selling Sunset intro music:
1. Month you were born in
January: Work That
February: Slay
March: Party Like a
April: It's Time
May: Give It to 'Em
June: Cha-Ching
July: You Know It
August: Heyyyyy
September: Vroom Vroom
October: Ready to Go
November: Spend That
December: Wanna Piece of This
2. Last digit of your Social Security number
0: Princess Baby
1: Hottie Bitch
2: Queen Boss
3: Mamacita Girl
4. Rich Money
5: Perfect 10
6: Sexy Hot
7: Rockstar
8: Champagne Love
9: Woman Champion
3. Amount of money in your bank account
$0–1 million: (Party Remix)
$1 million–10 million: (Uh-huh, Uh-huh)
$10 million–100 million: (My Money, My Rules)
$100 million–$1 billion: (Jealous Much?)
$1 billion-plus: (feat. Rita Ora)
4. Put it all together!
For example, my Selling Sunset song would be called, "Vroom Vroom, Rich Money (Party Remix)." It would play as I stepped out of a Lamborghini that I went bankrupt in order to rent.
Rock on, boss babes!