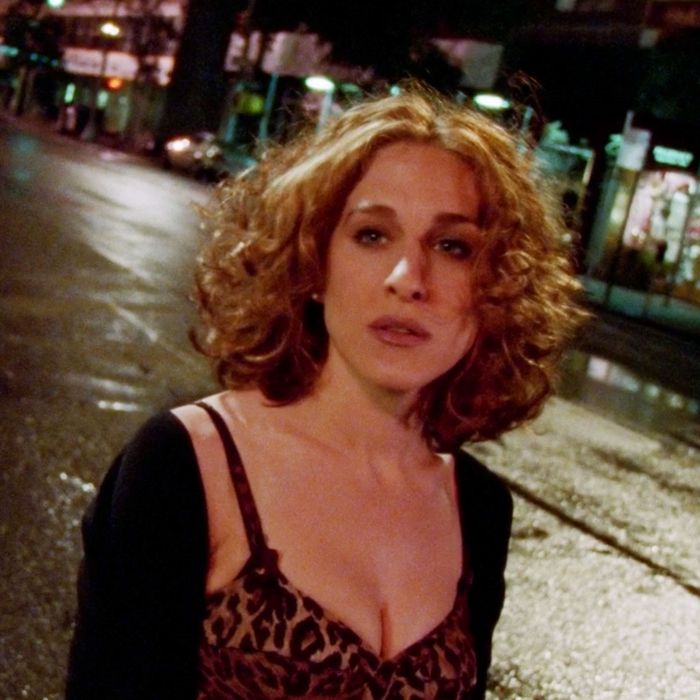 Before diving into Sex and the City reboot, which premiered today on HBO Max, I'm going to assume many of you went back and rewatched the original. If so, did you notice anything different? Anything strange about the way Carrie looks in the pilot? Because from where I'm sitting, she looks very different.
For starters, she's a brunette. Her hair is cut into a short, frizzy bob. She wears dark eye shadow and a lot of black. Her apartment is way smaller and messier. In my mind, she actually looks like a writer — and, of course, a lot more like me, an average person who also happens to be a writer with curly hair and a messy apartment, which is probably why I've always been so obsessed with this mysterious version of Carrie that we never see again. What happened to her? Where did she go? What could she have been?
The pilot episode of Sex and the City was filmed in June 1997, a year before the series premiered. It's normal for things to look a bit different in the first episode of a television show if it hasn't been fully green-lit yet. For example, Carrie's apartment probably looks smaller because the show didn't have the budget to build it out. But Parker reportedly wasn't happy with the episode at all. She "hated" the look, the clothes — "a lot," she said in an interview. When the series was eventually green-lit, she even tried to get out of it. But the show's creator, Darren Star sat her down, and she decided otherwise. Apparently, they had an influential conversation in which, she says, he took her suggestions to heart and made "some big changes before we shot season one."
Of course, the Carrie we know now is blonde just like Candace Bushnell. Her hair in episode two is much longer, and her wardrobe is much more fun and flirty. I still can't help but wonder about the Carrie from the pilot, though. Where's her spinoff?