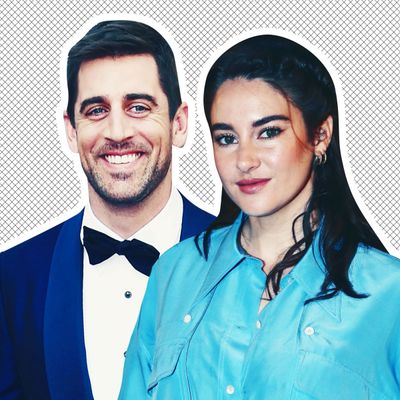 A love that dare not post its status.
Photo-Illustration: by The Cut; Photos: Getty Images
Recently, a lot of people got a lot of mad at football guy Aaron Rodgers. Why? Because he said he had been "immunized" against the coronavirus — language broadly understood as "vaccinated," per NFL recommendations — when really he meant that he had received some sort of homeopathic treatment that did not prevent him from getting COVID-19 in November. The subterfuge lost him the support of some fans (who once thought he seemed cool but now viewed him as irresponsible and selfish) and certain brands (at least one of which dropped him from its campaigns). But it did not lose him the support of fiancée Shailene Woodley. She hopped on Instagram to stand by her man, batting down the Daily Mail's misidentification of a comparatively small-footed and smooth-handed man as her husband-to-be.
However, since then, she's been silent on the subject of Rodgers, which — given how news that they were dating arrived in the form of an engagement — maybe isn't all that surprising, but has nonetheless fueled breakup rumors. Well, what is going on??
"They have a different, nontraditional relationship," a Woodley source tells People, clarifying nothing. I guess "nontraditional relationship" implies they are still together in some capacity, but what exactly is the unconventional element here? Woodley is not even the first actor to be engaged to an A-Rod this year. (See: J.Lo and Alex Rodriguez, i.e., the actual A-Rod, previously planning to get married.) Are they poly or some kind of nonmonogamous? Are they not actually dating but lying to everyone for the sake of their mutual celebrity, which would actually be reasonably typical by Hollywood standards? Does one of them have a Disney kink? Please, People, enlighten us:
Shailene and Aaron are still together. It's not odd they don't post about each other on their birthdays in that sense, and are very private about things.
They only acknowledge each other on main when the time comes to dunk on the Daily Mail, I guess? Anyway, as a person who posts next to never, I do not find it odd to keep one's dating life off the grid entirely. What I can say is that the not-very-online explanation has not quelled breakup speculation on certain celebrity-gossip/PR accounts, where people allegedly in the know are saying it's over. To them I say, hmmm. Conjecture! Time (if not necessarily Woodley's timeline) will tell.