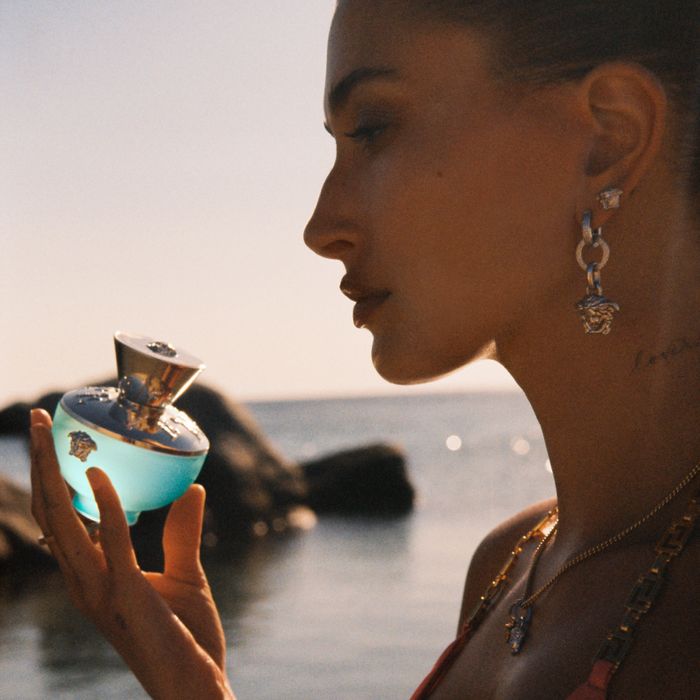 Photo: Courtesy of Versace
As we begrudgingly accept the oncoming winter cold and the season's long nights, we tend to miss warm, easy summer days more than ever. And along with that, we miss the places where we can enjoy a tropical breeze rather than a gust of snow from a blizzard. Just try it: Imagine yourself poolside with a perfect cocktail in your hand and oversized sunglasses blocking out the rays. Although traveling to a sunny location might be off the cards for most of us right now, you can invoke the feelings and memories of a Mediterranean get away with a little help from Versace.
Basically, an island escape in a bottle, Versace's new Dylan Turquoise Eau de Toilette is designed to transport you to a sun-drenched destination. Hailey Bieber is the sun-kissed face of the product's new campaign, and the beachfront shoot (held at Cavallo, a picturesque island in the Mediterranean located between Corsica and Sardinia), encapsulated the idea of an endless summer. Donatella has always sought out the top up-and-coming models, and Bieber offers that youthful yet zesty sense of luxury the brand is all about.
At first glance, the fragrance's blue bottle might remind you of a perfect past vacation on the water, or maybe help you fantasize about the one you're plotting for the future. That's precisely what Donatella Versace anticipated. "​​Escaping towards faraway islands where the blue sky meets crystal waters," she explains of her vision. "The sea breeze caresses the skin, waking up the senses and regenerating the soul."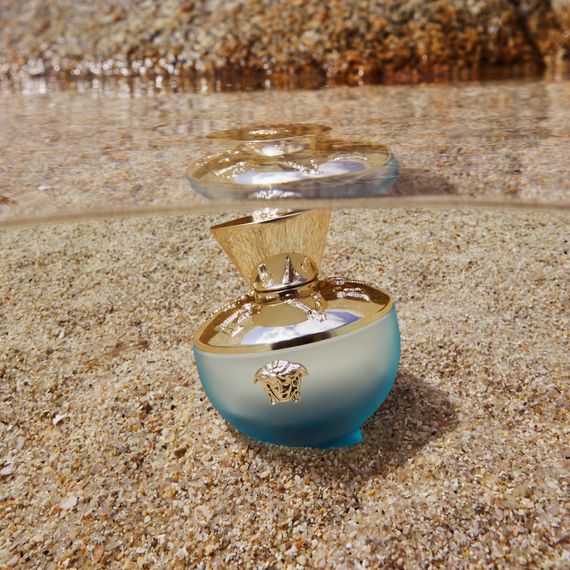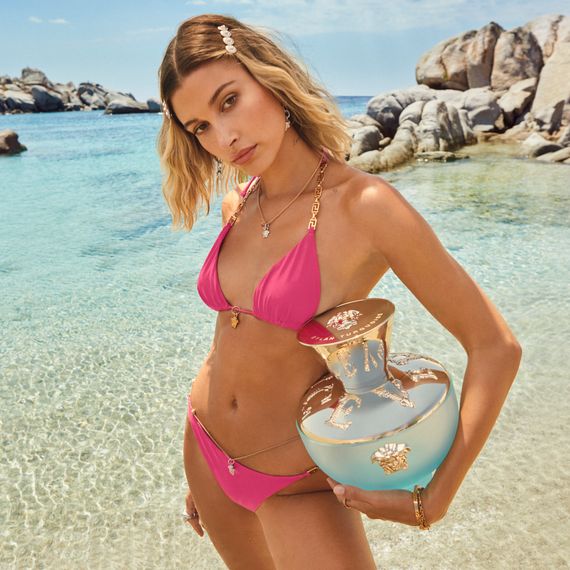 Just like Versace's ready-to-wear collections, Dylan Turquoise comes in a standout silhouette with golden accents and the label's trademark medusa head — ready to be noticed. The sensual curved shape gives a nod to Greek culture and mythology, signatures you'll see symbolized by the design house's Athena logo. (We're hoping the scent lends us some of Medusa's powers.)
The vibrant perfume feels like a ray of light, with notes of Primofiore lemon, Sicilian mandarin, and a spicy hint of pink peppercorn. The heart of the fragrance is designed to spark memories of a getaway: fresh and breezy guava juice paired with jasmine and freesia, a flower that exudes summer romance. Earthy amber and vibrant woods complete the scent profile, and even better, the perfume's ingredients are sourced using processes that minimize environmental impact.
With all the reasons to look forward — and back — to the languid afternoons of summer, why not try to recapture it in a bottle? Thanks to Versace Dylan Turquoise, at least we can reminisce while planning for our next season under the sun.
This advertising content was produced in collaboration between Vox Creative and our sponsor, without involvement from Vox Media editorial staff.