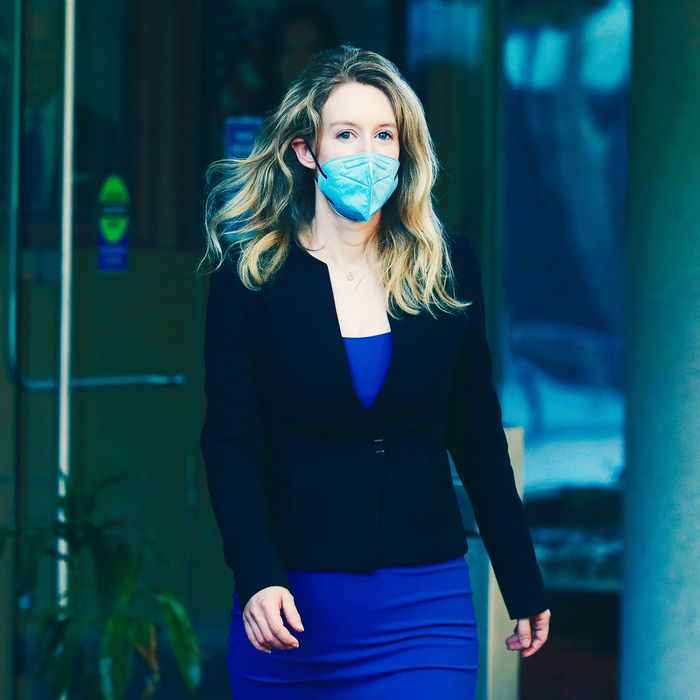 Photo: Jane Tyska/Digital First Media/The Mercury News via Getty Images
Much has been said about the general uncanniness of Elizabeth Holmes, the disgraced founder of Theranos who's currently on trial for defrauding investors with faulty technology she claimed could perform diagnostic tests with a few drops of blood. (She pleaded not guilty.) There's the voice. The turtleneck. The pretending her dog is a wolf. The blinking — or lack thereof. Now three months into her trial, a new piece of evidence sheds some more light on the inscrutable details of this woman's life.
During her testimony Monday, Holmes claimed her ill-fated decisions as Theranos CEO were made in an impaired state of mind because of an abusive relationship with her former boyfriend and business partner, Ramesh Balwani, whom she accused of sexual assault. One of the documents she presented to back up her account of the relationship is a set of note cards from the Raffles Hotel in Singapore on which she had scribbled a perplexing minute-to-minute schedule of her day followed by some even more confusing reflections. Per her testimony, the notes were instructions fed to her by Balwani, who she said dictated how she dressed, what she ate, and how she spent her day, not to mention how she ran Theranos.
According to the schedule, her day began at 4 a.m., when she must "rise & thank God" and remind herself "most things are not logical." There are ten more minutes of prayer after her workout and what I think says "change, shower, shave, perfect" (???).
The food specified here is actually the least abnormal thing about this. With whey, tofu, quinoa, and a green drink, her diet abides by the general rules I imagine Silicon Valley meal planners follow. I couldn't help noticing, however, that Holmes appears not to know the correct way to spell banana?
Anyway, the rest of this list is spelled correctly, which is more than I can say for a lot of people as well as one former president. After 6:45 a.m., the schedule goes sort of haywire with details of only her lunch and dinner listed. Following that is a list of … affirmations? Mantras? Sims captions? I'm not sure what to call these. A small sampling:
"I know the outcome of every encounter."

"I am never a minute late."

"ALL ABOUT BUSINESS."

"I call bullshit immediately."

"My hands are always in my pockets or gesturing."
Which only leaves me with more questions. Why are her hands always in her pockets???
We still don't know how much of a hand Balwani played in writing these, though it's worth noting Holmes's testimony Monday seemed to contradict other accounts of her knowledge of and control over the company, including her own. In any case, the phrasing of the list certainly lines up with the way Balwani and Holmes interacted with each other via text, a human-adjacent manner of speech I can only describe as Yassified English. (Not coincidentally, it also bears a striking resemblance to Jeff Bezos's algorithm-y sexts.) Maybe it's easier to fudge the details of your lab standards when you're speaking like an AI?