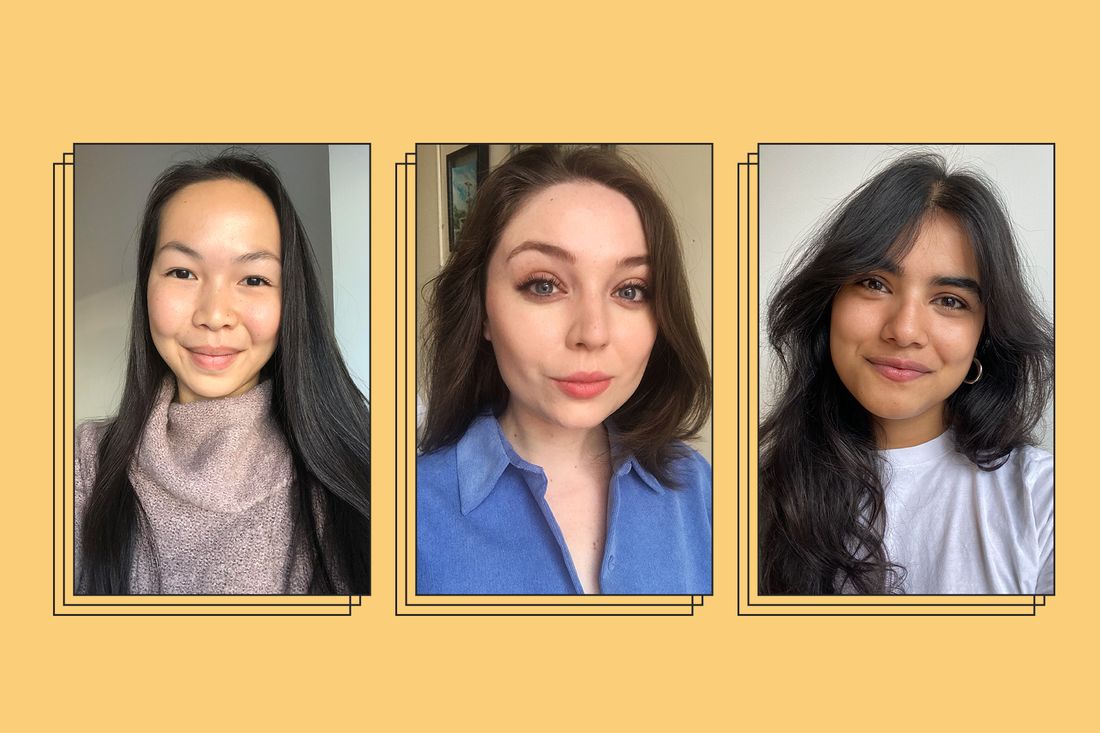 Photo: Courtesy of Talent
We're all constantly searching for that holy-grail, luxurious skincare formula that'll clear our redness, smooth our fine lines, and make us look lit from within — that go-to product we're proud to put on display. In the midst of my coworkers' and my search, the cult-favorite skincare brand Chantecaille released a concentrate that we were a bit desperate to take home. Not only because it's beautiful and made with gold — yes, actual 24k gold — but also because of what the formula is designed to do for your skin. Chantecaille says that the luxurious Gold Recovery Intense Concentrate A.M./P.M., with its supercharged formula made with gold heptapeptide, can help improve skin dullness, boost radiance, support firmness, improve hyperpigmentation and elasticity, and address fine lines and signs of aging. (Pretty much everything you could want in a bottle of luxe skincare.)
And it goes even farther — the formulas have light-activated and night-repair enzymes like botanical retinol alternative bakuchiol and lotus japonica extract which Chantecaille says improve skin radiance and reduce the appearance of wrinkles. And when used as a 28-day skin regimen — the A.M. formula in the morning and the P.M. formula at night, repeated every three months — Chantecaille says your skin will visibly improve.
My skincare-loving coworkers Jillian Karande, Annie Yu, and I used the day/night serums for a month to see if it could be the ultimate treatment — and to see if it was worth its $620 price tag.
We each received a golden box containing eight bottles of Chantecaille's intense concentrate — four bottles for mornings and four for evenings. For one month, we used the concentrate (after cleansing and before any serums and moisturizers of choice) until all the bottles were empty, and journaled about it along the way. Here's how that went.
Annie Yu, Head of Operations and Development, Revenue:
Like most people, I probably over-index on self-criticism, and I've learned to feel comfortable in my own skin, but I would say winter does wreck my skin confidence the most. I end up looking like a zombie because my skin will get dull and dry, and the fading of my tan accentuates the dullness and dryness. I'm most excited to see what [the concentrate] does with moisturizing, brightening, and tightening!
First impressions:
It was so pretty! It was also organized. The vials were labeled and looked nice, which made it easy to use, and made me want to use it. Over the last year, I've taken some weekend getaways and I like when things are easy to pack. Since the bottles are small, it makes packing MUCH easier — I just throw it in my travel toiletries bag. This is especially helpful if you procrastinate packing like I do. Never forget your skincare routine again!
Using the serum for the first time: 
I was a little nervous. The bottles are so small, so it all seemed so delicate, and I was worried about dropping it. Once I got over that, I was surprised how light it felt on my skin, and how easily the product spread across my face. It didn't feel like I put anything on, which I loved, because not feeling heavy or greasy is the number one thing I look for in skincare — after ease of application of course, which this also scores points on.
After the first week:
Since I already had a routine, it was easy to work it in. It was helpful that the product just felt so good that I wanted it on my face. It also had this lovely, subtle smell. After the first week, my skin was looking a bit brighter.
Halfway through:
The second week was a game changer for my skin overall. New York City [dropped to] 40 degrees and the chilly wind was whipping at my face during bike rides. I probably should've prepped my skin better, but the glow I started seeing this week on my forehead was steadfast. My skin definitely felt extra-soft. I also started using the serum on my neck and chest. I'd like to keep those areas as firm and bright as possible as well. I love a good, low neckline. If you got it, flaunt it.
Final results:
Am I the only one that taps on my skin to feel the elasticity? It definitely has some "controlled bounce" to it, and it looks lush with some of the brightening. I was hoping it would tighten and brighten, and it seems to have done that! I also don't normally wear makeup, but I had a few weddings in the last month (yes, plural!), and it worked well with my blush, mascara, and lipstick. I love structure and routine and could totally see how this product would help someone establish a skincare practice. It only takes two weeks to build a habit!
Lee Musho, Editor, Branded Content:
I've never done a regimen like this, where you have to use a product every day for a set amount of time. My routine is typically a bit more casual (read: lazy) — a bit of moisturizer here, some serum there, depending on how my skin feels. But no matter what I do, it feels like my skin is dull and a bit red. It never seems that happy, so I'm excited to see if this will finally make it radiant!
First impressions:
Opening the box to see the golden serum made my eyes widen — someone was singing, somewhere. It felt expensive and special, like getting a golden ticket in the mail.
After the first week:
It felt refreshing, cooling, and had a light botanical scent. I put three drops on my face — one on my forehead and two on my cheeks — and rubbed it in before my moisturizer. I was curious to see what the results would be. It has ingredients like gold heptapeptide, bakuchiol, and tranexamic acid, which Chantecaille says can help with fine lines, wrinkles, and discoloration. I've never used any of those ingredients before, so we'll see if they deliver!
Halfway through:
It's been pretty seamless integrating this into my routine, but I have to admit, I did forget to put it on for a day or two the past few weeks. But that didn't seem to mess me up — my skin texture still seems smoother, and my discoloration is fading a bit, making my face seem brighter.
Final results:
My skin feels plump, less red, and more even, and I've been wearing less foundation! I used to not go outside without some makeup on, which I've been meaning to change. Now, unless I'm going out for something special, I'll swipe on some mascara and a colored lip balm and be on my way, since I feel a lot more confident with the skin I've got. I even had a friend tell me that, with no makeup on, I looked absolutely glowy, which was super-satisfying to hear. I'm really happy with the results.
Jillian Karande, Brand Strategy, Podcasts:
As the seasons are changing, my skin has a tendency to get really dry, so I'm looking forward to seeing how this product impacts my skin's moisture. I'm also excited to see how the concentrate impacts my skin's brightness and the fine lines I am starting to develop under my eyes. In the past couple of years I've started noticing some fine lines around my eyes, especially when I wear concealer and the product settles into those creases. I think aging and skin maturing is totally a natural process, but I would love to find a product that helps keep that delicate area moisturized and firm to prevent those fine lines from prematurely getting deeper or more pronounced.
First impressions:
The packaging was really pretty and nicely organized. I decided to take out the serums from their box to add a little gold on my vanity.
Using the serum for the first time: 
The texture of the serum was unexpected. I was expecting more of a liquid formula, but the serum has a creamier texture than I thought it would. Often during this time of year I'll develop some pretty stubborn dry patches on my chin or cheeks, but this week my skin continued to feel soft to the touch. I haven't had to constantly reapply moisturizer throughout the day, and my skin feels like I've drank way more water than I actually have.
After the first week:
I've integrated serums into my skincare routine but nothing that is like this where there's a specific formula used for a fixed period of time (as opposed to everyday, indefinitely). But it was a really easy step to integrate into my current skincare routine, and felt luxurious to have a different version of the product for A.M./P.M!
Halfway through:
Around this time of year when the first few cold days hit, my skin immediately feels bone dry and I feel like I have to slather on a thicker moisturizer. But when the temperatures started to drop, I didn't have to change up my skincare routine at all — my skin has been keeping its moisture and bounce since I started using the serum. My skin felt really even, smooth, and bright, this week, in comparison to the first week.
Final results:
It was really exciting to integrate such a luxury product into my skincare routine, which is typically really minimal and centered on tried-and-true products I've used for years. I think the most noticeable results were in my skin texture and glow after the second week — my skin felt so soft all of a sudden, and it was so great to feel like I had an extra step to help my sensitive skin combat the incoming New York winter. I do feel like the serum routine lives up to its promises of brightening the skin and targeting dull areas and fine lines — especially underneath my eyes. I noticed that my small fine lines were less noticeable and that the skin under my eyes felt a lot firmer. My skin overall felt glowier and brighter by the end of the trial, too. I was really pleased with those results!
This advertising content was produced in collaboration between Vox Creative and our sponsor, without involvement from Vox Media editorial staff.