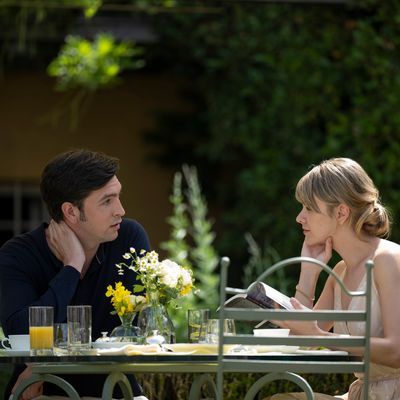 To know Succession's Cousin Greg is to find him deeply unsexy. His entrée into the show had him vomiting through the eye holes of an amusement-park costume, and over the past few seasons, he has committed an impressive number of social blunders, including buying cocaine in the park and uttering the words "If it is to be said, so it is." It's not hot.
At least that was the case until recently. Of late, Cousin Greg has started to bear more of a resemblance to … well, the actor who plays him, who has carved out a horny little niche for himself as the tallest bachelor–slash–bar owner this side of the Williamsburg Bridge. Since becoming the object of our collective lust, it was inevitable that Nicholas Braun's alluring weirdness would bleed over into Greg. While I personally did not see it coming, whoever thought to create a vibrator plug-in that buzzes for Cousin Greg certainly did.
In the season-three finale, we find Greg toying with the affections of both a hot PR rep (a.k.a. Red Scare host Dasha Nekrasova) and a Luxembourgian countess. How did we get here in the span of, I don't know, two episodes? Maybe being forced to drink a rum-and-Coke for breakfast suddenly made him irresistibly virile. However it happened, the fact remains that, in addition to being someone who is suing Greenpeace out of spite, Greg is a fuckboy now.
To be fair, the bar is low when it comes to male romantic prospects on this show: The other guy flirting with half the female characters is notoriously sexually challenged, and everyone else is either married or dating an up-and-coming playwright. Greg's only competition, really, is Logan, who's too busy downing fertility-enhancing smoothies made by his secretary to flirt with anyone else.
I for one am thrilled to see Greg embrace his slutty side. I just hope he can manage not to send a dick pic to Logan.