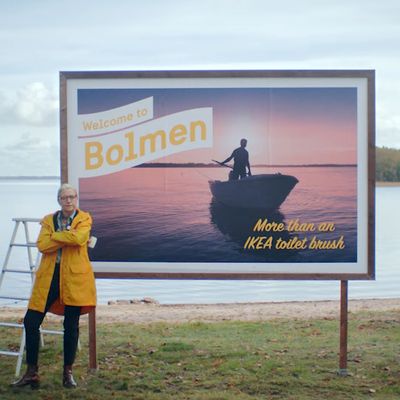 Today in things you probably didn't know, your Ikea toilet-bowl brush is named after a scenic Swedish lake, and it's time to put some respect on its name. The Swedish tourist board has announced a new campaign, Discover the Originals, to reclaim the names of Swedish tourist destinations from Ikea, which has used them to name brushes, bamboo lamps, trash cans, and that Voxnan shower shelf where every guy you've ever dated stores his three-in-one.
"Toftan, Ektorp, Voxnan, Hemsjö, Kallax," the campaign mission statement reads. "These are all wonderful places in Sweden. Yet most people associate these names with waste bins, sofas, bath towels, block candles, and shelf systems."
Discover the Originals has listed 21 destinations that want "to reclaim their name" from various Ikea products. For instance, Kallax is not just an Ikea shelf — it's also a village where people hold fermented herring parties. Toftan is more than an Ikea waste bin — it's also a lake full of pike and perch. Askersund, in addition to being a kitchen cabinet door, is a hiking destination on the edge of a forest populated by happy blonde children, as per the accompanying campaign photograph.
In the case of the Bolmen toilet brush, a local Swedish counselor, Magnus Gunnarsson, said that, while he appreciated Ikea naming a product after their beautiful lake, "now we would like to show the world that Bolmen is so much more than an item with which you clean your toilet." Discover the Originals says the lake has "water so clean you could drink from it." Maybe if a ticket to Sweden was as cheap as a toilet brush, I could compare the two Bolmens for myself.