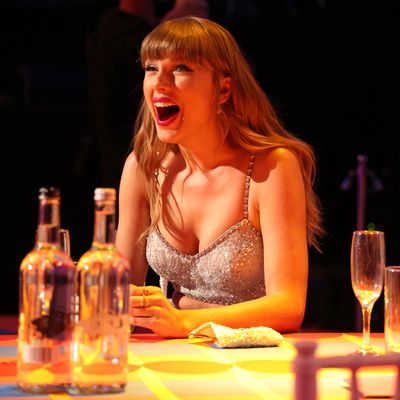 Photo: JMEnternational for BRIT Awards/Getty Images
In case you forgot, Taylor Swift is very much a millennial. Case in point: Her recent Instagram caption in honor of her birthday: "*don't say it, don't say it OKAY I'm saying it:* I'M FEELIN 32." This TikTok-having Gen-Z whisperer is as corny as the rest of us.
On Monday, December 13, Swift celebrated her 32nd birthday, as I'm sure you gathered from the aforementioned Instagram caption. As a gift to the rest of us, she posted a couple pictures from her joint birthday party with musician and Licorice Pizza actress Alana Haim, who turns 30 on December 15. Sagittarius SZN for all!
In addition to the other two Haim sisters, Este and Danielle, actress Diana Silvers and singer Gracie Abrams were among some of the guests in attendance. Because Swift always knows what you're thinking, she also wrote in her Instagram caption, "Don't worry we tested everyone!" Thus, COVID was (hopefully) not in attendance.
Swift's caption begs the question "What would a ten-year sequel to '22' even sound like?" It feels like the perfect night to have one glass of wine and wake up with a headache? We're happy, free, confused, in debt, emotionally exhausted, and feeling the biological pressure to have kids at the same time? The "miserable and magical" line still works, I guess.
Regardless, a very happy birthday to Ms. Millennial herself. Everything will be all right if you keep releasing new or rerecorded music every few months.