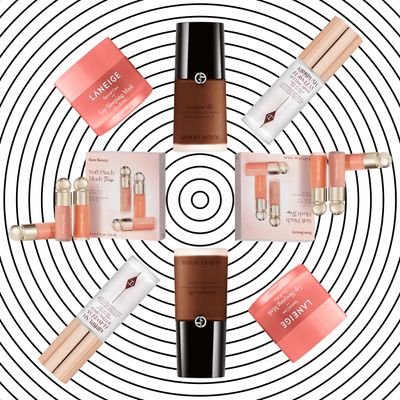 Photo-Illustration: by The Cut; Photos: Sephora
Did you think all the beauty sales were over? Not so fast, says Sephora. The mega retailer is offering 20 percent off on all products though December 12, with the code GIFTEASY (Sephora Collection products receive 30 percent off). Unlike previous sales in which discounts were determined by your VIB Rouge tier status, everyone (so long as you are a beauty insider — which is free), gets the same 20 percent. Here are our favorite personal picks for the sale, from cult lip balms to candy-scented hair and beauty products (in a good way), to the most-loved luxury foundation.
When in doubt, give the gift of dewy skin. This watermelon-infused K-beauty routine is an instant-mood booster that leaves skin glowing. – Erica Smith, beauty writer
Unofficially, Laneige makes Sephora best-reviewed lip balm. It's perfect for sealing cracked lips and despite the name, for wearing it not just while you're sleeping. – Kathleen Hou, beauty director
This cute kit is great for the curly-girl on your list. It comes with a travel-friendly version of the hair gloss that smells like gummy bears, and the fragrance-free macadamia oil that can be used head-to-toe. – E.S.
Masks may cover your favorite lipstick, but the right blush will make your skin blooming right above them. These liquid blushes are long-lasting and they're nourishing with light, yet radiant pigments. – Asia Milia Ware, fashion and beauty writer
Don't forget about Sephora Collection, which has some very satisfying dupes for some of your favorite products. One of my favorites is this liquid lipstick which comes in one of the most arresting, vivid shades of red I've ever seen. I first learned about it from makeup artist Benjamin Puckey, who used it on a cover shoot for Vogue China. I know everyone is a fan of Fenty's Uncensored but this works better for my pale/slightly yellow skin tone. – K.H.
Who doesn't want crease-free skin and hydrated hair? Slip one of these into a stocking if you're stumped.
This set gets you the brand's best-selling travel-size brow serum and another mini lash serum for free.
Can you really ever have enough gloss bomb? This set includes four of Fenty's luscious glosses. From the smooth, glazed finish to the shades that complement every complexion, you can't go wrong picking this up for a last-minute set. – A.M.W.
This body cream (which yes, could go on the bum too) is so warm and rich that it belongs on everyone's shelves. It has an incredibly addictive scent, too, and was once known as the best-smelling body lotion in the world. – A.M.W
These not a new product but I discovered one in an old winter coat and remembered just how much I like them. They go on sheer and silky, but give the prettiest hint of color and just make my dead-of-winter chapped, gray lips look more alive. Plus, they smell just like Jolly Ranchers candy. – K.H.
For the friend who loves wearing a full beat face of makeup, their makeup will never move again once they try this setting spray. – A.M.W.