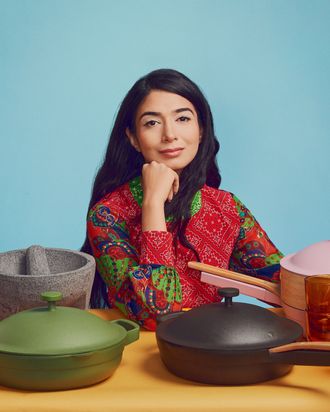 Photo: Jessica Chou/Courtesy of Our Place
Shiza Shahid didn't start out in kitchenware. Instead, she co-founded the Malala Fund, which focuses on female education, after her friend Malala Yousafzai was shot by the Taliban in 2012. Born and raised in Pakistan, Shahid turned to activism in her work after graduating college.
Now, she is the co-CEO and co-founder of Our Place, a brand that makes Instagram-worthy pans. The company's pan was my graduation gift, and it's probably my favorite thing in my kitchen. Though the jump from educational nonprofit to kitchenware seems huge, Shahid was able to bridge the gap.
"Every choice is a chance to make a positive impact," Shahid told the Cut.
What's one piece from Our Place that's especially meaningful to you?
I love our Always Pan — it was our first product and became the north star of how we design to make home cooking easier and more joyful.
What made you want to work with kitchenware?
My mother never taught me to cook. She wanted me to focus on my education, but then I moved halfway across the world, and I missed her and our home cooking. Every other cookware brand was selling 16-piece cookware sets — all these bulky, expensive, difficult-to-use pots and pans that I didn't have the space, time, or budget for. So we created one magical pan to replace eight pieces of cookware.
How do you thank someone for a gift?
I'd invite them over for a delicious and cozy home-cooked meal.
What would you never wear?
An uncomfortably high heel.
What's your dream vacation?
I'm currently dreaming of going back to Istanbul, wandering the bazaars, drinking Turkish coffee, and catching up with old friends there.
What's a good book on your coffee table right now?
The Secret Keeper of Jaipur by Alka Joshi.
Last show you binge watched?
Gentefied. It's beautiful story of a Mexican American family in Boyle Heights fighting for their neighborhood, their family's taco shop, and their grandfather's right to stay in America.
What's your guilty pleasure?
Gummy bears!
Secret to hosting a good party?
The perfect dinner-party prompt to get people to connect on a deeper level. Current favorite? "Something people don't usually know about me is …"
What is a trend that you like right now?
Dressing for yourself.
One you don't understand?
The return of the thin-eyebrow trend.
Favorite restaurant in New York?
Mah-Ze-Dahr Bakery in the West Village.
What's the one thing you could eat every day for the rest of your life?
Roti.
Shoes you wear most often?
I love a vibrant kolapuri — a traditional South Asian hand-crafted leather sandal.
What are five fashion items that bring you joy?
"Its vibrant chunari-inspired prints remind me of my homeland."
"Puffy sleeves bring me joy."
"I love this because somehow it's summer and winter in L.A. all in the same day."
"Too few skirts have pockets!"