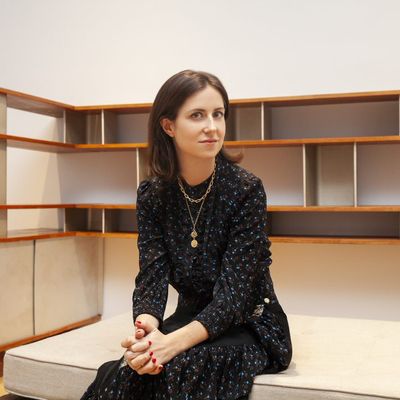 Photo: Courtesy of Sara Friedlander
Sara Friedlander always knew she wanted to work with art. "As I realized my obsession with art and objects could lead to an actual career, I never looked back," she told the Cut.
In graduate school, she studied furniture and decorative arts and thought she might work for a cabinetmaker in London. But furniture never moved her in the way contemporary art did. Now, she's a deputy chairman of postwar and contemporary art at Christie's, an international auction house spanning more than 80 art and luxury categories at price points ranging from $200 to over $100 million. Friedlander considers herself an "art merchant" whose mission, she says, is "to connect great people with great works of art and to elevate the markets of artists historically undervalued."
We spoke with Friedlander about multimillion-dollar art, her favorite art books, and clogs.
What's one work from a recent collection you've curated that's especially meaningful to you?
In November, Christie's made a world-record price for a wall construction [pictured above] by Lee Bontecou, a pioneering figure in the New York scene in the 1950s and '60s who physically challenged what sculpture and painting could be through her radical use of materials. It sold to a private collector for just over $9 million, shattering her previous world record set by us over 11 years ago.
How do you thank someone for a gift?
With a handwritten thank-you note from Dear Annabelle.
What would you never wear?
Athleisure.
What's your dream vacation?
I travel so much so the dream is to be home. Plus, if home is New York City, I'm not sure it makes sense to go anywhere else. But I'm always happy in Tel Aviv.
What's a good book on your coffee table right now?
Hurvin Anderson's new monograph, The Tarot of Lenora Carrington, Jenna Gribbon's new monograph, Lee Lozano: Drawings 1958–64, Bob Thompson: This House Is Mine, Narratives of African American Art and Identity, Carolee Schneemann: Kinetic Painting, Alice Neel: An Engaged Eye, and a stack of others, which I should probably move lest they topple over onto my small children.
Last show you binge-watched?
Impeachment: American Crime Story.
What's your guilty pleasure?
Sour candy, jelly beans, and some things you just shouldn't say in New York Magazine. 
The secret to hosting a good party?
People always appreciate cloth cocktail napkins and smoked fish from Russ & Daughters.
What's a trend you like right now?
Clogs.
One you don't understand?
What does one carry in a micro-purse?
Favorite restaurant in New York?
Dagon.
What's the one thing you could eat every day for the rest of your life?
A bagel from Absolute Bagels.
The shoes you wear most often?
Clogs. I alternate between a leopard-print pony-hair pair from Rachel Comey and a black leather pair with silver studs from Hermès.
What are four inanimate objects that bring you joy?
"Discovered on a trip to Berlin, this bubble bath is absolute heaven. And considering the fact that I do some of my best work in the bath, it is a necessary daily potion."
"Emily Bode and her entire team are basically brilliant creative magicians who have made all of my elevated Bohemian/quilted-inspired dreams come true."
"Art books are my fantasy art collection, and I'm a hoarder of the worst kind. I buy doubles, keep many in shrink-wrap, and if I don't have something someone else has, I break into a mini panic attack and immediately go to Ursus, my personal treasure trove."
"I visit Duro's perfect shop–gallery–cabinet of curiosities each time I'm in London. His latest collaboration for Soane makes me want to reupholster my entire apartment."