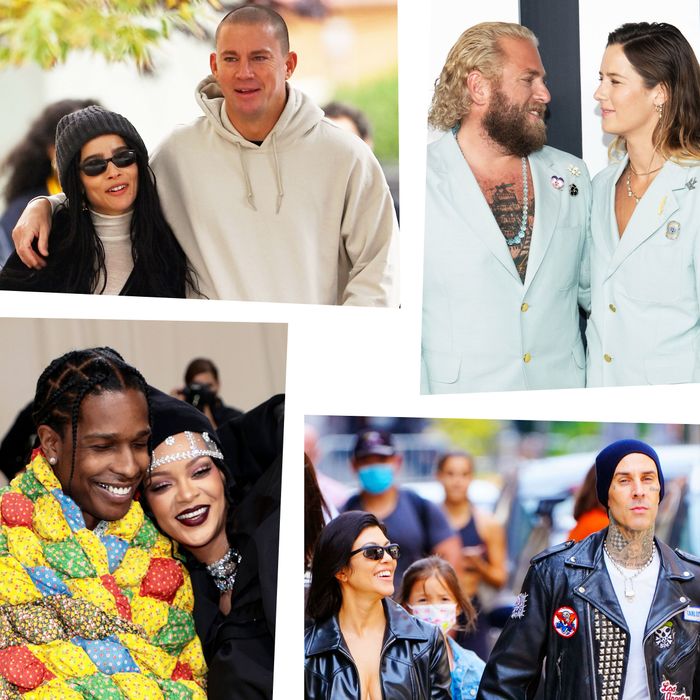 Photo-Illustration: by The Cut; Photos: Getty Images, SplashNews
If you were in a relationship this year, chances are you spent a lot of time with your significant other, hunkering down and becoming perhaps too intimately acquainted with every inch of their existence — including their wardrobe. In this way, celebrities, it seems, are just like us. When we look back on the year in A-list style, it's matching couples who stand out.
The Kardashians, of course, are masters of koordinated klothing, but it wasn't just Kim and Kanye who dressed alike this year (despite being separated). When Kourtney started dating tatted Blink-182 drummer Travis Barker, she went full Hot Topic, and by fall, they were basically twins in leather jackets and combat boots. Then, of course, Kim started dating Pete Davidson and hanging out on Staten Island, and it was only a matter of time before she added some "scumbro" flannel and sweatpants to her rotation.
I get it! Not only are we spending way too much time in our own little bubbles, but reentering society can be daunting. It's nice having a wardrobe buddy to hit the town with, whether they're your cringey romantic partner, your convenient distraction, or your little green robot baby.
Below, a roundup of some standout celebrity-style moments that had us seeing double in 2021.
Kourtney Kardashian and Travis Barker
On Instagram, Kourtney has scoffed at the implication that she changed her style for her tatted fiancé. Maybe she has always been a Hot Topic girl at heart. Either way, we can't wait for the goth wedding.
Kim Kardashian, Kanye West, and Balenciaga
Unlike her sister, Kim is loud and proud about Kanye's influence on her style. West has been working closely with Balenciaga designer Demna Gvasalia this year (who now, à la Ye, just goes by Demna), so it's no surprise Kim has been wearing a lot more of the brand too. One could say they're in a style throuple.
A$AP Rocky and Rihanna
Gosh, don't these two just make you so happy!?! A$AP Rocky and Rihanna showed up so late to the Met Gala this year they almost missed the red carpet, but they still won our hearts with these looks resembling high-fashion blankets. These two are an example of a couple who don't necessarily wear the same thing but whose sensibilities align because they are equally incredible. You know they talk about clothes like some couples talk about what to eat for dinner. I imagine them showing up at the front door before a night out and pointing and looking at each other like that Spider-Man meme and saying, in unison, "You look sick."
Prince Harry and Meghan Markle
The Harry-Meghan Oprah interview feels like another lifetime ago now. (It aired in March. Remember March?) But this was an example of duo dressing at the highest level. The royals are hyperaware of the messages their clothing choices send, and in this instance, Harry and Meghan each had something very specific to say. The combined effect was powerful. (And Oprah looked good on her own too.)
Ben Affleck and Jennifer Lopez
It's been a long pandemic for Ben Affleck — so long, he has been photographed mask-kissing not one but two different girlfriends. Ever since he got back together with Jennifer Lopez, his style has gotten sharper and his paparazzi walks more like brand-campaign photo shoots, so here's to personal growth, I guess. It's clear this couple knows what they're doing because, well, they've done it before.
Lucas Hedges and Tommy Dorfman
If you ask me, a good reason to be in a relationship with someone is to steal their shoes. Lucas Hedges and Tommy Dorfman each have their own great sense of style, but I love how Lucas clearly borrowed Tommy's Loeffler Randall boots on this day.
Zoë Kravitz and Channing Tatum
Now this we did not see coming, but we support it nonetheless. Zoë Kravitz has perfected the art of casual dressing — a slip dress here, some baggy jeans there, and, of course, plenty of The Row — and her powers seemed to have rubbed off on Channing Tatum. As my colleague Danielle Cohen pointed out, Kravitz seems to have given him a "Dimes Square–style makeover," helping him transition from Crocs to China Chalet chic. They also now literally share a stylist, so we all owe Zoë a big thank-you.
Adam Driver and Lady Gaga
The look that spawned a thousand couples costumes!!! Despite the fact that one half of this couple ended up murdering the other.
Jonah Hill and Sarah Brady
Thankfully, some couples are in on the joke. Jonah Hill and his new girlfriend, Sarah Brady, who happen to look a lot alike, wore matching Gucci suits and Manolo Blahnik slippers to the New York premiere of Hill's latest film, Don't Look Up. If you're going to date your twin, you may as well lean into it, right?
Frank Ocean and Cody
Personally, I think Frank Ocean was onto something here. His style companion will never upstage him, and if he starts having too many opinions, Ocean can just turn him off. Genius!