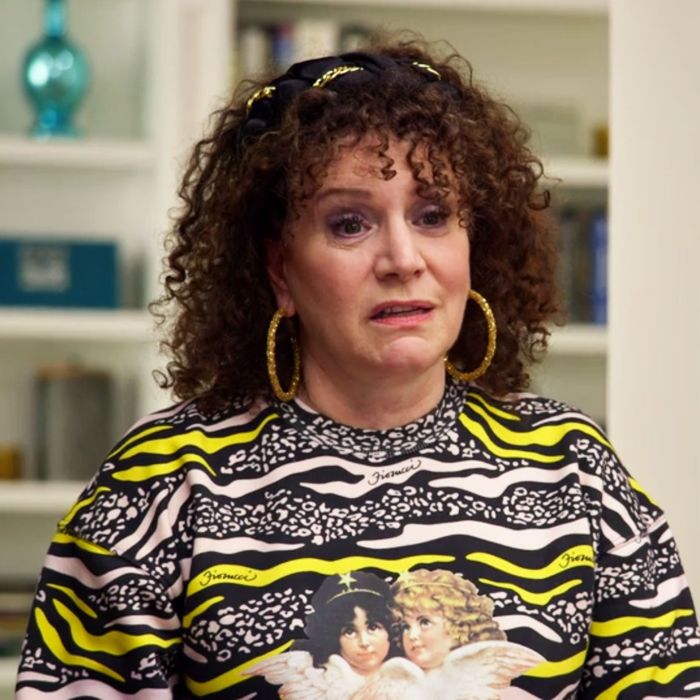 Tops are the workhorses of our wardrobes. They are the points from which outfits are built; they can say "I'm going out" or "I support local businesses" or even, if you want, "Fuck you." We are currently experiencing a Wild West era of tops, which means people, both fictional and real, have plenty of room to experiment when it comes to putting on a shirt. One person doing what I might argue is the most exciting work in the realm of top wearing right now is none other than Curb Your Enthusiasm's Susie Greene, the abrasive wife of Larry David's friend and agent Jeff.
Susie is loud in ways both vocal and visual. Her entire aura of hostile crankiness is underpinned by her wardrobe, which is difficult to capture in words, though outlandish, combative, and zany all come to mind. Much has been said of Susie's hats (newsboy, fedora, bowler, etc.), and one entire episode revolved around her insistence on wearing a top hat I can only describe as what Willy Wonka would wear to a funeral. And yes, the hats are great. But I would argue the most deranged element of Susie's style has always been her shirts, which is where her outfits go from merely garish to truly awe-inspiring.
During Curb's current 11th season, Susie's shirts have taken on a particularly crazed quality, like someone added a few notches to her sartorial volume knob. The variety of rhinestone-encrusted shoulder décor has broadened. The fabric patterns have gotten even bolder. There is never not a coordinated hair accessory. Essman, who's been finely tuning Susie's style herself for the entirety of the show's run, told Vanity Fair that costume designer Leslie Schilling felt "free and secure" enough this season to "completely let go with abandon" when it came to Susie's wardrobe. The result is a marvelous parade of cold shoulders, quirky mock necks, and bold knits that both accost the senses and also make me question everything I know about fashion.
Part of the allure of Susie's shirts is that there's always a themed tie-in: a piece of fringed bauble jewelry here, a matching headband there. She loves to lean hard into whatever is adorning her shirt on a given day, letting it guide her selection of accessories and little jackets. She's not just wearing a leopard-print mock neck adorned with cherubs, she's also wearing gold hoops and a gold-chain headband that match the jewelry worn by shirt angels. In Susie's world, a sequin-coated sweatshirt top is nothing without dangly earrings matching one of the shirt's many hues of pink.
At one point, Susie's dedication to themed outfits becomes so intense it gets kind of … meta, even? It starts with cowboy boots — pretty run-of-the-mill by today's standards — and, because it's Susie, extends to a fringed Canadian tuxedo situation that's topped off by a denim newsboy cap. But wait! Are those … embroidered cowboy boots on her shirt?!?! The layers! Both literal and metaphysical!
And then there is the matter of the snakeskin. We must talk about the snakeskin. Not actual snakeskin, of course. Lycra snakeskin, pleather snakeskin, nylon snakeskin — so much of this pattern covers Susie's body in some shape or form. In the seven episodes so far in this season, Susie has worn not one but two outfits that involve both a snakeskin shirt and a differently patterned snakeskin jacket. Susie is proof that snakeskin is versatile if nothing else: It can be athleisure, as evidenced by her matching snakeskin tracksuit, or it can be sophisticated, as when she wears it to synagogue with a coordinated necklace and hat. How this woman gets her hands on so much snakeskin patterning, I do not know. Is there some top-secret L.A. stylist that trades exclusively in reptile-themed spandex?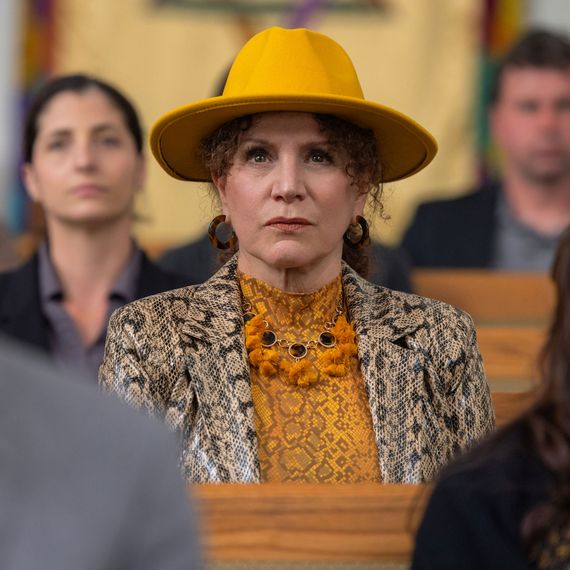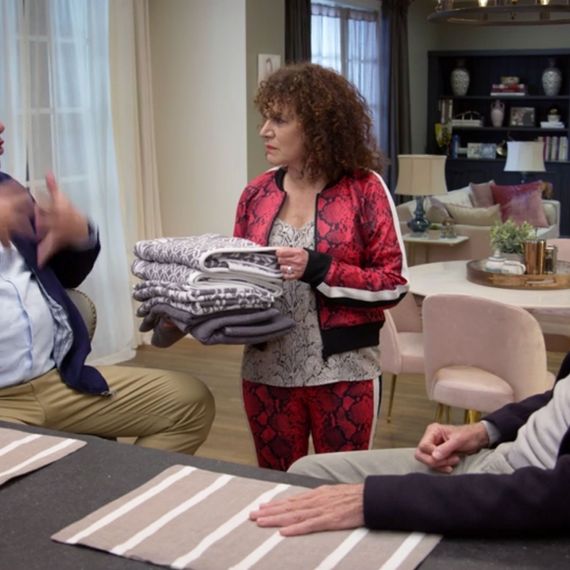 Whatever her sources, I applaud Susie for boldly reinventing what it means to wear a top. Her passion has even prompted me to rethink some of my own shirt ensembles, which might explain why I recently bought dangly tomato earrings to go with this shirt. I'm sorely tempted to top it all off with this tomato-y jacket, too. Does that make me a sick fuck?