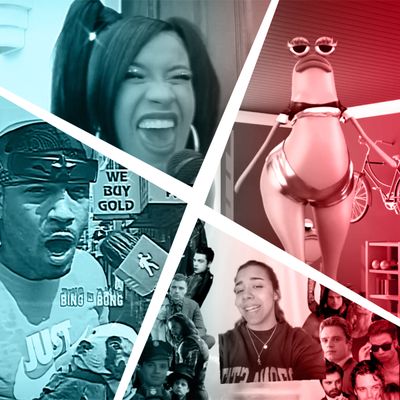 Photo-Illustration: by The Cut; Photos: by The Cut; Photos: @femalerapindrustry, @sofiacasimira, @yvngwxrld, @bum.bailey/TikTok
Move over, Spotify Wrapped. I'd argue that the most viral videos on TikTok are an even more revealing way to look back at the year. Is there anything more nostalgic than reflecting on the trends that dominated January 2021 and realizing just how far we've come? Remember saying, "She looks like every other bitch," or declaring anything you do as "the feminine urge to?" What about singing, "Oh, oh, oh, oh, oh, I know it ain't, I know it ain't the stallion," every single time you see your friend?
From watching stylist Law Roach prank call different celebrities to couch guy, this app had quite the year. It's only right to celebrate and look back at the chaos and joy we've created and enjoyed. Here, a brief selection of our favorite TikToks of 2021.
Good Soup
This year was all about soup. As with many things on TikTok, I'm not exactly sure why, but I'll take it.
Gorgeous, Gorgeous Girls
Further evidence the meal of 2021 was soup. Cheers to all our soup queens.
Who Are You?
When this video of Megan Thee Stallion, Billie Eilish, Cardi B, and Doja Cat hit the internet, it became sort of like a personality quiz for who you most identified with. My personal favorite is Cardi B, just for the laugh.
Joe Biden's TikTok Debut (Featuring the Jonas Brothers)
Bing Bong, say hi to the president of the United States. As if this app wasn't already chaotic enough, the Jonas Brothers decided to remake "Fuck your life, Bing Bong" (the clean version, obviously) with President Byron himself.
Gaslight, Gatekeep, Girlboss
In true "live, laugh, love" spirit, we adopted a new motto for the year.
An Acting Performance That Was So Good, You Forgot It Was Acting
TikTok also prompted us to reconsider the iconic movies from our youth, such as the acting on display in this unhinged scene from The Secret Life of the American Teenager.
Stormi, You Look Like Mommy Baby
The internet is obsessed with Kylie Jenner and Stormi, and this audio is perfect for so many reasons.
Impersonating Dancing Cartoons
Last year was all about the renegade and legit dance trends. This year? Say hello to Lizzo dueting this viral dance done by TikTok account @bum.bailey, which was subsequently recreated by everyone everywhere.
Resurgence of The Backyardigans
Speaking of weird dance trends … does shaking ass to a children's cartoon count? A song from The Backyardigans, "Into the Thick of It," went viral. Ah, 2021.
Bestie
Another thing we learned in 2021: Calling people "girl" is out. Calling people "bestie" is in.
Girls Only
Never has an app made me feel so happy to be a woman. My side table? My hot girl side table. My tote bag? My hot girl tote bag. My stomach ache? I feel seen and heard.
No More Fortnight
I know nothing about Fortnight, but in true Vine-era fashion, this audio became a part of my daily vocabulary. Anything bad happens? No more Fortnight.
Dear Lord, Please Let Me Bring My Man
At the beginning of the year, we shared our holy grail of men to audio from Lana Del Ray. It quickly morphed into being anyone or anything that you considered your personal holy grail, from Linda Cardellini to bagels.
"Berries and Cream" …
In another trend that is nearly impossible to explain to people who aren't on the app, the little lad behind the original "Berries and Cream" audio became so well-known, he landed himself a photoshoot with Paper magazine.
… and the Subsequent Remixes of "Berries and Cream"
At one point, the "Berries and Cream" audio was so deep on TikTok that it seemed like every single sound had been mixed with it.