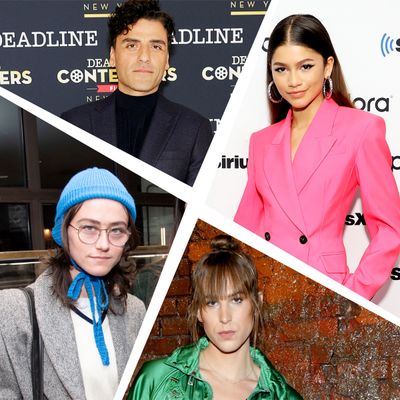 Photo-Illustration: by The Cut; Photos: Getty Images, Andrew Morales
From the Sex and the City reboot premiere to the first holiday parties of the season, celebrities have been booked and busy this week. And you know what that means — plenty of great outfits to talk about. This week featured two of my favorite people in suits (Zendaya and Oscar Isaac) as well as a lot of colors and some very fun knitwear. Ella Emhoff showed up in some lovely headgear, making me want a balaclava even more than I already do. And Chanté Adams stunned in a purple gown at the premiere of her upcoming movie, A Journal for Jordan. For all those looks and more, read below.
Best Suit
I may be biased in that I love anything Zendaya wears, but I would argue it's because she sports such a wide range of styles. This week was no exception, and of course she looked amazing in this hot-pink suit.
Most Preppy
Preppy is back, and Gayle proved it on the red carpet. I love the pattern of this dress and the pop of color the light pink gives the outfit.
Best Green
Green is unofficially the color of the season, and Dorfman got the memo. She elevated her green jumpsuit with a pair of silver clogs.
Best Face
Obviously, I like Isaac for more than just his face. There's the way he looks this good in all black, too.
Most Likely to Roast Me
Ziwe always looks perfect for any occasion, whether she's out and about or hosting people on her talk show. And for the holidays, of course she dressed for the occasion in a glittery-gold dress and some black boots.
Best Asymmetrical
This satin gown is everything, and Adams is pulling it off like a pro. With a single puffy sleeve and bow, it could easily have been overdone, but it's not. Her slicked-back ponytail and simple accessories make this the perfect premiere outfit.
Most Likely to Dress Up As Teens
Any time I see the ladies of Pen15 as anything other than teenage versions of themselves, I'm impressed. Plus, I'm a sucker for overalls and bright pops of color.
Best Accessory
Knitwear is the only reason I like winter. I love the color of Emhoff's hat, and it looks so comfy and warm.
Best Fur
Lyonne's heels! The fur coat! The tights! This is what we love to see for winter fashion.
Best Floral
This is texture at its finest, and the colors work so well with the brown pants.
Best Street Style
Of course, the opening of Acne Studios means the party-goers will be pulling out all the best street style looks, and Russell is no exception. Mixing white and cream, she looks great.