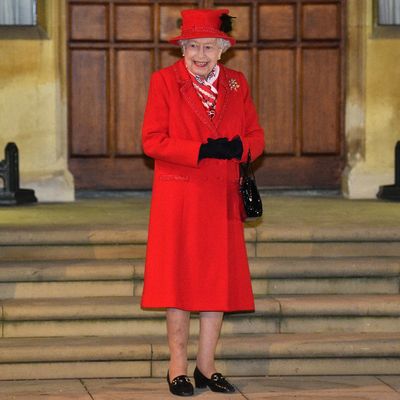 Photo: GLYN KIRK/AFP via Getty Images
Omicron will come for us all — not even a crown can protect you. In response to a rise in COVID-19 cases in England, Queen Elizabeth II has reportedly canceled her traditional royal Christmas lunch as well as her annual holiday stay at Sandringham Estate.
Last Wednesday, the U.K. reported the highest number of new daily recorded COVID-19 cases since the beginning of the pandemic with 78,610 reported cases in 24 hours. And last Thursday, it was reported that the queen, who at 95 years old is considered high risk, was officially calling off her traditional pre-Christmas lunch, which typically sees extended family invited to the House of Windsor, per the New York Times. Since then, Omicron has continued to surge throughout the U.K., and on Monday, it was reported that the queen would spend Christmas and New Year's at Windsor Castle instead of going to Sandringham Estate, where she usually stays during the December holidays through early February.
A source told People the decision was made after "careful consideration" and is a "precautionary approach" to the ongoing surge. Close family members have reportedly made plans to see the queen on Christmas, following strict protocols. To make things more complicated, the Daily Mail reports that the queen's son-in-law, Sir Timothy Laurence, who is married to Princess Anne, has tested positive for COVID-19 — but then again, what would Christmas 2021 be without a few last-minute exposures and cancellations?
This is the second year the royal family has been forced to change its holiday traditions. Like many families around the world last year, the royal family had to spend Christmas apart because of COVID-19, canceling both the pre-Christmas lunch and the queen's traditional family celebrations. "This time of year will be tinged with sadness — some mourning the loss of those dear to them and others missing friends and family members distanced for safety, when all they really want for Christmas is a simple hug or a squeeze of the hand," she said during her Christmas address at the time. "If you are among them, you are not alone, and let me assure you of thoughts and prayers."
This post has been updated.