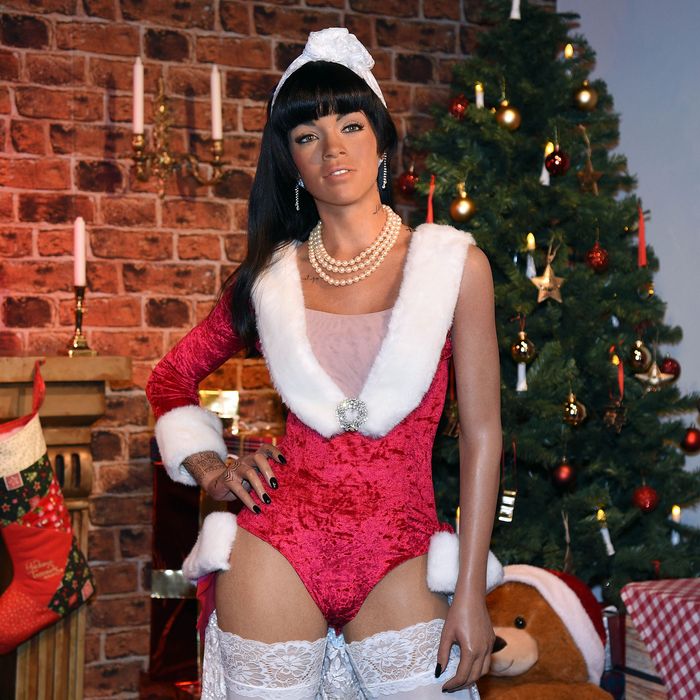 Photo: Tristar Media/Getty Images
Do you know this woman? Sources claim this is the pop star, fashion designer, and Barbados national hero Rihanna, but I'm sure they must be mistaken. Because this alleged Rihanna wax figure at the Madame Tussauds Wax Museum in Berlin looks more like Teresa Giudice than our lord and savior, Robyn Rihanna Fenty.
The people at Madame Tussauds might think that they can fool us with a new seasonal Christmas outfit, but not even some red lingerie can distract from the fact that this wax figure looks absolutely nothing like Rihanna. In fact, the outfit is a dead giveaway. This is a woman who just launched assless pajama pants as part of her Savage x Fenty line. She is not wearing a crushed-velvet bodysuit, and she's definitely not wearing it with a tank top underneath. As for that white, towel-looking headband? I shouldn't even dignify that with a comment.
This absolutely horrible Rihanna wax figure actually debuted in 2011, and was modeled after her look in David Guetta's "Who's That Chick?" video. (For those who don't remember, that was back when she was rocking bright red hair in her Loud era.) In the years since, she's gone through a few makeovers, each time looking less and less like the Rihanna we know and love. In 2017, she was madeover to be more in her "Work" era, and she's also been dressed up in this special Christmas outfit before, in 2015. It looked slightly better with the red hair and "Who's That Chick?" makeup, but 10/10 still would never identify whatever this is as Rihanna.