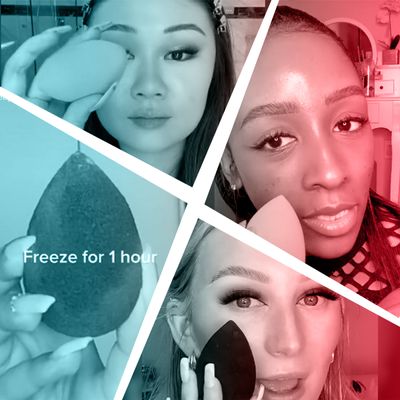 Photo-Illustration: by The Cut; Photos: @gwmmakeup, @misskrissym, @ sonjahan, @ ameliaolivia09/TikTok
The latest TikTok beauty hack involves hardening Beautyblenders in the freezer. Why? The ice-cold sponges allegedly create a foundation application so "flawless" it looks like you primed with lube, offering an experience so cooling it gives rolling on makeup with a crystal a run for its money. Let's dissect.
When did this start?
The hack really started picking up steam after TikTok user @gwmakeup posted a video captioned, "For a smooth & flawless finish try this!" The this in question refers to wetting a soft, squishy Beautyblender, placing it in the freezer for about an hour, not forgetting you put in there, and using it to apply liquid foundation when it's rock hard and freezing cold. This simple hack, which @iki.x also documented early on, is alleged to leave you with an impressively smooth, poreless look that comes with a built-in, calming cryotherapy massage.
TikTok has been quite preoccupied with foundation application lately, focusing particularly on making the tired practice feel more like a tactile treat while ensuring the finished product looks more airbrushed than ever. This hack isn't as extreme as rubbing lube all over your face or eschewing trusty makeup sponges altogether, so it offers a nice lower-stakes way to switch up your foundation routine if it's been boring you lately.
How do I do this?
First, grab your Beautyblender — or another vaguely teardrop-shaped makeup sponge — and make sure it isn't disgusting. Next, thoroughly soak it under running water to ensure it's nice and wet. Squeeze out the excess water and place the sponge in your freezer, preferably next to something fun like Bagel Bites or a pint of Ben & Jerry's. Check on it after an hour or so. If it's cold, hard, and has lost all semblance of its original squishiness, you're good to go. Apply your primer, then use the frozen Beautyblender as you would if it were tepid. Be sure to comment on how it feels against your skin (cold).
Should I do this?
If you have sensitive skin that gets red or irritated really easily, you may want to steer clear and stick to a tapping a softer, room-temperature tool all over your face. Likewise if your fingers get cold easily because this requires you to essentially hold an ice cube in your bare hands for a bit. If you're not into fuller-coverage foundation, this hack may not be for you. Makeup artists are always advising us amateurs to warm up foundation on our hands in order to thin out the formula and give it more a natural-skin finish. Lastly, if your freezer is a mess, consider sparing your poor sponge from being confined to such a dismal place for an extended period of time.
However, if you like the feeling of cold things on your face and you're already planning to apply foundation in roughly an hour, go for it. As far as TikTok beauty hacks go, this one isn't that dangerous or disturbing. Does it make your face look that much more flawless than when you apply foundation with a room-temperature Beautyblender? Not really! But it's a good reminder that (a) cold things feel good on your face and (b) Beautyblenders are really good at their jobs regardless of internal temperature.
What can I do instead?
You can let your hardworking Beautyblender simply be and pregame your foundation application with other cold sensations. Try those cyrotherapy blue balls Tracee Ellis Ross loves so much, or simply grab some ice, which is typically free and already frozen for you. Joanna Czech, expert face-slapper and facialist to the famous, recommends ice cubes to the face for depuffing, and good-skin owners Karrueche Tran and Adria Arjona highly recommend using them when getting ready.