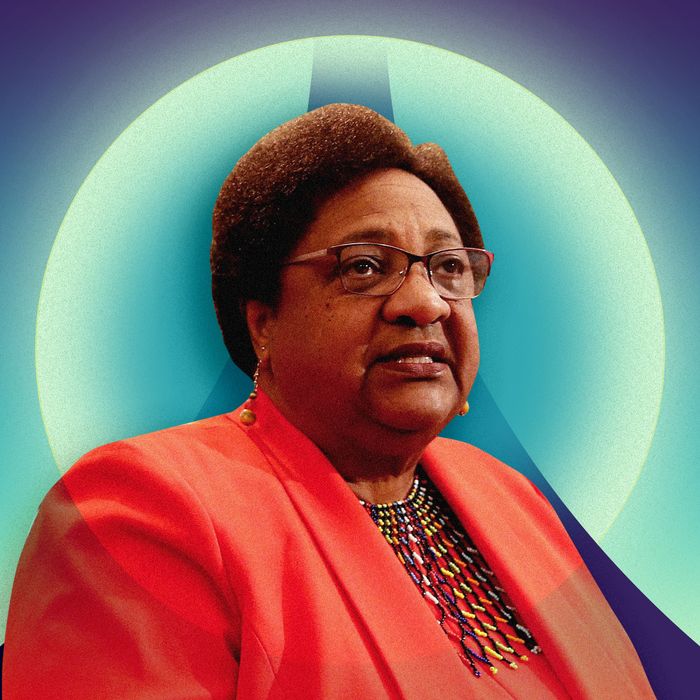 Photo-Illustration: by The Cut; Photo: Shutterstock
Coming of age, Dr. Shirley Weber dreamt of becoming a good educator and making a difference in her community. Becoming California's first Black secretary of State — and the path that led her there — was not part of what she calls "her life agenda."
The daughter of sharecroppers from Arkansas, Weber grew up in Los Angeles in a home that valued the power of education and the right to vote. She became a professor at San Diego State University at the age of 23, completing her Ph.D. by the age of 26. By the time she retired, she had taught for more than 40 years in SDSU's Africana studies department — one she helped create.
Teaching was as close to her heart as fighting to make education better in California. As she grew up, Weber saw her parents organizing the community. Her mother registered neighbors to vote, but at the time, there were no libraries or churches close enough that could be used as a polling place for their precinct. So she offered Weber's childhood home in L.A. Her dad thought voting was too important for the garage, so every election, he'd clear out the furniture so people could cast their ballots in the living room. Witnessing her parents' deep commitment to ensuring that their neighbors' voices were heard became the foundation for Weber's activism and, eventually, her legislative work.
After serving two terms on the San Diego Board of Education and four representing California's 79th Assembly District, Weber is now the third most powerful person in the state. She spoke with the Cut about why she had to be recruited to run for office, her greatest professional heartbreak, and how she's opening the door for the next generation of Black women leaders.
What was your first job?
I was a salesgirl at Newberry's. During high seasons like Christmas — oh my God! That was wonderful. I was working, working, working. But when that season was over and I was standing around staring at a cash register, I'd be like, "You may pay me, but this is much too boring for me!" I realized that I needed something that was more challenging intellectually.
My parents were really clear that they thought I was smart enough to basically master university and that they did not want economics to be the reason why I didn't. When I was a junior in college, I did get a really serious part-time job, and my father sat me down and said, "I want you to understand this little tooth-and-nickel job will not matter to you in the future. You can do it if you want to, that's fine. But you're not to ever put this job above your school."
How did you get started in politics?
I realized when I was a little kid living in the projects that whatever happens in the world in terms of politics directly affects you, especially if you're poor. My parents were very clear: You need to have good representation, and you surely need to vote.
I also went to a church that felt being engaged with the community was important — to care about your community, to work on its behalf, and to make a difference. I never thought that would lead me into politics, but it did lead me to advocacy. I ended up getting pushed into politics because I had been such an advocate. The community felt like, "Wow, we need a voice. We need somebody who's going to stand up for us" in the school board. I said, "No, let's find somebody else," because I enjoyed being a professor. I didn't know whether I wanted to be in that political world or if it would constrict my advocacy. I agreed to run for two terms. It was a successful service as a school-board member. I was able to make some policy changes that were important for poor kids while I continued my work at the university.
You were the first Black person to be elected to state office from any area south of Los Angeles. What was that experience like?
Toni Atkins, who was our majority leader in the assembly, asked me to run. She felt very strongly the legislature lacked a person who had a K-12 and post-secondary experience because the state was making major decisions and changes in the university system in terms of funding and support for kids.
I really believed I could make a difference in Sacramento. I already had a career. That I wasn't climbing the political ladder released me to be able to take bold steps forward. As a result, I challenged things. I challenged school districts. I challenged the funding of schools and demanded additional resources for them. I even took on the teacher's union to basically fight for our kids — everybody thought that was the death of me. After the killing of Stephon Clark, I wasn't afraid to fight the police because I'd already passed legislation to mandate that they report every stop that they made. I decided to take on the issue of shootings and whether or not officers should be allowed to shoot people because they think it is "reasonable" versus "necessary." It became a major issue in the state. In a little over a year, we were able to pass the law. I fought to make sure that those on parole could vote.
I had taken some steps that people thought could not be taken. I was content to do that. Being secretary of State was not on my agenda.
So, how did that happen?
When the position was about to become open, Governor Gavin Newsom and his staff asked me to come for a conversation one evening. It was like, "What do you want to do with your life? What are you going to do?" Those kinds of questions. I shared, "I have no idea where I'm going to go after this. I'm looking forward to retirement." At home, I told my son, "That was the weirdest conversation." He goes, "Why?" I said, "I felt like I was being interviewed for something, but I'm not really sure what."
Afterward, I was talking with the governor's staff. They asked, "Do you think you'd be a good secretary of State?" I thought, "I'm a good legislator." Then I had more conversations, including with the governor. The night before the announcement, he called and asked me if I would serve as his secretary of State and run for a full term.
People say, "How did you become secretary of State?" I say, "I guess because I did what I've always done." I've been true to myself, true to the others that I represent. I fight the good fight. I'm not afraid.
When you were coming up, who did you look to as a mentor?
Barbara Jordan was always someone that I really admired because of her strength, even to the end of her life. Fannie Lou Hamer reminded me of my family: a poor woman in Mississippi who fought hard for the right to vote and said, "I'm sick and tired of being sick and tired." She challenged the Democratic Party, President Johnson, and others concerning the right to vote. She never gave in. She's a person that I still look at and find tremendous motivation in.
Equally important, I found a lot of motivation in the women that were in my church. These were women who had very little education and yet knew how to organize things, how to deal with all kinds of social issues in communities, and they never, ever seemed to stop. They never seemed to waver.
Women of color, in general, are still underrepresented in politics. Do you feel a responsibility to hold the door open for other people to follow?
I am not Dr. Shirley N. Weber, the so-and-so of whatever, because I'm Black, brilliant, and beautiful. I'm all of those things, but I am because somebody kicked open a door and held it open for me to get in.
When I was elected, there were about four or five members who were in San Diego, and just one of them had an African American on their staff. I raised that issue with my colleagues, very honestly. They all looked around like, "Oh, wow." They hadn't paid attention. But right now, every elected official in San Diego has at least one African American on the staff. I think the majority of them are women.
I also started a group called BWILD, the Black Women's Institute for Leadership Development. I usually speak at BWILD about politics, fundraising — all that stuff. We've had fundraisers for individuals who run for office. They've met powerful women like London Breed, the mayor of San Francisco, and Donna Brazile. We've gotten two or three people elected; City Councilmember Monica Montgomery was a member of BWILD.
Tell me about a professional failure.
Probably the most heartbreaking one of all is when I was trying to get a bill passed that would help strengthen our teaching force and our tenure process. I ran into a tremendous buzzsaw, not only from the teacher's union but from legislators who are indebted to those groups. I'm still trying to figure out ways, directly and indirectly, that I want to influence the education of kids. I have not given up on the fact that I have not changed California's method; not changed how we choose teachers to go into schools, how we support excellence for teachers, and how we hold people accountable for kids' failures. That's the one piece that is still a bitter tug on my heart and purpose.
Finally, what would you like people to know about your path?
I'm an ordinary person who's had extraordinary support. I just worked hard. There's no secret sauce. There is no magic to who I am. Any person who really has a heart and a desire — and people see that heart — can accomplish the things I've accomplished. I firmly believe that.
This interview has been edited and condensed for length and clarity.