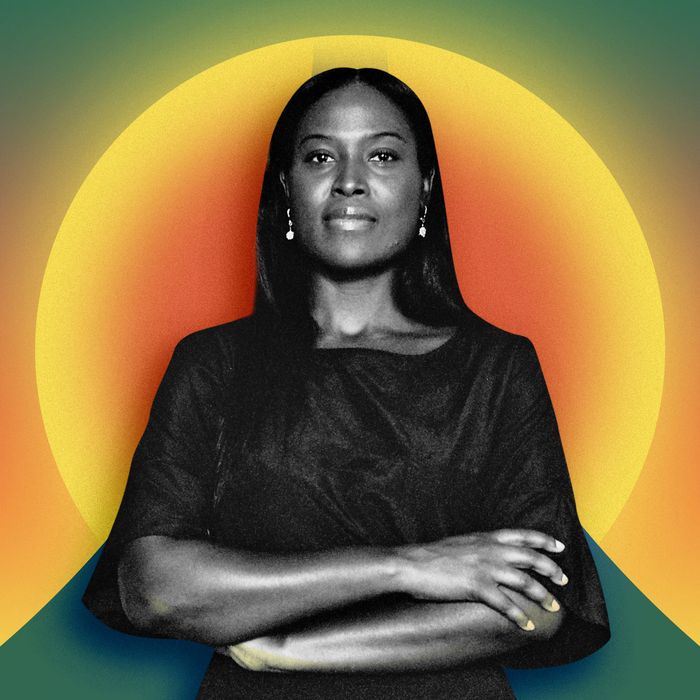 Photo-Illustration: by The Cut; Photo: Ming Smith
The art world is known for its volatility — both among its fickle collectors and the market itself. But Nicola Vassell, an established art professional, seasoned curator, and (most recently) gallerist, is perfectly calm. Vassell opened her own eponymous gallery earlier this year against a very tumultuous sociopolitical climate and an outcry for transformation in the historically white-dominated art world. Vassell's space is in New York City's storied (and also very white) art district, Chelsea; her neighbors include Gagosian, Hauser & Wirth, and David Zwirner. Vassell's expansive program is comprised of painting, drawing, sculpture, and film. Exhibitions thus far have included Ming Smith, Alvaro Barrington, and the current group show Rested, which features works by Wangari Mathenge, Chase Hall, and Marlene Dumas.
Vassell, who has been the gallery director at both Pace and Deitch Project galleries, began her career almost 20 years ago. Later she opened Concept NV, an art consultancy and curatorial agency, working closely with music producer and art collector Swizz Beatz on his formidable Dean Collection. Anchored by a strong sense of self, she leans in to discovering unforeseen terrains, often scaling the edges of narrow perimeters to make space for more interesting and more inclusive narratives.
Coming up, who were your career role models?
In terms of galleries and art-dealing I've always admired Edith Halpert, a pioneering female figure in art-dealing. She worked with some of the most important artists who would go onto trailblaze in modern art. She also came up with a number of experimental modes of presenting art. She lived in a really interesting time and she took a lot of chances — big risks, big rewards. And Thelma Golden has always been a guiding light; particularly for Black artists and Black professionals in the art business. She takes on a very protective role, ensuring there is someone with an ear, listening. Someone you can bounce ideas off of, and someone who is there, which is not always the case. For that reason she is a constant, meaningful force.
What was your first job? 
Selling flowers in my aunt's flower shop in Jamaica, where I'm from. I was 13. It was my first introduction to trading in beautiful things. I come from a family of female entrepreneurs, so when I decided to follow my own entrepreneurial impulses it wasn't so far from home for me. It's something that exists in my DNA.
Describe a failure you experienced along the way.
Being so sure — unwittingly, I might add — that my professional self and achievements were the fundamentals of my identity only to find my values are.
So what are some of your core values? 
Well, I think really acknowledging each person as a human being worthy of respect and kindness, being straightforward, and having clear interaction. Those kinds of things take work, one has to hone those faculties, so to speak. They're very important.
What would you say you learned the most from your "failures"? 
Every failure feels like the crashing of a world that you inhabit. Then you come to find out that it's basically just the doorway to much larger terrain. You really feel like it's the end but then you realize it's a jolt into a completely new dimension that is more expansive, more illuminating and ultimately more valuable.
Do you feel a responsibility to hold the door open for others to follow you? 
Yes, it's imperative. It means being available, communicative, and prioritizing time with peers who are on the path. Running your own business means you can set your own standards, set your own rules. Though it's inherently competitive, our world, we have to push past that thinking and understand that keeping the door open is more important. I think we have learned that we are better together as a force and then we will define ourselves individually, according to the work that we do.
When did you feel like you'd "made it" professionally? 
When I got my first New York Times review for a curatorial effort, which was by Roberta Smith. It was 2006, and I was 28. I was so excited. I showed my parents and everybody, it made the rounds.
Ever wish others would stop fixating on the fact that you're "the first" and just focus on your work?
It can be good or bad it depends on how one views things. People pay attention to what is anomalistic. They look at anomalies as points of fascination. One can use that opportunity rather than be a deer in headlights. You can use it to get people more centered on what you do, the work you are generating, rather than the fact that you're different. The downside is that you're in the firing line of ignorance.
Have you experienced pushback from those who didn't want to see you succeed?
I did when I was young, and it was shattering. You have to be clear on who you are. I think that's the journey one goes on. Know thyself, because you begin to question everything. You have to really dig in and ask yourself who you are. If the things that come back to you are not what you want to see or are not clear, then that's the job. You have to fix that. Then you forge defenses and become like Teflon.
How do you deal with getting no's?
I sell art and come up with wild ideas — it happens! Nothing ventured, nothing gained.
This interview has been edited and condensed for length and clarity.