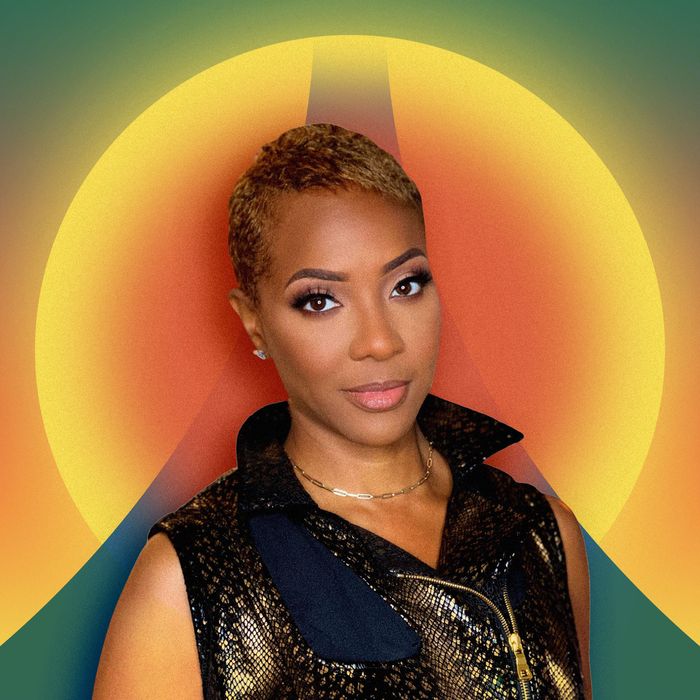 Photo-Illustration: by The Cut; Photo: Sunni Gyrl Inc.
For more than three decades, MC Lyte has been a beacon of light, hope, and guidance for Black girls and women across the globe. Through songs that tackle carnal sensuality and the difficulties of human weakness in equal measure, she has built an envious career that's spanned generations.
Her debut single, 1987's "I Cram to Understand U (Sam)," was a contemplative boom-bap record that dealt directly with the consequences of a partner's drug use. She wrote the song, which brimmed with serious content while balancing a witty, charismatic execution, at the age of 12. After performing it at 16, it only kick-started her career. In her first album, 1988's Lyte As a Rock, born from a book of poems that MC Lyte had been writing since her preteen years, MC Lyte floats over an undulating, house-adjacent beat on the title track, spitting clever bars that would foreshadow her position in the industry: "By the tone of my voice, you can tell I am a scholar / I'm also the leader of the hip-hop followers."
"I feel a responsibility to the younger generation that are coming in," MC Lyte tells the Cut. "Specifically, those who want to be looked after." She lists Tierra Whack, Rapsody, Lady London, Chika, Cam & China, and newcomer Audley as women who seek her advice and direction. As a CEO, artist, entrepreneur, voice actor, and now co-creator and executive producer of the new AMC/ALLBLK television show Partners in Rhyme, MC Lyte has chiseled her name into the tablet of hip-hop icons.
Coming up, who did you look to as inspiration? 
Salt-N-Pepa. Without a question. There were others, though, that I saw making it, and I was excited for them. And, excited for hip-hop in general and excited that women were participating. But it was Salt-N-Pepa that I heard and I actually thought, "I can do this too. " So, I started to reframe how I thought about it, and that certainly was inspiring to see them doing their thing.
What was your first job?
Ice-cream truck. And it was great, because I was making money. Years ago, when I was a child, my mom went to school during the day and she worked at a bar lounge in the evenings. When she would come home at night, she would have tips. And she would throw her bag of money at me and I would have to count it. And I was like, "Oh, okay. This is how this goes. I've got to make my own money."
Tell me about a professional failure you've encountered.
In 1998, I released an album, Seven & Seven. At the time, the A&R person that I was dependent upon was working on another huge record, which was the LSG record, which brought those three icons [Gerald Levert, Keith Sweat, and Johnny Gill] — together. That gave me free rein to work with anybody and everybody, but the record didn't have as much direction that I would've liked for it to have, and I ran up a bill of nearly a million dollars in recording. At the end of it, I didn't want to hear criticism. So, when my A&R guy said we should only put 14 songs on the album (I had 21) I took it really personally. I got emotional about it. And because of that, the record struggled to find its place, because there were just too many songs on it. We could have made more of an impact with less.
Do you feel a responsibility to hold the door open for people coming up behind you?
Absolutely, I feel a responsibility to the younger generation that are coming in. Specifically, those who want to be looked after. Those who care to have a mentorship relationship with someone like me. And there are many that I talk to on a regular basis, that I would go so far as to call them friends. And that looks like, just offering an ear, if there are any questions. It also looks like me talking about them and lifting up their names. There's Tierra Whack, there's Rapsody, there's Lady London, there's Chika, there's Cam & China. There's Audley, who has yet to release a record. But she is going to kick some butts when she comes out and I'm excited for all of them.
When did you feel like you'd "made it" professionally? 
My performance at Carnegie Hall, back in, I guess it was like 1989 or something like that. I felt that way when I was there.
I think a lot of people would agree that you are the voice of the culture, in many regards. How do you feel about that title or that recognition?
It feels great. I'm not sure what that all involves. There's two ways to look at that: It's the voice that you hear when I'm working and saying words that have been written for me to actually present to the world. And then, there's a voice that is internal. That is what it is that I bring about — my thoughts. And so, to be respected for either, I'm very appreciative. The voice is mine. I was born with it. I can't really take a whole lot of credit for it. However, the thoughts and moving the culture forward? Absolutely.
Have you ever experienced a career pushback that led you to doubt yourself?
I was performing very early on — it was probably my second or third performance — and a DJ told my manager that I'd never make it because I was monotone. My whole entire first album was really poems from a book. So, when I showed up at the studio, I had my book and they said, "Read some of that stuff in there." And they literally took it and put it to music. I wasn't really after a dancing scenario. I was merely speaking to people. But, when my manager shared that with me, I was kind of disappointed in that DJ taking that stand, but I was too young to care. I just kept going. I was too young and full of myself to care what some DJ says.
Have you interviewed for any jobs in your adult life?
Well, auditioning, for movies and film, are basically interviews. You're going into a room and you're trying to put on your face for whatever that character is. And you're trying to convince them that you are the one. So, you are selling yourself as a product.
Let's talk about the auditions then. Were there any that stand out to you?
Well, the first audition I had, it was awful. I had never gone to an acting class, never met with a coach; I was so green. It was for a horror flick — I think it might have been Friday the 13th, or something like that. Now, looking back at it, I could see how horrible I was. And, because of that experience, I knew that there would never be anything else I'd show up for unprepared. That is a bad memory that's always there. But, I did learn something: "Go get your act together." And I did.
When was the last time you were told "no" in a professional setting? 
I'm told "no" by my COO all the time. Every year, we sit, we do our big meeting, and we work out what's going to happen for every quarter of the next year. We work out 60-day goals and plans, and if it doesn't fit, then it just doesn't fit. So I might sulk for a minute. But then I realize this is why I have this team of people — so that I can be on the right track all the time. Because if not, I'll be everywhere doing everything. So, I understand why I have the boundaries.
Can you share a piece of advice you wish you'd had at the start of your career? 
Probably to say "yes" more often. I missed out on some really great opportunities during my early years, with being extra careful.
This interview has been edited and condensed for length and clarity.