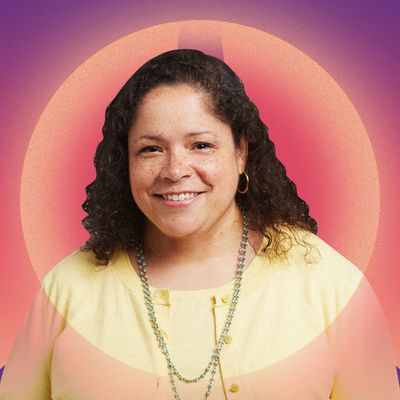 Photo-Illustration: by The Cut; Photo: ABC and Heidi Gutman
It's been nearly a year since Janice Johnston was promoted to executive producer at ABC News' long-standing two-hour news magazine 20/20. In this role — which only three others have held before her — Johnston is not only the first female, but also the first Black executive producer in the show's 40-plus-year history. This follows a career spanning more than two decades at ABC, during which time she has produced and worked on significant news specials covering everything from the COVID-19 pandemic to the Yosemite Killer to Robin Roberts's 2020 interviews with the women who were kidnapped, raped, and held hostage for a decade by Ariel Castro in Cleveland.
Before her career in television, Johnston worked as an attorney in a law firm that specialized in pro-bono work. First joining ABC in 1998, she was a supervising producer on Good Morning America for a decade, then moved up to network associate. During her tenure at the station, she's racked up six Emmys, two Peabodys, two duPont Silver Batons, and a host of other awards. She has produced, overseen, and directed dozens of prime-time specials across the globe, from "The President and the People" town hall with then-President Trump to entertainment documentaries on Dolly Parton.
(By the way, if you want to see Johnston's work firsthand, 20/20 airs on Fridays at 9 p.m. ET on ABC, and episodes are available next-day on Hulu.)
She spoke to the Cut about writing letters to her role models, finding a way to transition from a law career to the TV business, and learning to trust her gut.
Growing up, who were your TV career role models?
At that time, I did see a lot of women. Daytime talk had women. So it wasn't out of the realm of possibility for me to imagine me being there. I was a child of the '70s, sitting on a rope rug, looking up at Lisa Thomas-Laury, the co-anchor at WPVI-TV in Philadelphia. She seemed to be where all the action was. She made me want to be where she was.
For my senior internship project in high school (I grew up outside Philadelphia), I spent the semester at a TV station. That was just magical. The first day of the internship, my father had to come pick me up that night because I stayed so late. They'd asked if I wanted to watch the taping of the teen show. That first day felt like "this is the energy of where I want to be." It was that local station in Philadelphia. I picked up some things there — taking every task very seriously. Whether it's writing the bumper copy to counting the audience seats. Realizing that every person is part of the production and has something to do, and needs to do it well.
When did you feel like you'd "made it" professionally? 
Before my career in TV, I worked at a firm with a commitment to pro-bono work. I ended up working as a housing court attorney in Brooklyn for a year, which was not the original plan. That's when I felt like a "real" attorney. I had people sit in front of me with an eviction notice in one hand and holding a child in the other, and you're the line of defense to solve the problem. Those were real-world successes, if you could help them navigate the court system.
How did you make the transition to news?
I liked interacting with people more than researching fine points of law. It was the realization that I could let go of that part of myself. Just because you think you're going to be one thing, it doesn't mean you are for the rest of your life.
The firm would get copies of Variety delivered, and I would read those and take notes. In my head, that's where I wanted to be. Back then, you couldn't Google things — you had to take notes. I ripped articles out of magazines about women who were doing things at different organizations, where I thought, Oh, maybe I'll write her a letter one day! I always knew that was something I wanted to do.
Biggest landmark moment in your career at ABC?
Getting that first job. I spent over a year researching, meeting with people. If I met you at a bus stop and you worked in TV, I would ask if I could have coffee with you. I was aggressive about networking and trying to spin my background experience, figuring out how it translated. Someone had to decide: Here's a young woman who's been practicing law for three years and did a college thesis on television, and we want to hire her. Finding people who believed in me and that I could grow and contribute was the biggest victory — still is.
Tell me about a lesson you learned the hard way.
It was within six weeks of first starting. There was this record-low gas price in New Jersey — it was 69 cents. I was sent out with a crew — I could count on one hand the number of times I was sent out before then and put in charge of a crew. We found the station, we got the shot, we were heading back, and the crew wanted to stop for lunch. I thought there was enough time, and I thought they should know if there's enough time. We stopped, got back on the road, and started to head into Manhattan.
It was the Wednesday after Thanksgiving, the tree-lighting ceremony, and we did not make it through the tunnel in time. I was running into the edit room, handing a tape, as I could hear Charlie Gibson saying, "… gas is at an all-time low." It was such a defeat. I was so mortified. As I was leaving, one of the women on the desk said, "It'll happen again." I thought, That's not a really good pick-me-up. But it was her way of saying, It's not the end of the world. In your career, you will miss the shot again. Don't worry about it. But I have not missed air at any other time in my career. Even though I was 20 years younger than the other guys on the crew, I should've said, "No, we should keep going." I didn't have that authority within me yet to make that call and push back.
Can you share a piece of advice you wish you'd had at the start of your career?
Stay focused on the task. You have ownership and power. Even if you are the most junior, you have a voice. If your gut is telling you something, you need to stand up for that. I was relying on someone else's judgment more than my own.
Do you feel an obligation to help others — women, people of color — who may face unique challenges in their career?
Not an "obligation," but the way I was raised was "each one, teach one" which is a broader saying in the African American community. I really appreciated anyone who took the time to talk to me at the bus stop, or have coffee with me, or brainstorm with me. I never took their time for granted.
What's the experience like for you being the "first"? 
It's a good thing. It's an acceptance of the past. This is where we were, and let's not forget that. So I'm not tired of it. But in the day-to-day, it's not a topic. We're trying to get a lot of shows on air, and we're responsible for covering a great diversity of topics. We had a team working on the Alec Baldwin special, Diane Sawyer's Turpin special, Ahmaud Arbery's verdict — I'm so in the business of the work that we're doing that I don't really think about it.
What's the best advice you were ever given?
I was 18, and Nancy Glass, a local exec in the area, the host of Evening Magazine, was speaking, and said, "It's not always who you know, or what you know — it's who knows what you know." That stuck with me forever. You could sit there with the best idea. But unless you're sharing it, it's not helping.
This interview has been edited and condensed for length and clarity.