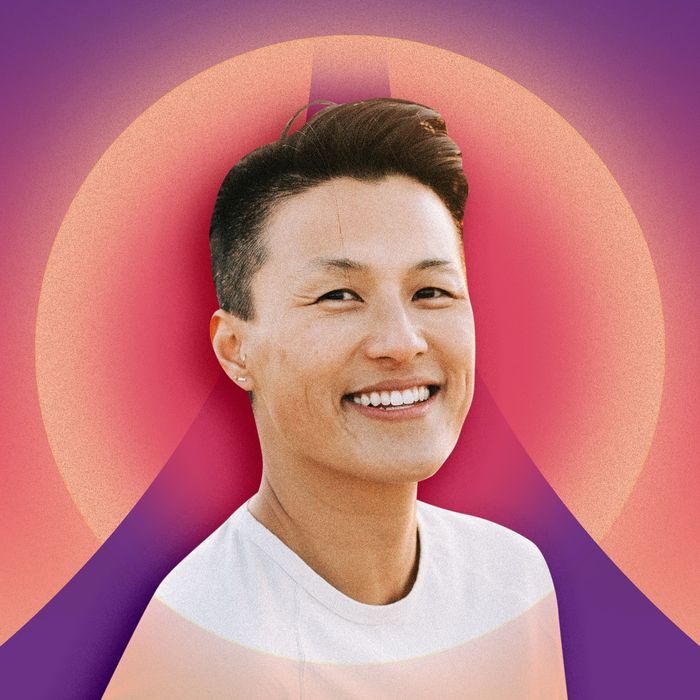 Photo-Illustration: by The Cut; Photo: Susan Yee
You may know chef Melissa King as a Bravo star: In 2012, she competed on Top Chef: Boston, placing as a finalist, and in 2019, she took home the winning title during the show's 17th season, Top Chef: All-Stars, Los Angeles (not to mention the All-Star's Fan Favorite prize, the $10,000 dividend that King donated in its entirety to charity). A California native with Chinese roots, King has over 15 years of culinary experience. She's helmed Michelin-star restaurants with her cuisine, which she describes as a melding of local California produce with modern techniques and Asian flavors. Recognized as one of the "best female chefs in San Francisco," King has cooked for the likes of Oprah Winfrey and Al Gore. Most recently, she was invited to the U.S. Capitol as California's honorary chef. There, King served duck congee to Nancy Pelosi and other legislators. As a proud Asian American queer woman, the congee was emblematic of her roots and style: "I used ducks from Sonoma County up here in the Bay Area," she says. "Then it was topped with California puffed wild rice, farm-fresh chili oil, fried shallots, and some cilantro. And then a couple other creations that were inspired just by the diversity and beauty of California."
For King, food is a love language, a way she could provide for the people she loved. "It's the way I feel seen," she says. In addition to her culinary accolades, King is passionate about using her platform for AAPI and queer representation and activism, and works with social-justice organizations like Asian Americans for Equality, Brave Trails, Stop AAPI Hate, and others. The chef spoke with the Cut about the isolation of being the only woman in the kitchen, the network of West Coast female chefs who've mentored her, the transformative experience of Top Chef, and how she celebrates big wins.
Coming up, who did you look to as a mentor? 
Growing up, Julia Child — she cooked fiercely and unapologetically. Also Martin Yan, who I saw as being just like me: Martin spoke Chinese and cooked dishes familiar to the ones my mom made. Dominique Crenn, who I trained under. Ron Siegel, who taught me about Californian cuisine and seasonality. And Cecilia Chiang, a San Francisco–based chef and the first woman to pioneer authentic Chinese cuisine across America.
What was your first job? 
Coffee barista at the mall. After that, I worked at Hollister — I was one of, I think, two Asian people there. It wasn't as diverse as it should have been, so yeah, that job didn't last too long. Then I got my first culinary job at 17 as a pastry assistant. I knew nothing about cooking. A pastry chef took me under her wing and encouraged me to apply for culinary school and get into fine dining.
You mentioned having a lot of mentors who are chefs in California. Do you feel a responsibility to hold the door open for others to follow you? 
It's a lot of pressure to hold and scary to feel that, but as an Asian woman in a very male-dominated industry, I do have this voice, and I should be using it to help uplift other people in this industry. I want to show them there's many routes to success. You don't have to open a restaurant. I don't own a restaurant, but still consider myself a successful chef. When I started, there weren't many women. Now you see a lot more. It's often about finding a community and standing together.
Was there a moment in your career where you felt like you made it professionally?
Going on Top Chef opened me up as a person and as a chef. Through that, I became more public and recognized the importance of representation. There's something bigger than just cooking and putting food on the table.
Have you ever experienced professional failure?
I try not to remember those. This wasn't a failure, per se, but I like to take risks, and I wanted to learn something other than fine dining like rustic Italian, traditional Japanese. I downsized my life and my paycheck and jumped into those kitchens. I shared an apartment with three other people and lived paycheck to paycheck, but those experiences opened up my creative brain. Still, there was that struggle of, Am I making the right decision? My parents couldn't understand why I'd leave behind my stable restaurant job, where I had health benefits and a union membership. But you have to follow your gut.
Was there anything along the way that made you feel isolated? 
Many times, whether it was being a woman in a kitchen, or the only gay kid at my school or my job. There are so many points in my career where I was the only woman in the kitchen. You do feel you have to stand out somehow. I had to put up this façade and run with the boys to survive that climate. I hated that.
Do you ever feel self-doubt?
I was seen as a successful chef even when I felt I wasn't good enough. A lot of my self-doubt was having to build up my own self-confidence and self-worth.
How do you celebrate a win at work? And what do you do to cope when something goes wrong? 
My friends and family celebrate with big crazy meals. It always comes back to what I love. As for defeats, I throw everything at the wall. If something doesn't stick, it's honestly not the end of the world. Learning not to take it personally is important.
Favorite celebration meal? 
I try different things, but one big one is Chinese hot pot. It's a festive experience. You have three different burners on the table, a spicy broth and a neutral miso chicken broth or something like that. There's vegetables and raw meats around the table. It's like Chinese fondue.
You've had several job interviews in your life. Do any stand out? 
Applying for Top Chef was probably one of the hardest. It was a three-month process. There were 15 different network executives and one hot seat for you. Everyone just fired questions. I remember panicking about whether or not I would speak eloquently and whether or not I would know the answers. But it's about being yourself. Forget impressing anyone. You're also interviewing them, to see whether or not you want the opportunity.
When was the last time you were told no in a professional setting? 
It happens all the time. I try to see the positives in no. For instance, I didn't win my first season of Top Chef. But I got to experience so much through it. I'm constantly getting nos, but it's stuff that I don't necessarily talk about. It's very strange to me if you don't face nos.
Do you have a particular piece of advice that you wish that you had known at the start of your career?
You have to do what scares the shit out of you. That's where you're going to find growth.
Last question: worst "advice" you've ever received?
Once, a male chef pulled me into the office and told me that I should quit and become a housewife, and that women shouldn't be in the kitchen. I've heard a lot in my career, but that was the one that stuck the most. It really hurt to hear that. To be pulled aside so specifically and told that. I was the only woman in that kitchen, but it was a very specific moment of being told that I couldn't do it because of my gender. I ended up quitting that day.
This interview has been edited and condensed for length and clarity.