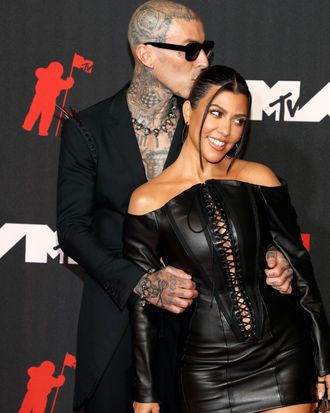 Photo: Astrid Stawiarz/WireImage/WireImage via Getty Images
Travis Barker and Kourtney Kardashian are not usually ones for subtlety. They've touched tongues in public. Like, a lot. They've shared finger-sucking videos and pictures of orgasm-scented candles. If they have something to say, they will say it in the horniest, most blatant way possible. So Sunday night, when Barker posted an Instagram Story of the family's How the Grinch Stole Christmas movie night, many were quick to notice the pink baby bottle full of what appeared to be milk sitting in the right-hand corner of the photo. Hmm, and furthermore, what?
Here, I present the evidence, a screenshot of the Instagram Story reposted by a Kravis fan account:
This concludes the evidence. Of course, this will not stop me from speculation. So, below, I present to you some possible explanations for the Kravis baby bottle.
Maybe Kylie Jenner had her baby?
In early September, Kylie Jenner confirmed that she was pregnant with her second child. Her announcement came about a month after fans started speculating Kylie may be expecting when they noticed she was wearing baggier clothes and eating sushi sans raw fish. While Kylie hasn't shared her expected due date, some unconfirmed sources have claimed it's sometime in early 2022. So it wouldn't be entirely out of the question that she had her baby early. The Kravis baby bottle plus a recent photo of Stormi masked at Christmas have led some to believe that the newest member of the Kardashian-Jenner family has already arrived. However, no one in the family has confirmed (or denied!!!) Kylie Baby No. 2's birth as of yet.
Maybe the bottle is for Kylie's new kitten?
On Christmas Day, Kylie shared a photo of her family's newest addition: a kitten. After some cursory Googling, I have discovered that, yes, bottle-feeding kittens is a thing. However, it's only necessary during the first few weeks of a kitten's life. After that, they're usually able to eat on their own. It's unclear how old Kylie's new kitten is, though a 2019 California law did make it easier for kittens under eight weeks old to be adopted. So perhaps the baby bottle is really a kitten bottle.
Maybe it's a … sex thing??
We should never underestimate Kourtney and Travis's collective ability to make anything horny. This includes full baby bottles. I know, I wish it weren't true either. However, until we get confirmation that Kylie gave birth or that they're bottle-feeding a kitten, I am going to assume the bottle is somehow for sex.