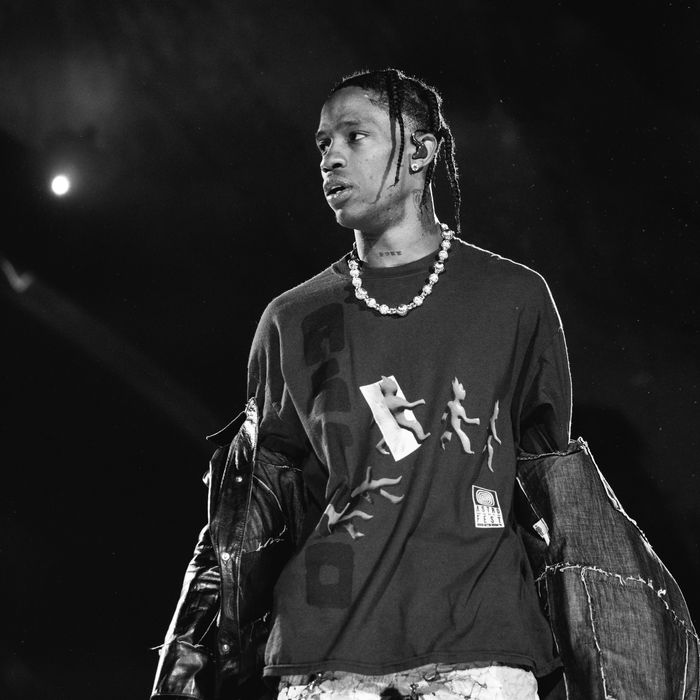 Travis Scott at Astroworld.
Photo: Rick Kern/Getty Images
Travis Scott has delivered his response to the many lawsuits blaming him for the tragedy that unfolded at Houston's Astroworld Festival last month. In court documents, attorneys for the rapper said he "generally" denied the allegations outlined in six suits. That's according to CNN, which reviewed the filings; our colleagues at Vulture report that more dismissal requests will likely follow.
Investigations into the crowd surge, which left ten attendees dead and generally created pandemonium on the ground, remain ongoing. In the days afterward, the Houston police and fire departments pointed to crowd-control infrastructure that actually may have created "pinch points." Questions surfaced about the adequacy of security and medical personnel on call. And then there is Scott, who has a long history of encouraging rowdy behavior among his fans and who continued to perform for about 40 minutes after local authorities declared Astroworld a mass-casualty event. Still, it's unclear whether he understood the full scope of the situation looking out at a sea of about 50,000 people from the stage. Afterward, he insisted in social-media statements he did not know how out of hand things had gotten and suggested he would not have continued the show if he'd been aware. Scott offered to pay the funeral fees for anyone who died at Astroworld and to subsidize one month of teletherapy for all attendees — a proposal many criticized as inadequate. Meanwhile, half of the victims' families turned down Scott's money.
Instead, many of those families, along with scores of people who sustained injuries, are suing Scott and Live Nation (Astroworld's promoter) and in some cases Drake, who took the stage with Scott. These lawsuits largely contend negligence — the Astroworld catastrophe was preventable, they say, and organizers should have implemented stronger safety measures given Scott's track record with live performances. On December 3, attorneys on both sides moved to combine 275 separate lawsuits (with upwards of 1,250 plaintiffs) into a single case.
In the court documents CNN obtained, Scott asks that the claims be dismissed with prejudice, which would shield him from future complaints. In a statement, Houston attorney James Lassiter — who represents the family of 22-year-old Bharti Shahani, who died at Astroworld, and other attendees — said Scott's "attempt to escape responsibility for creating a deadly situation from which his fans could not escape is shameful and, sadly, true to form."
"While he continues using social media to present a public image of someone who is grieved by the catastrophic loss of life that his actions caused," Lassiter told CNN, "he is quietly paying celebrity lawyers to argue his victims deserve nothing more than symbolic help with funeral costs."
Scott's denial hasn't come solely via court filings. The rapper sat down with Charlamagne tha God for a 50-minute interview and said he found out what happened only after he'd wrapped his set. "I didn't know the exact details until minutes before the press conference," he said in the segment, released Thursday on YouTube. "And even at that moment you're like, Wait, what?" Charlamagne asked Scott what he means when he encourages fans toward "raging" at his shows: "There's not a textbook definition," he answered. "But in concerts, we've grown it to be just the experience of fun. It's not about just … harm. It's not about that. It's about letting go and having fun, help others and love each other." Scott added that artists "trust professionals for when things happen that people can leave safely" and that Astroworld felt to him "like a regular show … as far as the energy."
"Anytime you can hear something like that, you want to stop the show," he said. "You want to make sure fans get the proper attention they need. Anytime I could see anything like that, I did. I stopped it a couple times to just make sure everybody was okay. And I really just go off the fans' energy as a collective — call and response. I just didn't hear that."
This article has been updated.