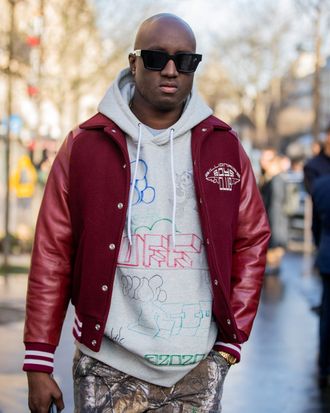 Photo: Christian Vierig/Getty Images
"My real job is to make sure that there's like six young black kids that take my job after me," Virgil Abloh said to Pharrell Williams in an interview in January. "What I would be more impressed by is the next candidate for a house that gets hired as the next head designer has this, like, multidisciplinary background, comes from not a fashion school, thinks in a different dimension, and he get a shot."
Abloh — the menswear designer for Louis Vuitton as well as his own label, Off-White, who died from a rare form of cancer last month — was not a traditional designer; he DJ-ed, was interested in furniture design, and studied architecture rather than fashion at the Illinois Institute of Technology.
Abloh was hyperaware of youth culture, recognizing it as the nexus of influence for creative industries around the world. "Everything I do is for the 17-year-old version of myself," he once said. When his Instagram followers would send direct messages to him, Abloh would respond. He organized a website of open-access resources for art and design hopefuls through his "free game" hub that included links to topics such as "How to name your brand," "How to obtain a trademark," and "How to use Adobe Creative Suite." At his debut runway show for Louis Vuitton Men's in 2018, he invited more than 3,000 art and design school students to witness his appointment as the first Black man to helm the heritage brand.
In July 2020, Abloh announced that $1 million dollars had been raised for his "Post-Modern" Scholarship in partnership with the Fashion Scholarship Fund that will provide tuition support for Black design students. Speaking about the significance of the new scholarship, he told The Face, "We've all come to realize the discrepancy that exists for Black people in the world, but [particularly] within the industries of fashion, art, and design."
The course was specifically for students of Black, African American, or African descent who were in their junior year. Students were required to complete rigorous case studies that involved creating a digital presentation on a fashion brand that included strategies for ethos, marketing and sales as well as sketches that helped bring it to life. The Fashion Scholarship Fund and Abloh reviewed the submissions and selected 20 scholars to receive the award, the prize included connections to internships in design, merchandising and marketing.
"He spoke to us about not only creating our own space but inviting others into it. He stressed collaboration and lifting up our peers," wrote Elizabeth Ayorinde, 23, a recent graduate and Post-Modern recipient who interned at Rimowa as part of her scholarship. "Being touched by that initiative only makes it more of an imperative that I carry it forward in some way." Ayorinde double-majored in marketing and English literature and creative writing with a minor in design, inspired by Abloh's architecture background.
Dacia Redmond, a fashion-merchandising major at Clark Atlanta University, almost didn't take the opportunity to be a part of the program. But it was the middle of the pandemic, and she decided to apply. "I had nothing else to do, so I went for it, and it is very safe to say this was one of the best decisions I have made in my college career." Redmond went on to win one of 20 scholarships that year and was the first winner to attend an HBCU; she described the experience as "amazing."
What was her experience with Abloh? "He was open and honest with us," wrote Redmond. "I've seen him firsthand on a Zoom call uplift and support his scholars in moments where they may have felt deflated. To the scholars, we felt like we carried weight to Virgil."
Hannah Harris, a senior at the Savannah College of Art and Design, likened her creative approach to Abhloh's ways of navigating the industry. "I loved that his work showcased the power of collaboration and community," she said in an email. "It was aspirational, yet I could always see myself in it." She added, "He believed in the next generation, and we were all very eager to learn from him." Harris, a former dancer, remembers the fall 2020 show in which Cartier Williams performed in a "I Support Young Black Businesses" T-shirt. "I have that shirt now, and every time I wear it, it always reminds me of something bigger than myself."
Peter Arnold, executive director of the Fashion Scholarship Fund, said the program will continue, relying on "Virgil's friends and collaborators who are committed to continuing the personal legacy that he conceived of and built with tremendous determination and focus."