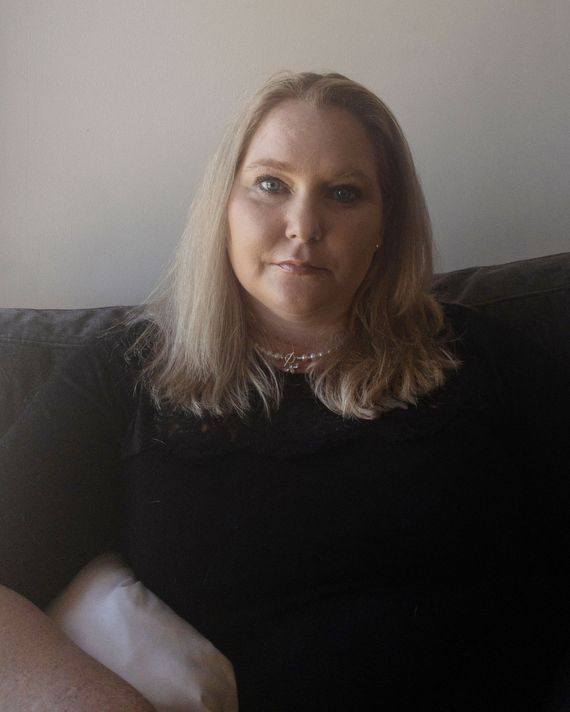 Virginia Giuffre at her home in Perth, Australia.
Photo: Stephanie Noritz
This article was featured in One Great Story, New York's reading recommendation newsletter. Sign up here to get it nightly.
Early Thursday morning at her home in Perth, Australia, Virginia Giuffre woke up to her husband shaking the bed, saying, "Wake up! You've got to wake up! She's guilty." As she opened her eyes, she was shocked to learn that Ghislaine Maxwell had been convicted of sex-trafficking charges and could face up to 65 years in prison for recruiting, grooming, and abusing girls alongside Jeffrey Epstein. "It's a bittersweet emotion because I have been fighting for long," Giuffre said. "But it's definitely a relief to know that she's off the streets."
After Epstein died in 2019, victims like Giuffre were robbed of the chance to face him in court. While defense lawyers used this to their advantage, painting Maxwell as a scapegoat for a dead man's sins throughout the trial, Giuffre sees the British socialite as the even bigger culprit. "She's more evil than Epstein," she told me. "What Ghislaine did to so many of us is unforgivable."
Giuffre is the most well-known victim in this case, and though she was not called to testify, her presence loomed over the proceedings (her name was mentioned almost 250 times and photos of her as a teenager were shown in court). The now-38-year-old says Maxwell recruited her in 2000 by dangling an opportunity to become Epstein's professional masseuse. Giuffre, who was working as a locker attendant at Trump's Mar-a-Lago spa, jumped at the opportunity. But once the 16-year-old arrived at the pink mansion in Palm Beach, it became clear she would be forced into sex with both Epstein and Maxwell, according to Giuffre's depositions from a 2015 lawsuit. (In her own deposition for the case, Maxwell claimed Giuffre has "lied repeatedly, often and is just an awful fantasist.") She had spent her childhood in and out of foster care, being trafficked and sexually assaulted on the streets, and figured "this is what life must be about."
For the next few years, she says she was ensnared in a trafficking ring, enduring repeated abuse from Epstein and Maxwell along with their powerful associates, including Prince Andrew and Alan Dershowitz (both men deny these claims and have not faced any charges). She escaped in 2002, when Epstein sent her on a trip to Thailand to bring home his latest trafficking recruit. There, Giuffre met a man she married ten days later, and moved to his home in Australia to start a family (when she delivered the news to Epstein, he responded, "Have a nice life," and hung up). Her new chapter was interrupted five years later, in 2007, when she was pulled into an FBI investigation that ultimately ended in a plea deal with little jail time for Epstein. Since then, fighting for justice has consumed Giuffre; she's publicly told her story and remains tangled in ongoing lawsuits against Maxwell, Dershowitz, and Prince Andrew. She spoke with the Cut about the first meaningful criminal conviction in the trafficking scheme that haunts her to this day.
You just woke up to some very powerful news. How are you feeling? 
I have been dreaming of this day for the last ten years, not knowing that it was going to come. Since the trial started, I've been having sleepless nights, wanting to get inside of the jurors' minds. I am grateful they saw Maxwell for who she is.
It's a bittersweet emotion because I have been fighting for so long. It's definitely not over. There are so many more people involved with this. It doesn't stop with Maxwell. But it's definitely a relief to know that she's off the streets. And that no matter how rich or how connected you are, that you can still be held accountable.
What happened after your husband delivered the verdict? 
I was shaken awake to him saying, "Guilty! Guilty! Guilty!" I said, "I need a cup of coffee." And then I jumped out of bed. My middle son had just woken up, and I just was so excited to tell him. My kids have seen me go through hell and back. He gave me the biggest hug and was like, "Mom, you did it!" and that was a melting moment for me, my kid being proud. I'm very happy. I'm still very shaken. I think it takes time to heal, and this justice is part of the process. Now I can start really working past Maxwell and thinking about the others who need to be held accountable.
What's it been like watching this trial unfold from afar?
I've been coping as well as I possibly can being on the other side of the world. I upped my therapy sessions. I, um … couldn't help but think about it all the time, every day. I would go to bed thinking about it. I would wake up in the middle of the night and start Googling "Ghislaine Maxwell" to see if there had been any progress. And then trying to go back to sleep with all those things in your mind, I just … I feel like some days I was just hanging on by a thread.
I dream about Epstein and Maxwell a lot. Sometimes they're abusing me; other times we could be at a movie theater. It ranges, but I always wake up wishing I didn't have to live so much in the past.
Sounds like you haven't been getting much rest. 
I've endured worse than this before, but the case is a big deal to me. This is someone who abused me from a young age, someone who used their womanly abilities to make me feel comfortable. It wasn't like some old rich dude pulled up on the side of the road and asked if I wanted to give him a massage. I had this lady at Mar-a-Lago with this prim and proper accent ask me if I wanted to have an interview.
Right, Ghislaine bucked the stereotypes of a typical predator, which made her easier to trust. 
The deceit hurts even more because I fell naïvely into her trap. I mean, she is poised. She looks sophisticated. She didn't raise any hairs on the back of my head. I was just a locker-room attendant at Mar-a-Lago who wanted to be a masseuse. Ghislaine comes to me with this amazing deal, saying, "Oh my God, you're perfect. You're exactly who we've been looking for!" I told her I have no experience in massage therapy and she's like, "Don't worry about that, we'll get you educated. You'll become a real massage therapist, you'll travel the world. You'll make the money." I mean, you tell that to any 16-year-old and they're going to jump at it. And I did. That very first night at his mansion, the abuse started to happen. The shade just went over my eyes again and I thought, This is what life must be about. Mar-a-Lago was supposed to be a new beginning for me.
Tell me more about that. I know you met Ghislaine at a time when you were trying to pick up the pieces. 
Epstein and Maxwell took a part of my childhood that I'll never get back. I was enrolled in classes and getting my GED. I had a job and was done with living on the streets. I really just wanted something as normal as possible. I'd gone through so much abuse already, you'd think I would have had an amazing radar for these types of predators. But Ghislaine connected with me on a different level. She saw me reading a book about massage therapy and was able to nab me in that way. The thing about predators is they seek the vulnerable, find out what they want, and promise them a dream. That's how they work. Cages and chains come in all different shapes and sizes. I wasn't tied to a radiator or anything, like you've seen in movies. My shackles were Epstein and Ghislaine's wealth and the powerful people they knew. Epstein told me he owned the Palm Beach police department. It was all just really scary.
Let's talk about your decision to tell your story publicly, first in the Daily Mail in 2011 and in other places over the past decade.
It was a massive change. I was scared in the beginning, you know? I wondered, Am I doing the right thing by my family, speaking out? What's the cause and effect here? But I knew the pros outweighed the cons. I couldn't be a good mom while knowing Ghislaine and Epstein were still out there doing exactly what they've always done.
I know you've said the choice to speak out was prompted by the birth of your daughter in 2010. 
I don't want my little girl growing up in a world that is so vicious. She's nearly 12 and she's drop-dead gorgeous. Social media has made life so much easier for pedophiles. Epstein had a pyramid scheme, which really worked for him. It wasn't dirty old men bringing girls over. These girls and women were not told what was going on. Then you get there and you're stuck in it and, you know … [she puts her head in her hand.]
Tell me about what made you so emotional. 
It's not just my little girl, it's about all the little girls. And boys. It's a scary world we're living in right now. I trust my daughter, but I have to go through her phone at least once a week and sit down with her and ask, "Who are you talking to? What are you guys talking about?" I'm probably extra-cautious. My kids tell me that I am.
You also have two teenage sons. What impact has your story had on your kids' lives?
All of my family has been affected. They see what I've talked about. They have friends that Google my name and say, "Oh my God, is this your mom?" It's a lot for them to carry. But now they're teenagers. They're at that prime era in life where I think it's important to teach them about sex trafficking, what signs to look out for. And so I'm open with them. I let them watch one of my interviews.
Which one?
60 Minutes Australia. The show did a really good job. I've been speaking out for ten years, and in the beginning, the media was like, Well, this is just a story about glitz and glamour, and flying high in the sky and meeting people. It was like, "Wait a second, you guys forgot to talk about the abuse." They didn't know how to tell the story.
It sounds like you've really made an effort to educate your kids about your experience. 
I put it out there. I can sit here and talk to you, basically any adult when it comes to what I've been through. But with my kids, it's such a delicate matter. And I treat it as such. I don't want them going through life constantly looking over their shoulder thinking, Well, it happened to my mom, so it can happen to me. But I do want them to be aware that the world is a big place, and it's easy to get trapped. 
The defense unsuccessfully tried to make the case that Maxwell was being scapegoated for Epstein's crimes. How did you view her role?
She was the devil's right-hand man. She made these appointments for him, she actively went out there and scouted for new girls. She was part of the sexual encounters at times. To paint herself as just the "house manager" is a load of crock.
You're describing how Ghislaine was also sexually abusive, in addition to the recruiting and grooming she did. Was she as damaging as Epstein? 
She's definitely worse than Epstein. She used that charm, that wit, that smile to come off as somebody you want to trust. Epstein did a whole bunch of really bad stuff, acting on his sick urges. One victim said it perfectly: Jeffrey had to ejaculate like you and I have to breathe. It's organic to him [in a deposition, the accuser claimed Epstein said he needed "three orgasms a day" and that it "was biological, like eating"]. But Ghislaine facilitated it. She was the one out there bringing the girls in for him and participating in some of the sexual events. She's worse to me, more evil than Epstein. What Ghislaine did to so many of us, it's unforgivable.
When Epstein died in 2019, you spoke about mourning your "ability to hold him accountable." Now Ghislaine has been convicted, but what does justice look like for you? Is this enough? 
After Epstein passed, Judge Berman [a federal judge who was overseeing the sex-trafficking case] allowed us victims to come in and speak about what we'd been through in impact statements. It was a very freeing moment for me. I immediately became good friends with the other women; they're my survivor sisters. We use WhatsApp at least a few times a week to keep in touch.
But let's just say, it wasn't just Jeffrey and Ghislaine who participated in this. Justice to me looks like holding all of these people involved in the sex ring, those who greased its wheels, named and shamed. I'm sick of carrying around that shame. That shame doesn't belong to me. I think justice comes in many forms, and one area I want to change is the statute of limitations.
I know you've started an organization called Speak Out, Act, Reclaim (SOAR), focused on helping survivors and eventually legal reform. What are you working on? 
I can't tell you how many times a day I get messages from people who say, "This is happening to me. I don't know what to do. But I know you have gone through this." I'm not in therapy or anything like that, so I just point them in the right direction.
But there's a lot of confusion out there. People say, "I want to speak out, but what's going to come from it if I can't hold them accountable?" That's why fighting the statute of limitations means so much to me [right now, it's a matter of state law, with some taking effect only a few years after a sex crime].  When you rape somebody, when you traffic somebody, you're not just sexually abusing them. You're taking a part of them that they will never get back. You're creating scars that don't heal. There's no statute of limitations for murder. If I could change those laws, I could wipe my brow, dust my hands off, and feel like I made a difference.
What's it been like to be so consumed by this advocacy, which is deeply tied to your trauma? How are you taking care of yourself? I hear you have a French bulldog named Juno.
[She lifts Juno onto her lap.] I'm exercising and I'm doing yoga and taking my dog to the beach. I'm doing as many things to clear my mind as possible so that I can be sharp and be focused when it matters. Juno's the love of my life; we don't go anywhere without each other.
I'm just tired, because I've been fighting for so long. But I've still got that fight in me. What I'm going through right now is going to help somebody out there one day, and that's my goal. That's my focus, by telling my story over and over again.
This interview has been edited and condensed for clarity.