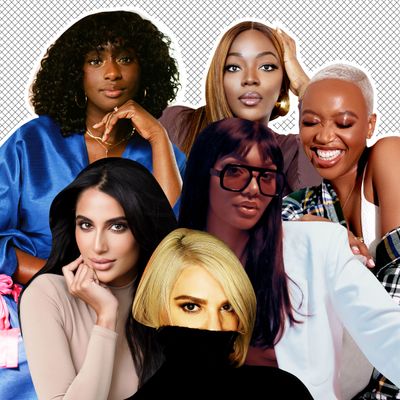 Photo-Illustration: by The Cut; Photos: Courtesy of the Subjects.
Starting a business has never been an easy feat, but add the factor of launching during a pandemic and global supply-chain crisis, and the challenges are almost tripled. Another question that entrepreneurs are asking themselves is: "Why does the world care about this right now?" When people are losing friends and family or experiencing job loss, buying the trending beauty products or latest clothing to hit the market isn't always top priority.
Despite the fact that this was a good year for the economy, there are countless things that affected starting a business. Take something as simple as packaging. "I had to wait two months for custom tissue paper," said Moodeaux's founder Brianna Arps. And in a landscape where customers expect Amazon speeds, this can make or break a business.
There is also the added issue of rising costs. Diarrha N'Diaye-Mbaye, who founded the popular beauty brand Ami Colé, broke it down. "The difference between ocean freight and air is thousands of dollars," said N'Diaye-Mbaye. "If you spend $100 to get something on a boat over to you in two to three weeks, you could spend $3,000 for air for it to come in two to three days. It's a huge time contrast, but costly," she said. And, trying to get things produced in the U.S. doesn't help to cut any corners. "So you're stuck asking if you should increase your prices or still provide a quality experience and just take your time with it," N'Diaye-Mbaye adds.
We spoke to a few business owners on what it was like to launch their business this year.
The Delays
Ambari Beauty, launched February 2021
For Ambari Beauty founder Nisha Grewal there were delays. Grewal knew she wanted to start a skin-care brand in late 2018 and started working on it in early 2019, a year before the pandemic hit. She was on track to launch in July 2020, until lockdown happened, which included the overseas factories where a lot of her ingredients and packaging were housed. Not only was she forced to put the launch on hold, but she also had to store products in a storage facility overseas, which is costly.
"Seeing other large corporations and brands panic who have been in the industry for years created a huge question mark for us, because if they had no idea what was happening, how could we?" Grewal says.
When the time finally came to launch earlier this year Grewal didn't hesitate because she knew it was something the world could use to take care of their skin while at home. "People weren't allowed to see their facialists or their dermatologists because of closed offices or they weren't comfortable to return to that. We bottled up a facial to provide to people to do in the comfort of their own homes." While many consumer studies throughout 2020 revealed to Grewal that more people were experimenting with their skin, she pivoted from a mindset of fear and constant setbacks to a solution-oriented approach.  Despite the delays, Grewal launched the brand in 2021. "That's who we are," she said. "We stood by delaying our launch until we got every single ingredient and put it in those bottles."
Pushing Through When the Pandemic Hits Home
Ami Colé, launched May 2021
N'Diaye-Mbaye remembers March 2020 as a "dark, but hopeful time." Her dad was sick with COVID and in and out of the hospital. "At one point I couldn't find my dad and I remember saying to myself, 'I don't know if he's coming home or not, but my dad needs to see this brand and I need to make this a reality.'" She recalls being on the phone with investors in between being on calls with 311 to find her dad at the Jacob Javits center. The fear of not knowing the future was enough motivation she needed to finally get Ami Colé up and running, a beauty brand that she has been thinking about since 2014. During the Black Lives Matter protests investors started responding to her and by the end of the summer, N'Diaye-Mbaye had closed a deal on her business.
She started building a team and by September 2020, she had three employees. She admits she was nervous and a bit insecure to launch while everyone was at home because no one was wearing makeup, but she remained hopeful that people would buy her product.
While the launch was successful, supply-chain issues had Ami Colé pinned up against brands like L'Oréal. "For our mascara launch later in the year, PCR (recycled plastic) was in low demand and the L'Oréal's of the world were taking up the inventory because they had the power to do so, so the smaller brands like us were scramming around trying to figure out who might be able to allocate large lump sums of PCR material." N'Diaye-Mbaye describes the supply-chain crisis as, "everyday there is a fire." Transporting the products was an issue, often waiting longer than expected for product, "you can't do anything but wait," she said.
N'Diaye-Mbaye prides herself and the brand on thriving in the "very hungry framework," during a time where smaller brands have to prove themselves even more than before.  "Before it was ok to have a plan A and B, but now we're looking at also having plan D."
The Blessing in Disguise on Waiting a Launch Out
Elisa Johnson, launched May 2021
Elisa Johnson's self-named sunglasses brand had lots of setbacks, but it turned out to work in her favor. Her dad, Magic Johnson, was her main investor, but they didn't treat the transaction as father and daughter, instead it was an investor and investee relationship. When Johnson worked on her business plan and originally came to him he said it, "wasn't the smartest idea" because of the pandemic. Devastated and disappointed because of all the work she put in, Johnson just looked at the denial as a delay. With a manufacturer in China, Johnson later realized that launching in 2020 wasn't realistic.
After launching a few months ago, Johnson is dealing with customs issues and excessively long wait times for her customers post pre-orders. But starting her business this year, with people taking less vacations and thus needed fewer sunglasses, is something she knows was worth it.
Coming to Terms With Not Having Control
Fumi the Label, launched August 2021
Canada-based Fumi Egbon knew she wanted to have a clothing brand for nearly a decade. So the pandemic was not a discouraging factor. Why? "I knew it was a matter of good execution for the launch to be successful versus fear of potentially not reaching my customers," Egbon said. But, what she wasn't prepared for was the things that would be out of her control like slow production.
"Being sold out is actually not the best like everyone thinks it is," said Egbon. "As a small brand giving my customers what they want is what I'd always like to do but it takes a lot of time unfortunately to do that." Her minimum wait times have been a month long. Egbon adds that communicating with manufacturers at odd hours of the night because they're across the world is just another layer that has made the process difficult. But she's committed to quality.
Pausing a Wellness Brand at a Time When You're Not Well
Moodeaux, launched October 2021
Moodeaux's founder Brianna Arps wanted to create an experience that connects scent, emotions and memory. She started developing a fragrance brand in October 2018 with an early 2020 launch date, but quickly realized that being trapped in the house was taking a toll on her mental health. She didn't want to lead a team until she was ready. "I can't talk the talk and not walk the walk, I just couldn't do it," said Arps.
Still she's spent time stockpiling supplies; taking necessary precautions, since the future of manufacturing has proven to be unpredictable; and developing her community online.
Finding New Ways to Create an Experience Around Clothes
TONY 1923, launched October 2021
Melissa Battifarano has designed for Rihanna's Fenty x Puma, Champion, Sean John, and more. She has a career rooted in athleisure, but this year she decided to launch her own streetwear brand, TONY 1923. Despite her history of collection launches and designing before a pandemic, Battifarano had to pivot, starting with how she wanted people to experience her garments. "I've been working with my videographer to do really detailed video captures of the product to really see and understand me talking about it," she said. "The price point isn't super cheap, it's not an impulse buy. Customers need to see it, feel it, and love it and know that they can dress it up, be relaxed in it, wear it out and at home."
She used to travel to Hong Kong to get her fabrics. Instead, she started Googling pictures to show what she's looking for.
Today, Battifarano is intentional about the purpose of her brand: "Fashion isn't as lighthearted as it used to be. From the language to our verbiage, we have to be a lot more sensitive and recognize that people have a shortage of cash and also more important things to worry about."