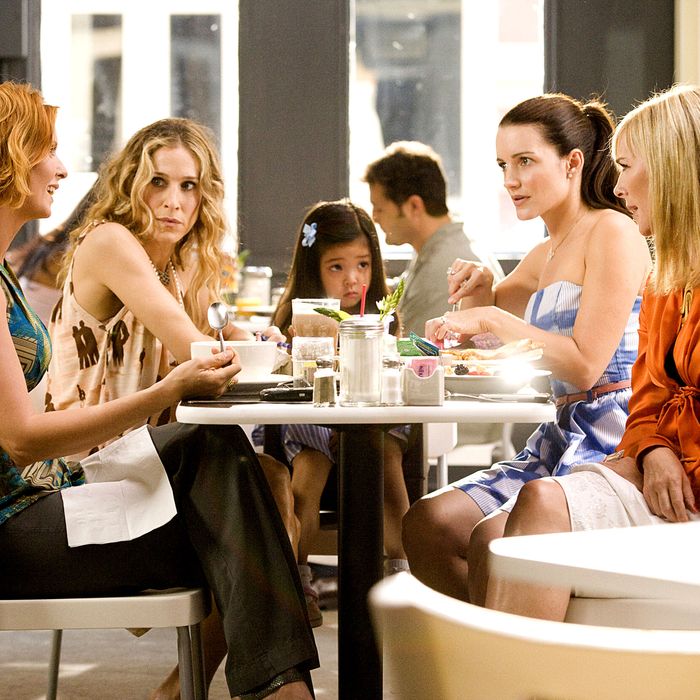 Photo: New Line Cinema/Courtesy Everett Collection
This week, HBO Max will air the first two episodes of the long-awaited Sex and the City reboot, And Just Like That … It's been more than a decade since we saw the show's core foursome, and it appears a lot has happened since then, including one of them leaving both New York and the show altogether.
So what are Carrie Bradshaw and her two remaining friends, Miranda and Charlotte, up to these days? If the show's trailers are to be believed, the three of them are still in New York, living among their statement wallpaper and experiencing various elements of the modern world, like Pelotons and podcasting. Beyond that, it's a little tricky to know what will actually happen this season thanks to all the bewildering scenes they appear to have shot, though there's a pretty solid chance at least some of those are staged. What we do know — or can pull from the deep early-aughts recesses of our brains — is what has already happened. If you need a refresher on what happened in the Sex and the City cinematic universe, I don't blame you. Here's where we're at.
Who's dating whom?
Let's start where the show ended in 2004. After abandoning a creepy Russian artist in Paris in the series finale, Carrie ended up with Big, and even though in the following movie he initially tried to leave her at the altar, they eventually got married. (He was forgiven after helping Charlotte get to the hospital when her water broke.) Charlotte and her husband, Harry, a very sweet and very bald lawyer who once spent an entire episode being ridiculed for his hairy back, adopted a baby together and then immediately got pregnant, so they have two daughters now. Miranda and Steve, whose kid, Brady Hobbes, was born during the show's fourth season, worked through Steve's fidelity issues and stayed together. (Brady is also Steve's last name, which is wildly confusing to me, but nice to give Steve a little treat that way.) And Samantha, of course, said "fare thee well" to her serious boyfriend Smith Jerrod. I think that about catches us up in the romance department!
Where did we last see these women?
Ah, Sex and the City 2. Who can forget? The last installment of the SATC franchise, which came out in 2010, had the girls headed to Abu Dhabi for a problematic rendition of Eat, Pray, Love. By the end, many revelations were reached: Charlotte stopped worrying that her husband was cheating with their lesbian babysitter, and Miranda got a job that let her go to her kid's science fairs, thus relieving her sense of working-mother's guilt. Carrie convinced Big to forgive her for kissing a newly boho Aidan during what she deemed their marriage's "terrible twos." Also, she learned how to say "muhammara." Good times were had by all!
Another big thing that often gets drowned out by all the questionable antics is that, at the beginning of the movie, Carrie's friend Stanford married Charlotte's friend Anthony. In Charlotte's (also questionable) words: "Her best gay friend is marrying my gay best friend!!!" Stanford and Anthony were nemeses for a long time after Charlotte and Carrie pulled the old "They're gay — they'll get along!" and tried to set them up. They immediately hated each other, but after a few seasons and a feature film, they suddenly fell in love and got married.
What's been happening since then?
It's not entirely clear yet. While the show's very relaxed paparazzi policy on set has given us many bewildering peeks at what's to come, the SATC team is a big fan of staging fake scenes to throw fans off the scent of the real plot, so there's a decent chance they actually mean nothing. That said, the franchise seems to be moving in real time, placing the women currently in their 50s. A lot of theories say that Big died, though he does show up quite a bit in the trailer, suggesting he's either alive or haunting Carrie and her friends. (Though producer Michael Patrick King confirmed to the New York Times that he's alive, I prefer to believe the latter until proven otherwise.) At some point, a falling out with Samantha happened, and she relocated to London after the second movie revealed Abu Dhabi to be too conservative for her horny lifestyle.
One event that we do know happened in the SATC universe: COVID. Earlier this year, Sarah Jessica Parker told Vanity Fair she expected the And Just Like That … writers' room to explore how the pandemic "changed relationships once friends disappear," which seems to translate to Big getting into Peloton during lockdown and QR codes instead of mimosas at brunch.
So whom exactly are we checking in with?
A lot of former SATC stars are reprising their roles for the new season, including Chris Noth's Big; Steve; Anthony; Charlotte's husband, Harry; and Big's ex-wife, Natasha, who caught him having an affair with Carrie and broke her nose trying to chase Carrie out of her house. Most important, Bitsy von Muffling, the aging socialite who befuddled Carrie and her friends by marrying Nathan Lane's character, Bobby Fine, who everyone assumed was gay, is returning. Hurrah!
There are also a handful of new cast members, including Sara Ramirez, Sarita Choudhury, Nicole Ari Parker, and Karen Pittman.
Sadly, a few recurring members have passed away since the last movie, including Lynn Cohen, who played Miranda's housekeeper, Magda, throughout the series and movies. Willie Garson, who played Stanford, was due to appear in the reboot before he passed away in September, and it looks as if some scenes shot before his passing have made it into the series.
But … no Samantha?
No Samantha. After decades of drama, Kim Cattrall appears to have exited the SATC universe for good, unless by some miracle the HBO gods manage to lure her back. Her absence is being explained by the premise that she just drifted from the three girls and moved to London.
Anything else I should know going in?
A few notable details from the series that probably won't come up but are worth returning to just because:
Charlotte forcing a man to get an adult circumcision

Carrie telling the police a mugger stole her Fendi Baguette

Miranda being horny for a sandwich

Justin Theroux playing two different characters on this show
If And Just Like That … manages to work any of these details into its plot, Emmys for everyone!